Customer care – a #PrintedPeople interview with Team Leader, Amy
Managing high levels of customer service during times of COVID-19 has been an challenging experience for many businesses. Our Customer Service Team Leader, Amy, shared her own experience and advice on how to best care for your customers during this time.
Hi Amy! Firstly, tell us about your role at Printed.com
I have worked at Printed.com since it all began back in 2011. I became Team Leader in 2014 and now have a strong team of 7 Customer Advisors. I love my role and feel very much part of the furniture having watched it grow into the successful business it is today. The main responsibilities of my role include setting performance goals, supporting my team and improving working practices. All of this helps to ensure we are giving the best customer experience possible!
How have your team had to adapt ways of working during Covid-19?
COVID-19 has brought on some very uncertain times for everyone and we have all had to make adjustments. As Printed.com is an online business we are lucky enough to be able to work from home. We are now all set up from living rooms, bedrooms and kitchens but our work has continued to the high standard our customers deserve. We have a Zoom call every morning to stay in contact and have daily updates on any patterns we are seeing.  These calls have included team member's children, partners and even the occasional lamb here and there. (One of our team works on a farm!). We are a very close knit team so its nice to still be able to say 'hi' every day.
Which customers have needed the most support at this tough time?
We have been working very closely with a number of small businesses to support their transition to online ordering. We've also supported a lot of new and personal customers needing to print items such as Leaflets to help the vulnerable in their community. We have been doing absolutely anything we can to help support our customers at this time.
We have a number of promotions running at the moment including 50% for wedding customers who have unfortunately had to postpone, and have also been offering discounts for NHS and key workers. 
Can you tell us what's been the biggest challenge for your team over the past couple of months?
Like everyone we have certainly experienced some challenges! Although we are an online business and many of our systems are automated, not having full access the factory has been a big challenge. To overcome this we have set up numerous different processes and communication channels to ensure we can still do our utmost for the customer to fulfil their needs.
Which 'work from home' tips have you shared with your team?
Working from home can be motivating for some but it's not for everyone. Keeping to a routine works for me, as well as having an 'office' space set up and taking regular breaks. This helps keep my day as normal as possible. I also make sure to have regular video calls with my team. It's nice to still have a laugh with them (and talk about what we're all having for tea!).
What 4 pieces of advice would you give to businesses trying to care for their own customers during Covid?
These tips continue to work well for us:
Communicate. Keep your customers informed of any changes your business has had to make and how this may affect them. Make this as visible as possible (and provide an FAQ list if possible). 
Reach out. We make a number of personal calls to our customers, just to check in and see how we can help. So don't be afraid to pick up the phone and ask.
Listen. Pay attention to your customer needs. This is especially important now when they themselves are adapting to the situation, and may have more complex requests than usual
Keep up to date. Customer trends will change abruptly during COVID-19, so keep an eye on your own business and any customer feedback to make sure you adapt accordingly.
What's it like to head up the Customer Service Team?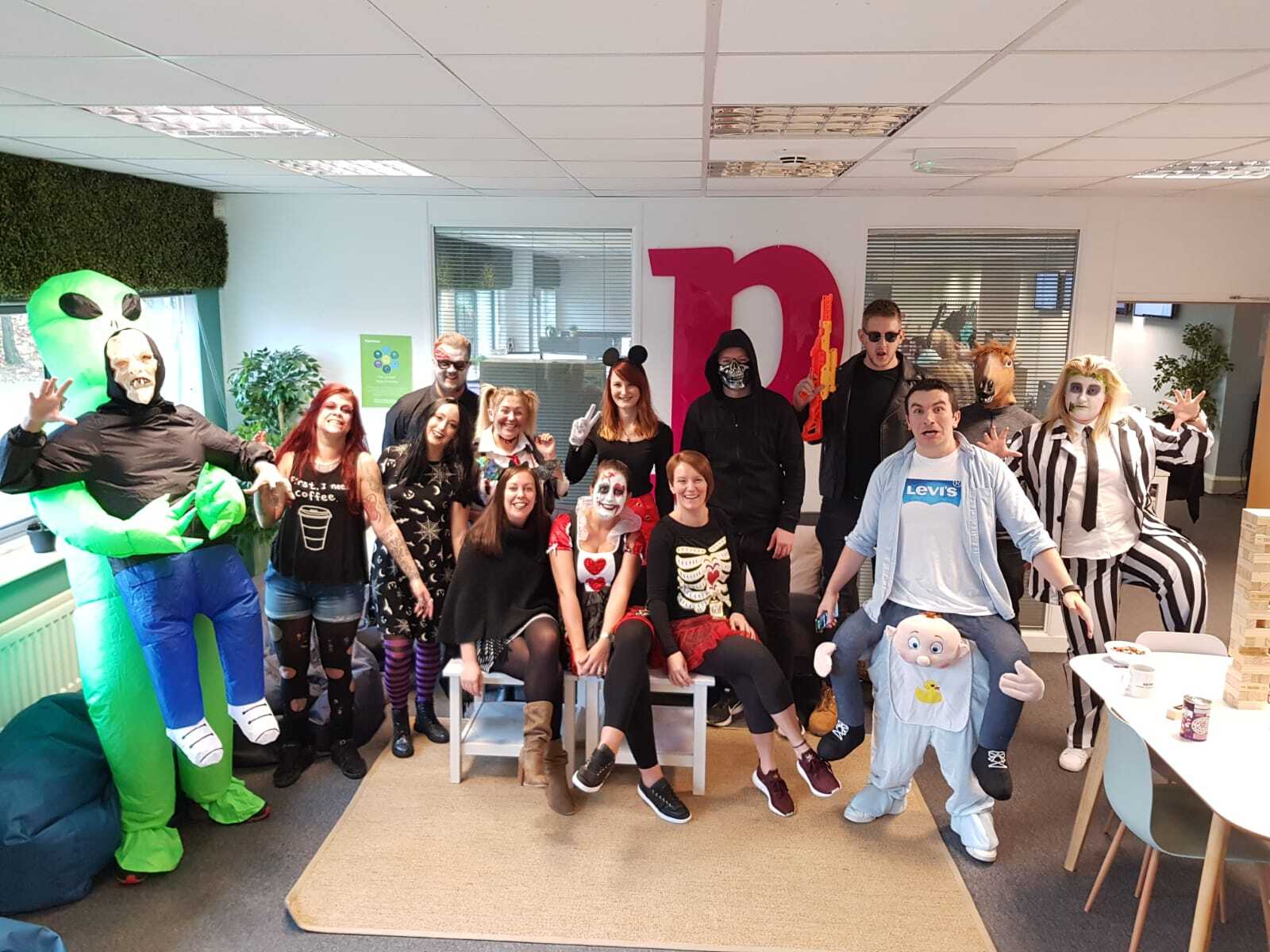 I love heading up this team! We are all very close and genuinely care about how the business performs. Printed.com truly care about both their staff and their customers – you're not just a number here! Customer Service is a way to help someone, and our business always aims to do that as best we can. Our amazing team have even been nominated multiple times for 'Best Team' in the Print Week Customer Service Awards. In 2019 we received a 'Highly Commended' award, and we've go our sights set on the 2020 grand prize…!
What are some of your best practices for keeping your team motivated and happy?
The office has a great buzz and we'll often play music throughout the day. We also love a themed day every now and then (my personal fave is the 80's!). Customer service can be a difficult job at times and therefore it is important to maintain a sense of fun within the team. We have a lot of activities throughout the year including fancy dress, the Print-Olympics, chocolate hunts and bake-offs to name just a few! This kind of activity always creates a great competitive environment and helps with teamwork.
Throughout COVID-19 keeping the team motivated has been much more challenging, but we are continuing to have a weekly quiz via Zoom which is always a great laugh.
At Printed.com we pride ourselves on our 5* Trust Pilot rating, but can you give us an example of a personal review you've had recently?
What other helpful resources can you recommend to heighten customer service quality at this time?
Having a good CRM system can really help with customer service. It means that any contact that comes in can be managed in one place. If you have a service team, it's good to ensure that individual customer queries remain with one team member until they are resolved. This avoids them having to speak with too many separate people.
Overall, communication is the key (and not just in times of Covid). We must listen to our customers and give them the best solution possible, whilst keeping them updated at all times.
For more key insights into the world of business and print, make sure to check us out on social and have a look through the rest of the printed blog!