Behind the scenes at Printed.com – take a peek into the world of print
When you shop with Printed.com, you place your order online, but what happens after you send your print to the presses?
Well, that's where the magic happens!
Our print plant is set in a 40,000sq ft. environmentally accredited state-of-the-art facility; where we've got a range of 15 industry-leading HP Indigo and large format presses ideal for achieving the highest standard.
But, it's not all about the machines. Every job we process gets the hands-on treatment, right from the minute you checkout.
Once you've checked out your artwork, your files are assessed – to make sure they're print-ready. If it all looks ok, it's on to print. If not, if we spot an error, or you've forgotten to add bleed or made a size error with your files, our Artwork Team are on hand to help! They'll take a look at your files against your order and check what the problem is and let you know as soon as possible.
It's this high level of attention to detail that ensures that when you print with us, it goes perfectly every time.
Once your files are all-ok, it's on to the print room!
Your job will be printed according to its spec – and we've got loads of different printers and machines to handle different jobs, papers and materials.
Our HP Indigo Presses are state of the art machines, designed for high volume digital printing, with a speedy turnaround, so we can offer you things like next day delivery.
Our HP Indigo 5500 is one of the most eco-friendly printers around. It delivers high-quality print, combining the look and feel of traditional offset with genuine photo-quality print. It always reaches the highest level of productivity. This piece of kit helps Printed.com look after the environment. With an oil recycling system, it reduces oil consumption and waste.
We also have special printers for special jobs, like large format. Our HP Scitex LX600 can be used to create large format products, such as banners and posters. The HP Scitex LX600 creates stunning image quality and is perfect for environmentally conscious customers because of its use of latex inks.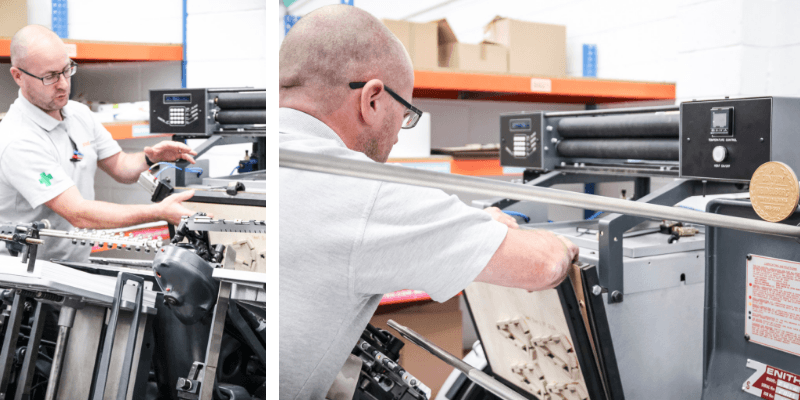 The fancy named 'HP Z6200 60″ Designjets' is another exciting piece of kit in the Printed.com armoury. This printer enables us to create large format products, such as posters and banners, for our customers. The HP Z6200 printer has an embedded spectrophotometer and uses eight pigment inks to ensure accurate colour output every time. The results are water-resistant and non-fading. The HP Z6200 Designjet can deliver up to 105.4 m2 of output every hour, again ensuring a quick turnaround for your order.
We also have a specialist Epson Stylus Pro 9890 on-site, for those super fine photographic prints. Created specifically for commercial photography and fine art markets, it utilises four different types of black ink to give an excellent range of grey tones and colour perfect results, completely free from bronzing or uneven surface appearance.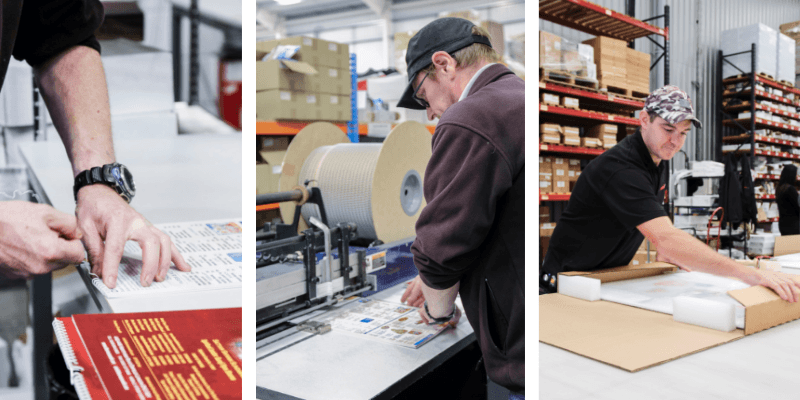 And what about afterwards?
After your job has been printed, it's checked and ensured that it's ready to post.
Then, it goes into our packaging area, where it's packed by hand and then sent on to you.
Interested in our process? Follow us on social media to find out more about the world of print!