Stationery and Greeting Cards Trends in 2018
We stopped by the Spotlight on Stationery panel discussion at Top Drawer S/S 18 to see what Laura Jane Boast of LJB Studio, Lucy Edmunds of Quill, Audrey Woollen of Urbanic and Neal Whittington of Present and Correct, think is heading our way for Stationery and Greeting Cards trends in 2018 …
Take a little read through and get inspired for a brand new year…
First up, what defines a trend?
Before we delve into what the greeting cards trends in 2018 are going to be, we need to take a look at exactly 'what is a trend'? Laura Jane Boast describes a trend as a 'pattern in our visual culture'. What may be a trend one year can disappear the next, but why is that?
The journey of a trend looks a little like this:
Innovators (trendsetters)
Early adopters
Trend following (think: when a trend becomes labelled a 'must-have')
Late majority
Decline
But what does this mean exactly?
This means that when a trend is 'set' it may take a while to get off the ground. It could even take years – as we've seen with Foiling. (It's been around since the middle ages, but only now, when the industry can provide affordable options and the technology to allow the everyday user to explore it does it become a trend). The trendsetters will continue to blaze trails with the early adopters of the trend before the majority of the public, retailers and everyone else even realises what's happening. The first touchpoint of a trend that most consumers see is when the trend becomes mainstream and has hit retailers. But, as a creative, you need to be one step ahead. If you're picking up trends at the same time as retailers, you're too late!
Things to consider
Following trends can be great for your business. As trends get more and more popular, your designs or products will be more in demand if they're considered 'on trend'. But as Audrey Woollen discusses – you need to be aware of whether or not the trend fits your aesthetic? That's more important than following a trend blindly. If, for example, you're a Greeting Card designer, and your style is soft pastels and florals, just because neon becomes a trend doesn't mean you should haphazardly whack it in and upset the balance of your designs.
One of our customers, Pretty Neat have a unique, clean style – focusing on typography and simplicity – letting the power of the message take centre stage. If your style is equally as strong, be aware of how you can use trends to influence your designs, rather than sacrificing your overall aesthetic. Follow Pretty Neat over on Twitter and Instagram, or head to the Pretty Neat website to get shopping!
How important is it to stay on trend?
Often, it's far more important to simply be aware of trends, rather than being 'on trend' all the time. If you followed every trend and created products and print based on each one, you'd end up with a sporadic offering of mismatched deigns – losing your brand identity.
Remember, your brand or business is a reflection of you – so don't let trends weaken what you stand for or what your identity is.
Your customers believe in you and your product and you need to be happy designing or selling the things that you like, because when it comes down to it, that's what they like.
So find your style. Being aware of trends is about information. Get armed with as much knowledge as possible and let trends influence and inform your work, products and designs, rather than allowing them to become the sole focus. If everyone worked to the same trends – everything would be the same, so make sure you create your own take.
So, now we know what trend is, and how we should use it, let's take a look at what's coming in 2018 for Greeting Cards and Stationery…
Luxe Foil
Foiling has been growing as a trend for around five years, but only now is it really becoming mainstream. This could be due to the availability of Foiling, the ease and simplicity of creating it digitally, or just simply because we really, really like shiny things.
We've seen rich golds and shiny coppers easing their way into homeware, fashion and retail spaces over the last 12 months, and in 2018, it's the stationery industry's chance to give it a go.
But, instead of choosing what's already out there, why not branch out into bronze, copper or rose gold to break the mould? Or even try coloured metallic Foil (like we have here at Printed.com). Shiny doesn't show any signs of stopping so get creative with Foil this year!
Discover the two ways to print with Foil.
Texture
In 2018 the Greeting Card and Stationery sector looks set to get a serious injection of touchable, tactile papers. Moving beyond the recycled, modern uncoated and rustic Kraft, textured papers signify an elegance that simply isn't conveyed when you choose a standard stock or board.
The paper you print on can really uplift and transcend your design, so have a think about the ways in which you employ this trend. Consider making the paper the star of the show with interesting textures. If you're not sure where to start, our Tintoretto, Fresco Gesso, Nettuno and Laid are all super popular choices. Whatever you go with, remember to start with something high quality and beautiful, then embellish it your way – with artwork, finishes and binding.
Discover more about the texture trend and discover three ways to use it.

Equality and empowerment
You've probably seen the influx of empowerment that's been all over the fashion industry of late. You can't walk past a shop window without a slogan tee screaming #GirlBoss, #GirlGang or similar. And that trend is showing no signs of stopping as it eases its way into our cards and stationery.
Uplifting, empowering messages aren't restricted to feminism though – 2018 looks set to bring an influx of positive messages aimed at everyone, at any age of any gender. Think: statements like 'Be free', 'run the world', 'choose your own path' all look set to be huge this year, perfect for incorporating into an uplifting Greeting Card message.
Discover the trend and meet Liz Harry, one of our very own customers who has this progressive trend nailed.
Personalisation
Now, personalisation isn't exactly new. The rise of online websites like MoonPig and FunkyPigeon.com have given way to a whole new era of personalisation, and consumers are adopting it in a big, big way.
Our increasingly digital world means that the personal touch can make all the difference. It can show you've thought beyond email, beyond social media, beyond digital – and put an extra layer of effort into your greetings.
Alongside personalisation, calligraphy and handwriting also look set to take the stationery world by storm, for similar reasons. A handwritten note with the same content as a typed one feels so much more personal, so much more considered.
And finally, some insight from the panel…
The UK public are spending more on Greeting Cards than ever before. £1.75 billion is spent each year on Greeting Cards, and that figure is growing.
On average, each person will buy 33 Greeting Cards per year, that's more than any other nation.
The UK card industry is acknowledged to be ten years ahead of the rest of the world in terms of design.
Greeting Cards are stocked in more types of outlet than any other product – one in six retailers stock Greeting Cards!
So, what do you think of Stationery and Greeting Cards Trends in 2018? Will you be adopting any? Are you currently using any of these trends in your designs already? How do you think they'll affect your current style and aesthetic? Let us know in the comments below or Tweet @printed_com, check us out on Instagram @printedcom, or head to our Facebook page.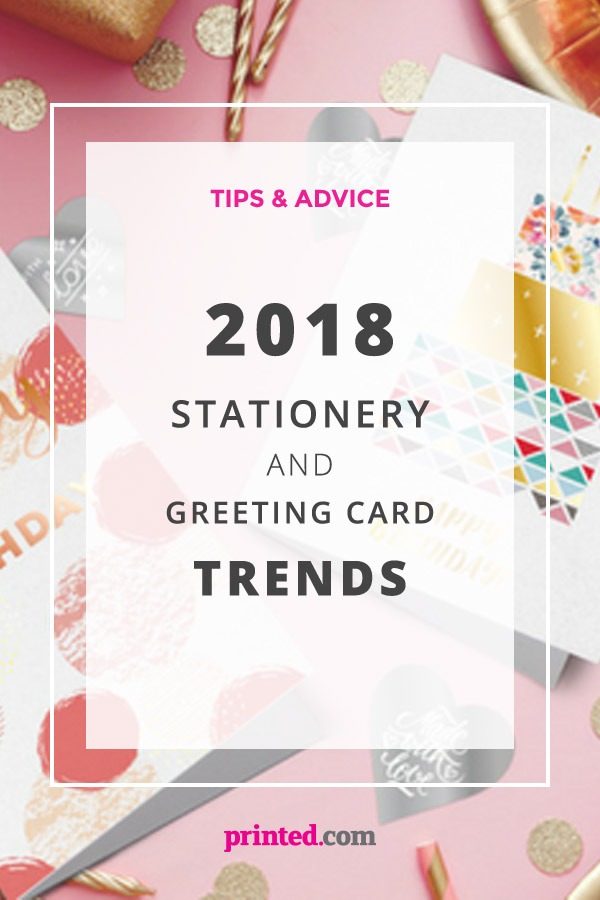 Remember, if you fancy a slice of the action, just tag us in your printed creations over on Facebook, Instagram and Twitter and use the hashtag: