#ProudlyPrinted – The Father's Day Edition
Calling all dads – it's nearly your time to shine! Sunday 17 June is the official 'day of the dad', and we've seen more than a few fabulous Father's Day creations hit our printers. We've rounded up just a few of our favourites right here…
From gorgeous handcrafted designs to cutting edge modern minimal, we get to see all kinds of creative pieces pass through our presses. Want to see your designs here too? Tag on social using the hashtag #ProudlyPrinted!
Forget gushy sentiments. Tell Dad how it is with these tongue in cheek, hilarious cards from Pretty Neat.
We're carrying on the tongue in cheek theme here with these beautifully simple designs from Twin Pines.
Combing to the point messages with sharp typography, we reckon dads across the country would be pretty chuffed to receive one of these!
Forgot to buy dad a gift? No worries! This card from AV Typography is not only beautiful but it doubles up as a gift – it's an award! Alright, we might be reaching there, but even so – Amy's gorgeous typography is a gift for the eyes anyhow!
We love Bonita Ivie's African inspired Cards collection. If you love your Dad more than jollof, why not tell him straight?! The question is, which side do you sit on? We'll let you figure that one out…
Dads love tea. It's a given, right? So why not give yours an immortal cup? Pop it on the mantelpiece, pin it to the fridge, stick it in a frame, tie it to the dog… whatever dad does with it, we're certain he'll love this effortlessly simple card from Hello Treacle.
Looking for a few more words? Hello Treacle always hit the nail on the head when it comes to tongue in cheek, honest sentiments. Their range spans everything from IVF cards through to 'Positivity Pants' pin badges, and these dictionary style Father's Day cards are the ideal addition to their fun range.
We're stepping up the sentimentality with this typographic beauty from Blush & Bloom Paper. Keeping it simple enough to appeal to dad, but intricate enough to make a beautiful statement, it goes beyond the stereotypical Father's Day cards to send the ultimate personal message.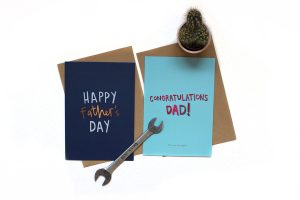 Sam Warner Studios created these cute cards, ideal for dads who know what they like. Keeping it simple with straightforward, bold typography they're the ideal way to show dad you care.
Remember, if you fancy a slice of the action, just tag us in your printed creations over on Facebook, Instagram and Twitter and use the hashtag: