5 ways to make an impact with Envelope Printing
Find out everything you need to about Envelope Printing– right here!
Envelopes. They might not be the first thing you think of when designing your print, but don't underestimate the power they have. From wedding suites to your essential Business Stationery, a perfectly printed Envelope can be the icing on the cake. Add a fancy design, your logo or just a pop of colour to get that final flourish.
Let's see how you can kick your own Envelope printing up a notch!
1. Complete your Wedding Stationery package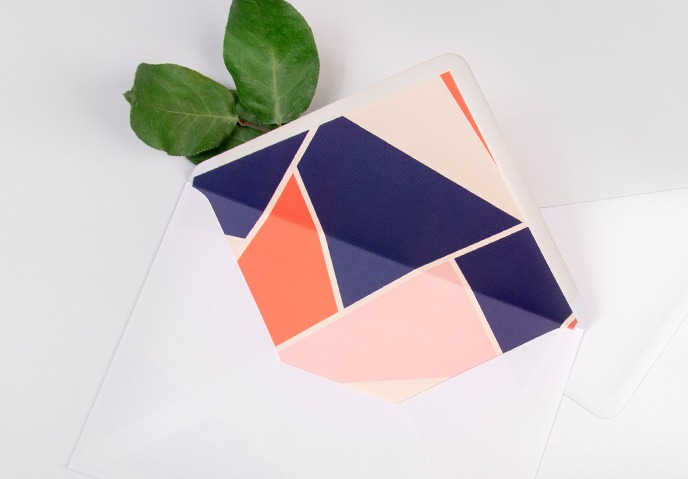 Wedding Stationery is beautiful, there's no doubt about it. But the beauty doesn't have to begin and end with the finished product. Get the anticipation building with Printed Envelopes for RSVPs and Save the Dates, to create truly personal pieces that just beg to be opened.
Don't let the surprises stop there! Add a custom Envelope Liner to add a sophisticated finish and showcase just how special the Big Day will be.
2. Creatively Package your cards
If you sell Greeting Cards, Postcards or Stationery sets, why not complete the package with a Personalised Envelope? Bring quirky elements of your design to the outside, or simply add another layer of beauty to make your cards even more desirable when your customers pick them up.
3. Make your marketing matter
Sending out direct mail or product catalogues to your customers? Make sure yours is the envelope they open first by adding designs, colour and your logo. Not only will your package or postage stand out in the sea of boring white Envelopes they receive every day, but you can also set the tone for what's inside and get the excitement building before they even lift the seal.
4. Create brilliant Business Stationery
If you've spent time (and no doubt money!) on creating and designing the perfect logo, letterhead or corporate branding – why hide it in a plain old Envelope? Carry your style through, and make sure every piece of mail you send is unmistakably unique, and helps promote your business, even before it hits the doormat.
5. Add the personal touch
Personalisation is available on our range of Printed Envelopes, which means not only can you save time writing out addresses, you can make them beautiful too! Choose a standout font that adds intrigue, or incorporate your addresses into your designs for a totally unique take on postage.
We don't set a minimum order quantity. Whether you need five or 500 Envelopes, we've got you covered for every occasion.
Need a hand getting set up? You'll find everything you need, including free downloadable templates right here.