#SmallBusinessStories- Some mooving words from Lucy Tidbury
Here at Printed.com, we put small businesses at our core which is why we've been proudly supporting Small Business Saturday. This year, the event is once again highlighting one amazing business a day for 100 days leading up to the event, and we've been lucky enough to catch up with some of them!
Today, we're chatting all things bovine with Dorset-based designer- Lucy! Grab a seat and read on to find out all about what inspires her work!
Lucy – Hello! Firstly, could you tell us a bit about Lucy's Farm to kick us off?
I'm a Dorset based Artist specialising in paintings of animals as well as our beautiful countryside. Known mostly for my 'Moo selfie' series, I paint using oil paints to combine our stunning landscape with its curious four-legged residents.
I studied Fine Art at University and then I spent some time travelling and doing various different jobs. Eventually I decidided to take the leap to become a full-time artist in 2014. This is when 'Lucy's Farm' was born. I began by selling work at local exhibitions, country fairs as well as online. Over the years I have used my artwork to create various other products including kitchenware, home furnishings and stationery. Since 2014, I have seen my brand grow and grow and have ended up doing more shows, supplying wholesale and even opening my own gallery in 2017! You'll often see me working on my latest commission or designs there (alongside my Sprocker Spaniel Ned!)
I am very much inspired by our wonderful countryside. It often features in my work, but I also spend a lot of my time working on Pet Portraits, particularly dogs, but have been known to paint a wide range of pets including guinea pigs, alpacas and even a camel!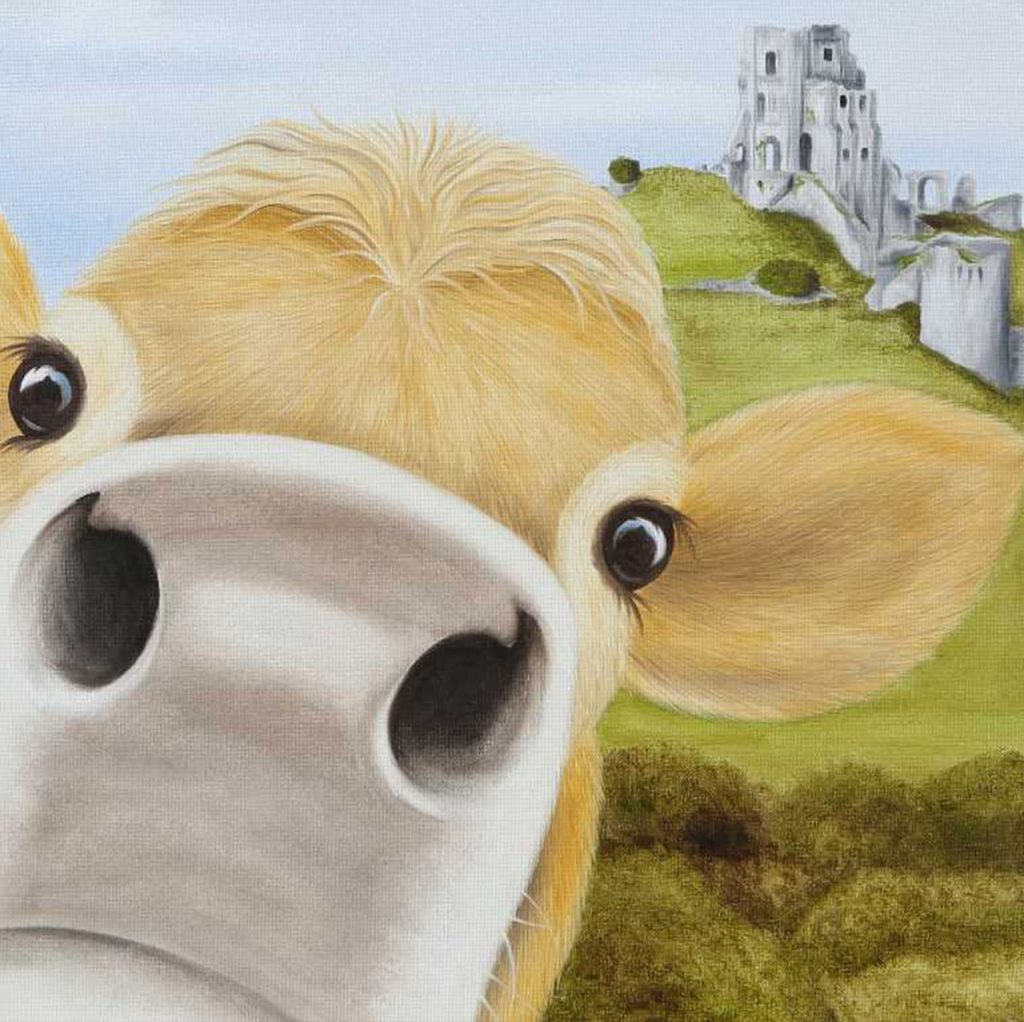 You were recently shortlisted in the Small Biz 100, congrats! How does it feel?
I was thrilled to be shortlisted for the Small Biz 100! I spend a lot of my time celebrating, supporting and encouraging others to support small local businesses. It's good to shop local and to meet the face behind the brand, so to be shortlisted alongside so many other amazing small businesses is brilliant!
Could you tell us a bit more about the inspiration behind your pieces?
I spend a lot of my time walking around the Countryside with my rescue Sprocker Spaniel, Ned. We are incredibly lucky to have this on our doorstep and it inspires me to paint every day. But for me it's not just about the landscape that I enjoy, it's also all its curious residents. It's rare to walk over the Purbeck Hills without bumping into the odd cow, so I couldn't help use them in my artwork.
I've always loved painting animals. Since graduating Uni, I painted a lot of pet portraits. Originally it was to make money, but I soon realised I had a real passion for these furry beasts, so to be able to paint them and earn a living at the same time is a dream come true!
What does a typical day in the studio/at home look like for you?
So every day starts with a walk with Ned, this really helps me to clear my head and think about the ever-expanding to-do list ahead of me! I head to my gallery in Swanage which also doubles as my studio (via a quick coffee at my favourite coffee house just opposite!) I spend as many days a week as I can painting, either working on a pet portrait or my latest addition to the 'selfie' series. So after a bit of procrastinating and email admin, I crack on with a day of painting. My gallery is open to the public every day so I often have visitors popping in to see my at work or to see what latest products I have on offer.
My gallery is tucked away in Swanage so it can be a bit quiet out of season, but this just gives me more time to paint! I sell a lot of my work on my website and also through various wholesale stockists including farm shops and gift shops, so I always allow myself a bit of time each day to sort through, pack and post any orders that have come through. During the summer season I am out on the road a lot, attending various shows, particularly agricultural shows (the cows go down well at those ones!) While my weeks can become a lot more hectic with early starts and long days, I still love what I do and feel very lucky to be able to make a business out of a passion.
What do you think is the biggest challenge facing small businesses today?
I think for small businesses it can be very very hard to compete with the big boys. We don't have the buying power of large companies, or the ability to mass-produce our products to the same level, making prices higher. I completely understand that price is important and something a lot of us are always aware of, but for me, it's about quality and uniqueness. I'd rather buy less but from small local businesses and really know where the things I buy have come from.
Anything I don't make myself is made locally and I have a great relationship with all my suppliers. I think people are becoming more aware of this and understand the reasons behind the prices small businesses charge, but we are still in a time of uncertainty and I think a vast majority of us are watching the pennies where we can!
What's the best bit about owning your own business?
I love the flexibility of being my own boss. While I may work a lot more hours than I ever used to when I had a 'proper' job, but it's on my terms. I do what I love (except when I'm doing the admin side!!) If I want to spend a day painting I can, but if I'm not feeling it then I can research new products, contact new stockists, rearrange the gallery display, update the website or do any of the other billion tasks I have on the go. Yes it's true, I don't think you can ever really switch off when you run your own business, but getting to do what I love for the majority of my time is priceless.
What's been your greatest success so far?
Opening my own gallery is definitely up there. When I first went self-employed, I could never have imagined that I would have come as far as I have in the relatively short amount of time I've been doing it. I feel I have really established myself as a professional artist and I love meeting new people in the gallery every day, as well as seeing my loyal, local customers regularly (even if most of them come in to see my dog and not me!)
What products do you get printed for your business?
What would I do without the wonderful world of print?! I actually used to be a receptionist at a printing company and never imagined then that I would be creating the printed products that I do now!
I sell a huge range of printed products and they are the backbone of my business: from Postcards, Greetings Cards and Fine Art Prints to Notepads, Calendars and more! And who could forget the ever-important marketing material?
I still strongly believe in good old fashioned Flyers and Business Cards for promoting myself. Over 50% of my online sales come from people that have seen me out and about at shows- they pick up a card/flyer, they go online and then they make a purchase. Printed marketing is vital to my business.
What is the best piece of advice you would give to someone looking to set up their own business?
Your business will be your life. If you aren't passionate about it or willing to give it the time, energy, sleepless nights, tears and tantrums, then don't do it. Running your own business takes a lot of motivation and you have to love what you do or you'll just give up in the end. If you love it then do it!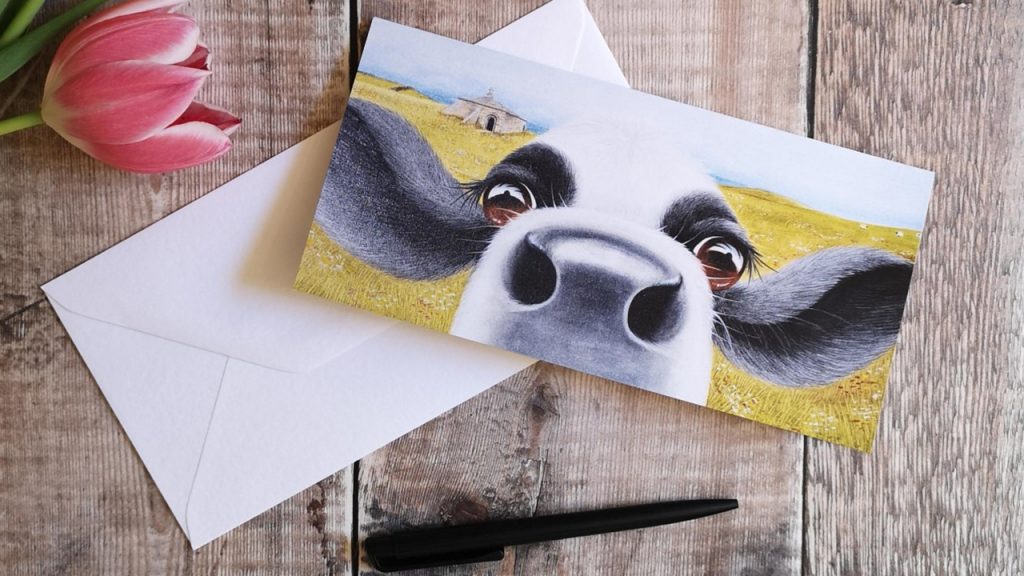 What plans do you have in the run-up to Small Business Saturday?
For me, it's all about encouraging people to shop locally and not just at my shop!
I am extremely lucky to be surrounded by a wealth of small businesses here in Dorset.From art galleries to cafes, chocolate shops, florists, fishmongers, hairdressers there's so much to explore! If we all come together we can really help promote what is in our town. I'm also lucky to be a part of the Purbeck Artisan Yard in Wareham, where over 20 local artists sell their work. We have decided to combine our Christmas event with Small Business Saturday and we'll be celebrating the occasion with a day of mulled wine, demos, kids workshops, charity hamper raffles, mince pies, talks and so much more. Working as part of a cooperative like this really opens your eyes to the talent that is around us.
Make sure to check out Lucy on Facebook, Instagram and her website where you can sign up to Moo News to find out more about her new products and events!