#InspirationPrinted- Chatting gifting and goodies with Leith & Gray
We've always been proud to put small businesses and creatives at our core, so we'll take any excuse to shout about the amazing work they do and the great print they produce.
Today, we get two Lucys for the price of one- the ever-lovely pair the heart and brains behind Leith & Gray. Creating contemporary gift boxes for every occasion you can imagine, recently we took a deep dive into what makes this company tick and which print helps make their gifts extra special.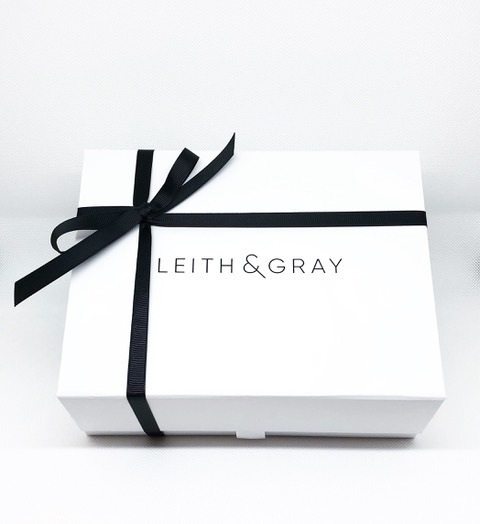 Lucy and Lucy – hi! Can you tell us a bit more about Leith & Gray and how you got set up?
Hello!
In short, Leith & Gray is an online gifting business, providing a wrap-around service from start to finish. We select beautiful, thoughtful and out of the ordinary presents and create unique gift packages for people to celebrate the special occasions in life.
Over the years we found it increasingly difficult to find gifts for friends and family that really inspired us, and trawling the shops became overwhelming, time-consuming and stressful. However, we've both always shared a strong passion for design and creating things and we've always loved the challenge of finding unique and exciting presents for people. As our children got older and we had more time on our hands, we realised that we could turn that passion into a business.
From sourcing and creating to wrapping, writing and sending – we do all the hard work for you, making shopping experiences quicker, more enjoyable and completely stress-free!
With Christmas having recently passed, it must have been a really busy time for you. What was the biggest challenge over the festive period?
We only launched 6 months ago so we are still very much in the exciting early stages of our business. We have had some great support from friends and family who are continually spreading the word for us and our customer base is growing steadily. Our biggest challenge over Christmas was receiving and fulfilling our first corporate and bespoke orders alongside keeping up with the Christmas orders. Planning and ordering stock in time for these was a steep learning curve but also a fantastic experience for us.
You offer a wide selection of online gift boxes. Which are your best sellers?
So far our 'Rest and Restore' gift box, which is a spa based one, is proving very popular. It contains some beautiful, organic, handmade products that smell amazing when you open the box- it's a shame we can't get that across on the website!
Our other best sellers include 'The Creative Thinker', a stationery based gift box, and 'Best Foot Forward', a personal favourite, which contains some fabulous designer socks for men.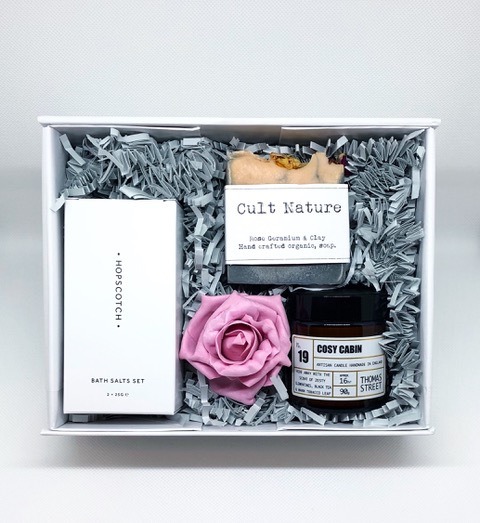 How do you go about selecting the right suppliers for your gift boxes?
We've attended both the Spring Fair and Top Drawer trade shows which have been great at introducing us to some incredible brands we wouldn't have otherwise heard of. The trade shows are great places to meet independent makers, sample their products and learn all about their businesses. When selecting suppliers we try to look, where possible, for brands that are eco-friendly, handmade, and brands that we would love to receive ourselves and be proud to showcase. We've also found Instagram and Etsy to be great sources of new and exciting British talent and enjoy the support we can give to each other.
What kind of challenges do you face running a small business?
Running a business is a constant learning process. Neither of us had worked in business before Leith & Gray and we are doing everything ourselves – from building the website to product photography to designing. We also both have 3 children so attempting to fit the daily running of the business around busy family lives can sometimes prove challenging, as can switching off at the end of the day.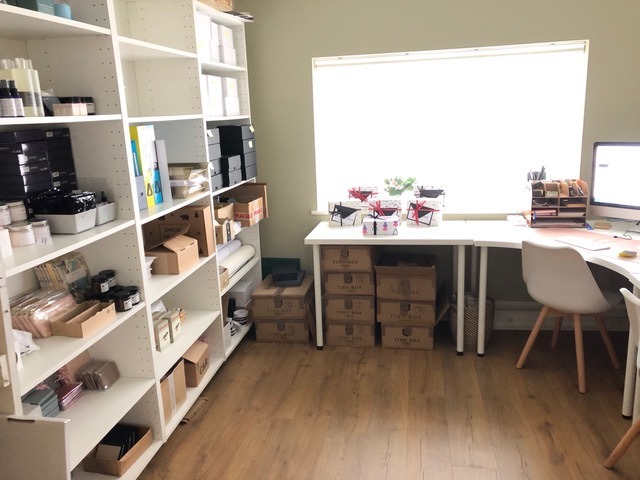 What's the best bit about owning your own business?
There are so many positives to owning your own business! Being able to work from home and being around for our children is a huge draw for us. As is working together! We've been friends for over 20 years and we are very fortunate that not only do we get along incredibly well but our children love getting together and our husbands are best friends. Spending time together and working on the business is always enjoyable.
We should also add that product sampling is most definitely a perk of the job!
How did you come across Printed.com?
It was back when one of us needed children's party Invitations but couldn't find anything original and unique. We ended up designing our own and using Printed.com to print them. We were so impressed with the quality, cost and speed at which they arrived that you came straight to our minds for our business needs!
What do you print with Printed.com?
The very first thing we had printed were our Business Cards, printed on Rives Tweed textured paper. We were so excited to receive them as they were our first physical product displaying our logo! We loved them so much that we used you again for printing a variety of Notecards, that we add to all of our boxes, and some fantastic quality Leaflets that we are using for advertising.
Have you got any exciting plans for 2020? What's next for Leith and Gray?
We can't wait for the rest of this year as we have lots of ideas in the pipeline. We want to continue to grow the business, to discover new products and independent makers and launch even more gift boxes. Due to the fabulous range of products at Printed.com we are also hoping to design more of our own Notecards, Gift Wrap and we have some other exciting ideas up our sleeves… watch this space!
Make sure to check out all of Leith & Gray's wonderful products at www.leithandgray.co.uk as well as on their Facebook, Pinterest and Instagram!
Don't forget to share all your wonderful creations by using the Hashtag #ProudlyPrinted for a chance to be featured on our Instagram!