Invitation ideas for a 'destination wedding'
Destination weddings have risen in popularity over the last few years, as more people look for ways to enjoy a luxurious wedding outside of the UK.
The lure of sun, sea and sand for the 'big day' is enough to get us bride-to-bes grabbing our bikinis and booking those flights. However, there are some things to think about when it comes to planning a wedding abroad, especially in terms of destination wedding invitations.
A destination wedding can give you plenty of creative license for the design and theme of your invites, but there is also a certain etiquette that needs to be considered. Let's take a look at what you'll need to think about when sending out your invitations, along with some incredible inspiration to get those artistic juices flowing.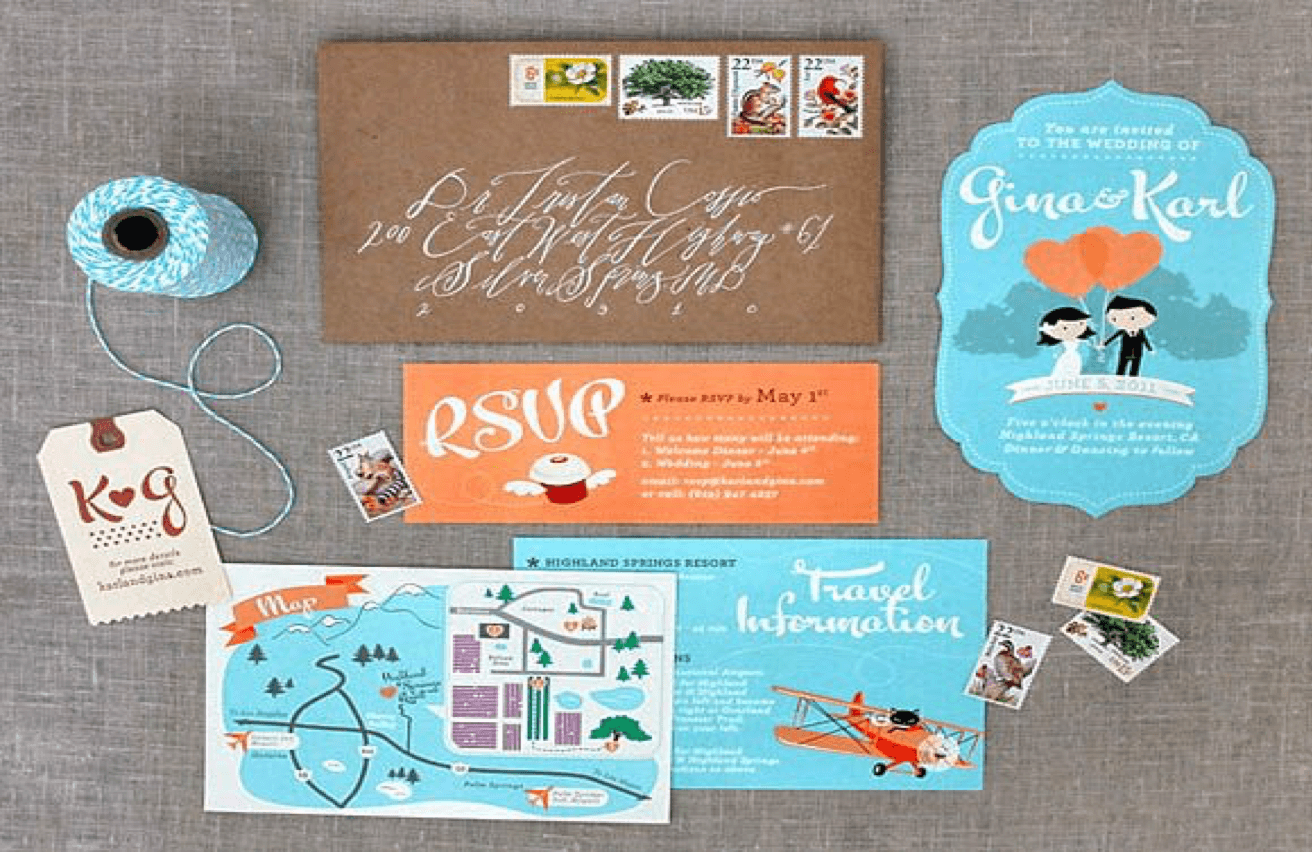 Destination wedding invitation etiquette
Whether you are planning an intimate wedding for close friends and family, or a somewhat more grand affair, inviting guests to your big day abroad needs a little bit more thought than just inviting them to the bingo hall down the road. Guests will need to be given as much information as possible in order for their trip to run as smoothly as it can. Remember, these people are potentially travelling a long way to see you and your spouse get married, so give them some extra special attention.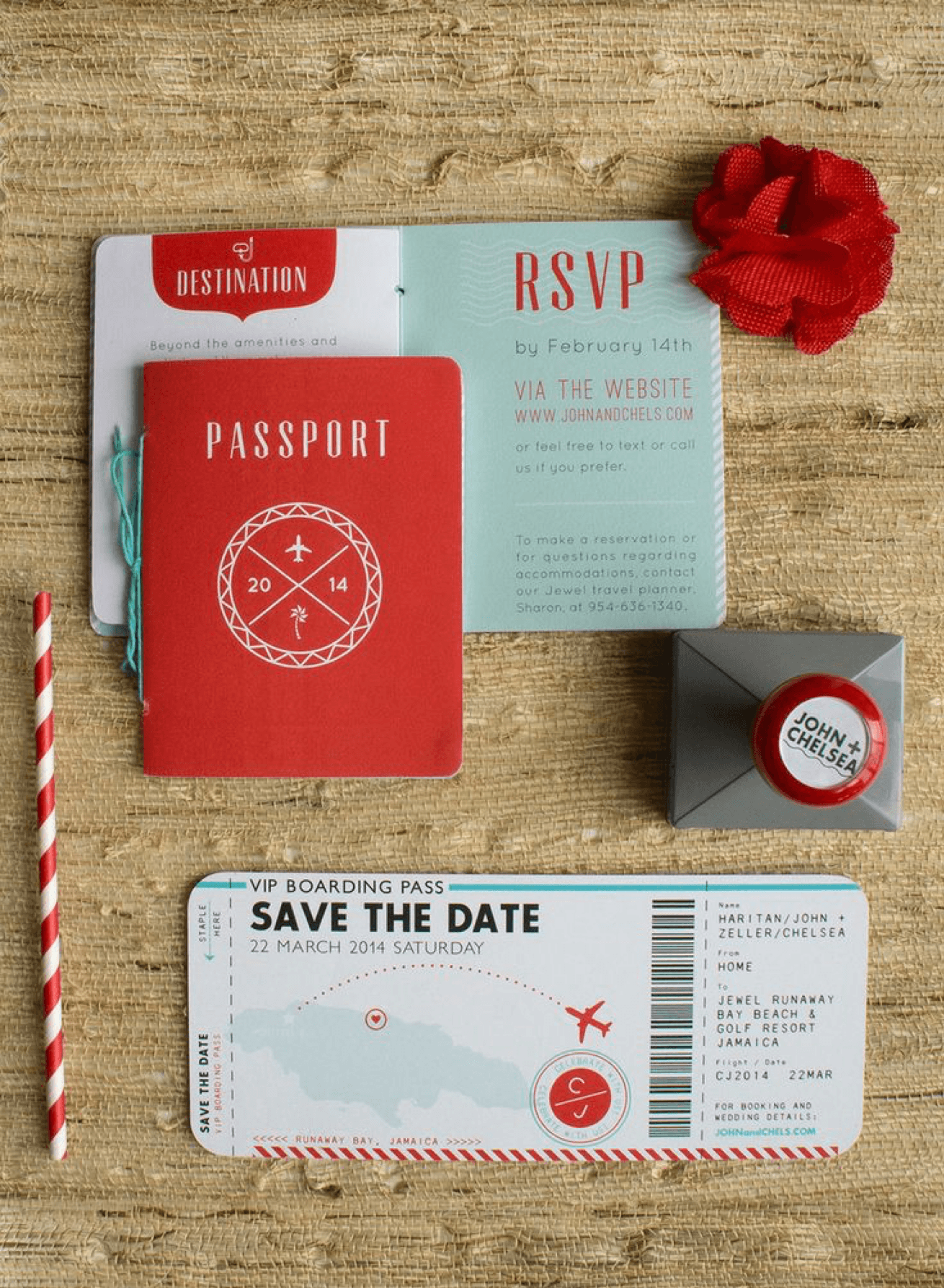 It is best to do as much research as you can before even considering what your invitations will look like, as you can then provide your guests with relevant and useful resources. Ensure your guests feel special, and that their experience of your wedding is hassle free. Along with all of your usual details, make sure you include some (or all) of the following:
Destination information – This is the most vital part of the invite! Whereabouts are you getting married and why have you chosen that particular destination? It could have a special meaning to you and your partner, which would be a great thing to include on the invite.
Travel information – This is an excellent way to make life easy for your guests, so include as much information as you can possibly find. What is the best way to travel to your wedding destination? Where is the nearest airport? Is there an alternative means of transport, if some guests don't wish to fly? How easy is it to get from the airport, train station or dock, and what transfer options are there? Include numbers for hire cars or taxi services if the airport is quite far from your destination.
Accommodation information – If you have chosen a particular hotel for your wedding, then make sure you find out what their room rates are for your guests. You may find that there is a discounted room rate for guests at your wedding, which is handy information to include on the invitation. Also, give your friends and family some options when it comes to accommodation in case your hotel is fully booked or out of their price range.
Other information – There is a whole host of other information you want to include for your guests, so make sure you get it onto that wedding invitation. For example, guests may not know what the dress code is for a destination wedding which is something you need to think about. Should everyone wear suits and formal dresses in the sweltering heat or are you happy for something more casual? Also, make sure you include contact details for your wedding destination including the venue, accommodation and anything else you think is necessary.

Destination wedding invite inspiration
Now that you have the etiquette sorted, it is onto the fun stuff: what do you want your destination wedding invitations to look like? As destination weddings are still quite new, it gives you the chance to set your own trends and pick your own themes. If you find that your creative ideas are waning, however, then we've got some amazing inspiration for you to think about. If you've got an idea, but can't find the print to fit, there's always the option to go Bespoke too. Just fill out our bespoke form and we'll get back to you with a quote within 24 hours. easy!
Travel themed inspiration
Who needs a specific theme when you're getting married abroad?! Use your destination wedding as an excuse to create some rather uniquely themed invites, with travel as the inspiration. The following travel themed wedding invites inspiration will give your guests a hint at what exciting things are to come.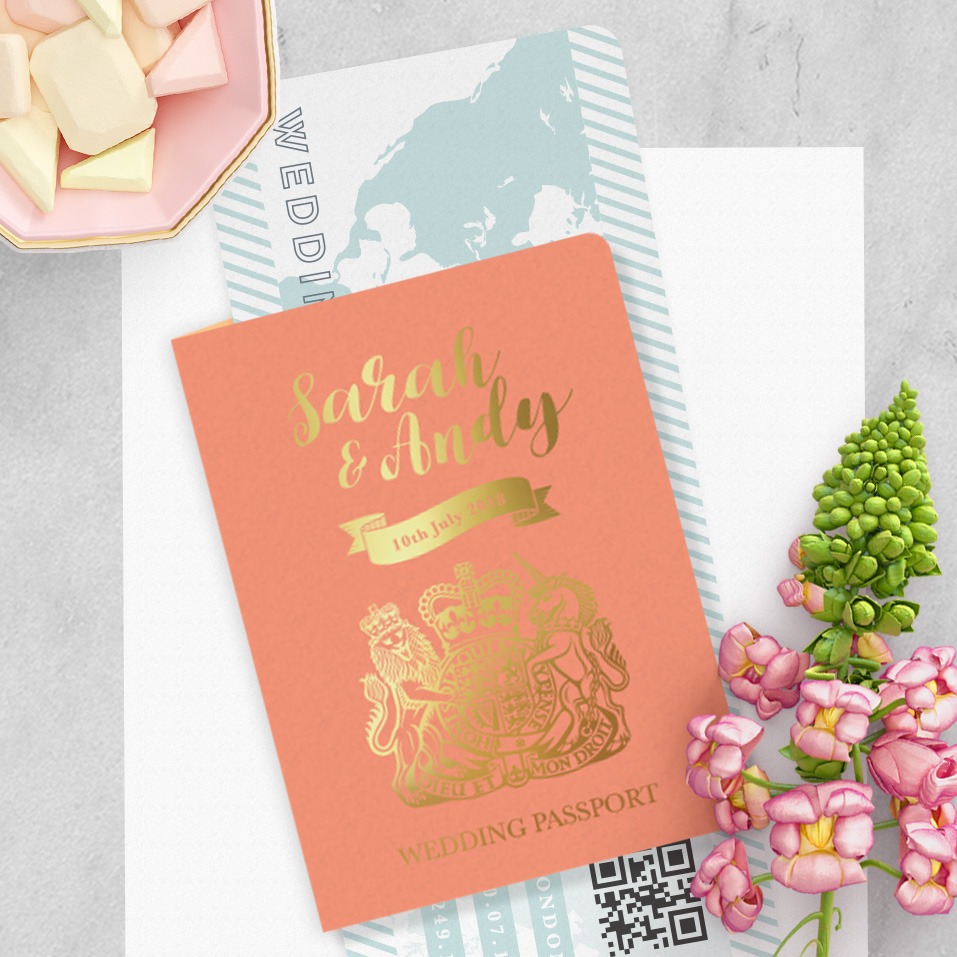 Passport style invitations – This is a firm favourite for those getting married abroad, especially as you can play around and have a lot of fun with it. Include a passport picture of you and your partner, whilst laying the destination information out on the inside. Your guests will keep these invites as mementos for years to come.
Ticket style invitations – Give your guests a ticket to ride with these quirky invitation ideas. Add your destination to the 'arriving at' section, with the date and time of your wedding as the 'flight time'. Be careful that your elderly relatives don't try to use these invites at the airport, however!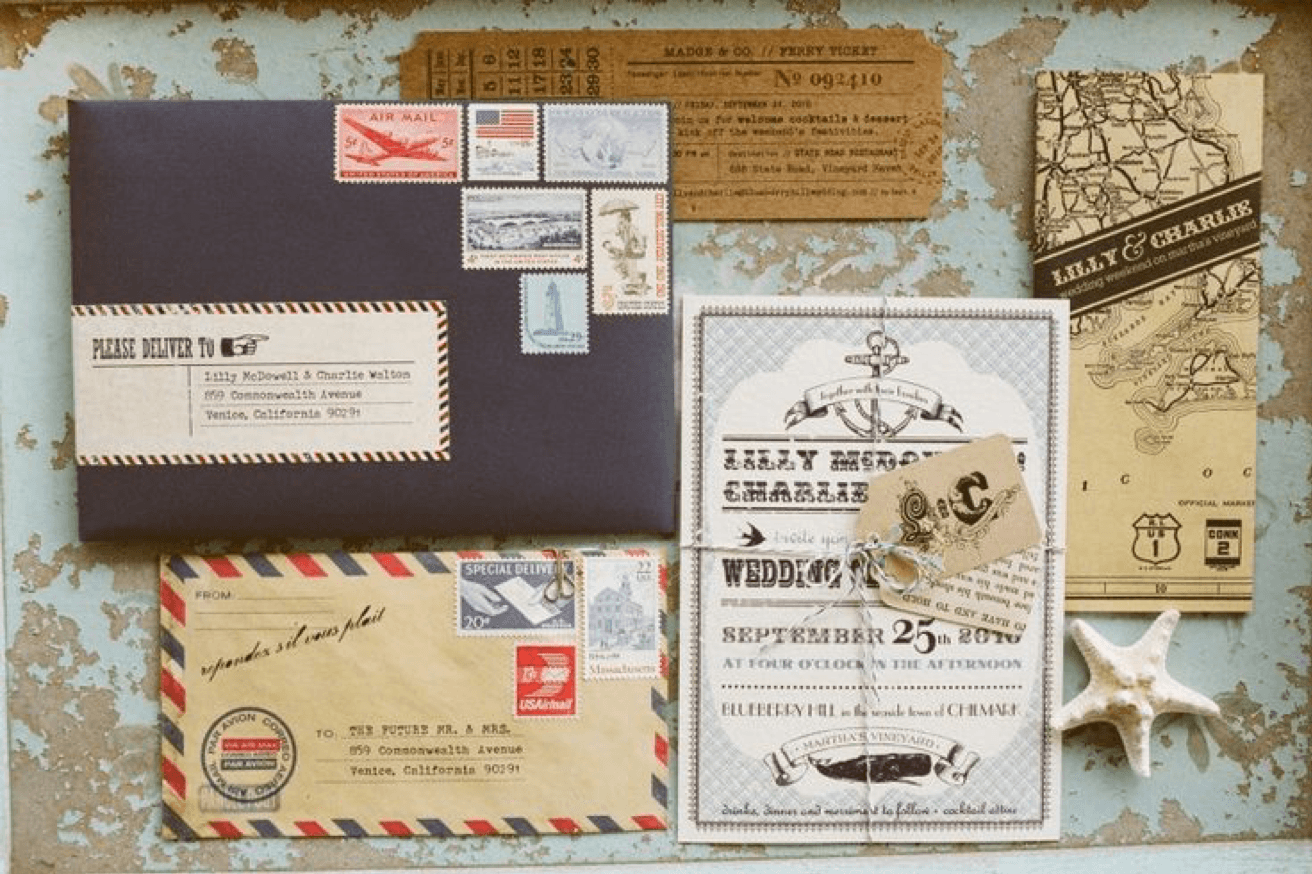 Postcard style invitations – Want to let your guests know where your destination wedding is taking place, in a slightly unusual manner? How about sending them a postcard invite, with your wedding destination as the theme? Whether it's an exotic tropical beach or the romantic city of Paris, these invites will surely get tongues wagging.
Map style invitations – It's likely you're going to need to include a map of your destination wedding anyway, so why not use it as the main theme? You can find some really cool retro style maps online that would make the perfect background to your invitation. Consider a big red heart on the map, highlighting where you're getting married, instead of a circle or arrow.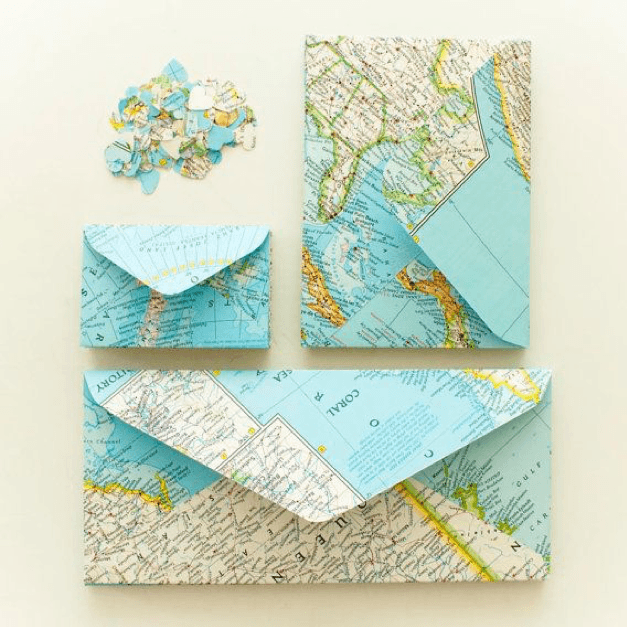 Destination themed inspiration
If you want to get your guests more excited about where you're getting married, use your destination as a theme for your invites. Turn your type of location, be it beach or city, into the main theme for the stationery and perhaps even the wedding itself. Here are some of the most popular destination themed wedding invite ideas.
Beach wedding – Take your inspiration from the sandy shores of your wedding location with shells, watery surroundings and even sand. Everybody loves thinking about the beach, especially when stuck at home.
Tropical wedding – If your wedding destination is a tropical paradise then this is the best excuse to get some palm trees on your invites! Keep them crisp and clear, just like those turquoise waters of the tropics.
City wedding – Getting married in a bustling city with some incredible sights? Try to include some of the most famous landmarks on your invitations. This works exceptionally well for cities such as Paris, Venice and Las Vegas!
Snowy wedding – For those who are feeling adventurous and are getting married somewhere chilly, turn your invites into a snowy scene complete with polar bears and penguins or mountains and skis, depending on your preference.
Safari wedding – If you are planning to get married surrounded by some incredible wildlife, then take your inspiration from them. Yes, that does mean you can get away with animal print invites.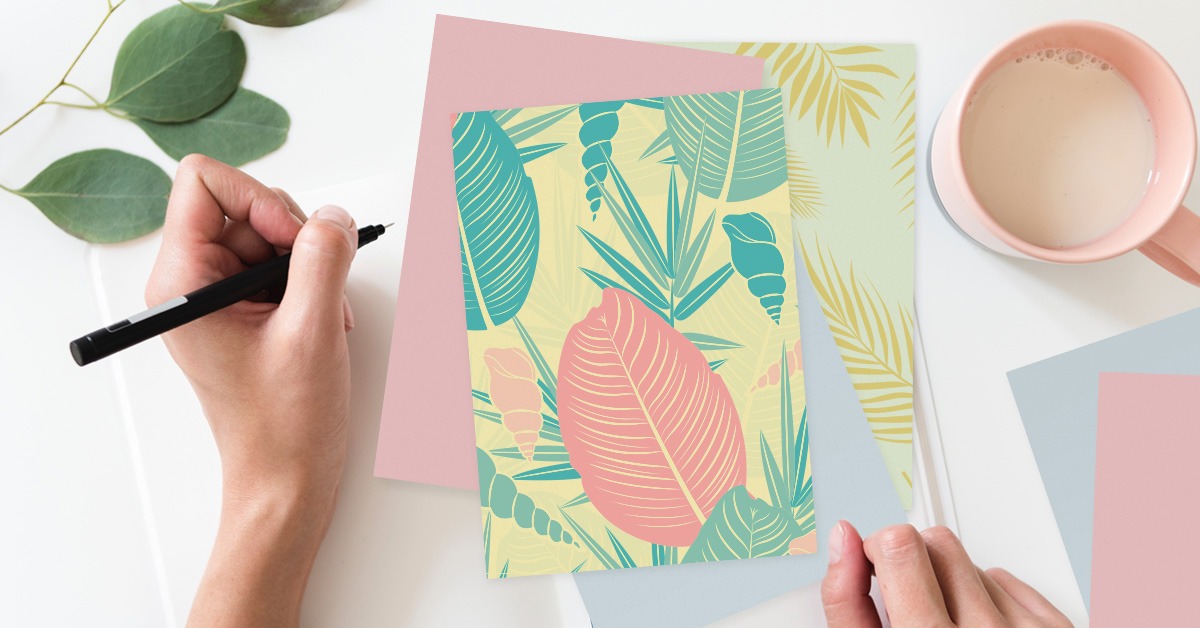 Phew! By the end of this post, you should be well on your way to creating your own, totally unique DIY Wedding Invitations for your destination wedding. If you've already created invitations with us here at printed.com, why not share your experiences in the comments below and give your top tips for print perfection?
Want to make it into the next #ProudlyPrinted post? Post your designs your designs on our social channels using the hashtag and your designs could be selected.
While you're here, why not check out some other #ProudlyPrinted creations with our Artist and Positivity edition?