How to create custom Stickers
Looking create custom Stickers? This isn't our first rodeo…we've been in the Sticker-making business for a long time. So we're here to show you how easy it is to create your own!
Picking a Sticker Type
We offer seven variations of custom Stickers and Labels and they do it all – branding, boxing and selling.
Round Stickers: The epitome of versatility, our Round Stickers can be used in your packaging, as Product Labels or even in your wedding print. From 25mm to 88mm, this shape and style is available in six different sizes.
Card Catch Stickers: Hold Envelopes inside your Greeting Cards with our low-tack Card Catch Stickers. These nifty little rectangles are better for the environment and give you space to add your own branding. Win-win!
Rectangle Stickers: Leave your mark on a product, letter or present with our Rectangle Stickers. Supplied on A4 sheets, you're spoilt for choice with seven different sizes to choose between.
A-Size Stickers: A-Size Stickers help you say it loud and proud. Available in matt or gloss stocks, these Stickers are the largest in our collection.
Heart Shaped Stickers: Available in 2 sizes, spread the love with our Heart Shaped Stickers. Popular with our wedding customers, you could use them to seal your Save The Dates or add to your wedding favours.
Clear Stickers: Our Clear Stickers give you the freedom to have both opaque and clear elements in your design. Waterproof and tearproof, this a great option if you're looking for sleek labels and packaging.
Square Stickers: Keep it simple with a Square Sticker. Use them to secure your Belly Bands or hand them out as freebies… the possibilities are endless!
If you're looking for a custom shape to fit your business, contact our Bespoke Team for a quote.
Choosing your stock and finish
The paper you choose can make all the difference to your finished print, and lucky for you we have a host of stunning stocks. Here are three of our favourites:
Recycled Uncoated: Available on a selection of our Round Sticker sizes, we have a new Recycled Uncoated stock. Featuring an off-white and slightly flecked surface, this is our favourite eco-friendly option!
White Gloss: Supplied kiss-cut on A4 sheets, this is one of our most popular Sticker stocks. Available on 170gsm, this is a great choice if you're looking for your colours stand out.
Silver Gloss: Choose Silver Gloss for a touch of shine. This Sticker stock is waterproof, durable and easy to peel. Just remember that white designs will show up as silver when printed!
If you wanted to make your Round, Rectangle or Square Stickers extra special, you can also opt for a fancy Foiled finish. This finishing touch is a great way to make your labels, packaging or wedding prints feel a little more luxurious.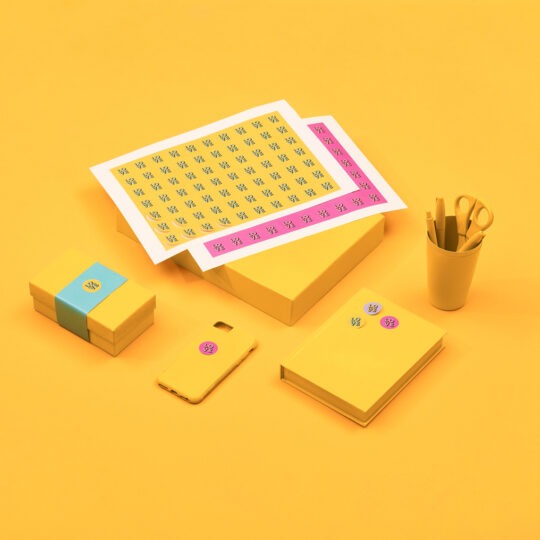 Setting up your artwork
Whether you're a whizz at design, or a total beginner we've got a number of Sticker templates to help. Simply select your Sticker product and file type, and press download.
Some important questions to ask yourself before exporting your print-ready files are:
Have I added bleed? The bleed area should extend 3mm from the edge of your finished image. Your design should then be extended into this area to avoid any white lines after printing. If you need help setting it up, check out our simple video tutorial here.
Is my text too close to the edge? Make sure to keep any text at least 3mm away from the edge of your design.
Have I removed all cutter guides and templates? You don't want to leave these on or they'll get printed on your final product, so make sure to delete them before exporting your artwork.
Have I saved out my artwork as CMYK? To ensure your colour choice perfectly matches your vision, you'll need to save your images as CMYK, (RGB is the best colour mode for digital work).
Have I double checked my exported design? All Sticker artwork should be exported as a PDF, JPEG or PNG file for upload.
If you need a hand with your artwork, just give us a call on 0800 840 1430, chat with us live on-site or drop an email to theteam@printed.com.
Now you're all set to get started on your custom Stickers. We can't wait to see what you come up with!