A guide to designing Fine Art Prints with Bewilderbeest
Looking to design and sell your own Fine Art Prints? Iain from Bewilderbeest can help.
We were lucky enough to meet Iain on our visit to Top Drawer. For someone who has built a business on turning daft jokes into hilarious works of art, Iain has some seriously good advice for creatives out there.
If life feels a bit overwhelming at the moment, why not take a few minutes out of your day to read how Iain makes the world a little brighter with his absurd creations.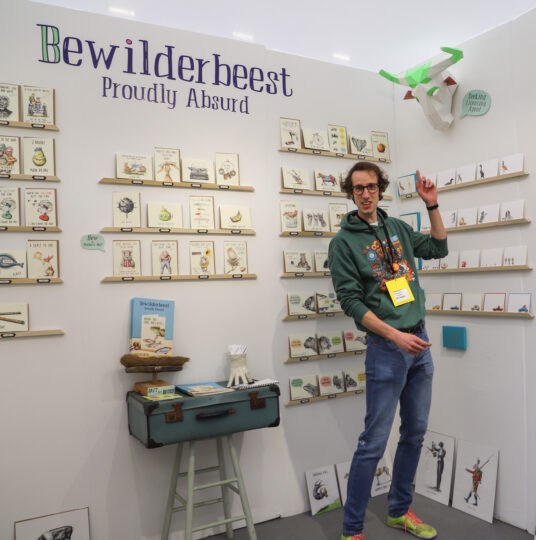 Hi Iain! Firstly, tell us a bit about Bewilderbeest
Howdy! Bewilderbeest is my excuse to be a bit weird, come up with daft jokes every day, and all the while get to call it 'a job'.

I paint absurd pictures because the best things in life make you look twice – they're absurd, they're extraordinary, and they don't always make sense…much like Bewilderbeest.

I run the business with my wife, Maddy, selling Greeting Cards, Art Prints, notecards and coasters to shops around the world. Turns out, we're not the only nutters out there.
Your Art Prints and Greeting Cards are hilariously unique, where do you find your inspiration?
Many of my most daft ideas come from just hearing everyday words or phrases. If someone says 'receding hair line', my first thought is a queue of hares going off into the distance, not someone with mild hair loss. I refuse to speak to a psychologist to find out what that says about me.
Have you got a favourite Fine Art Print and why?
I think our Croque Monsieur print is the one for me because of his eccentric outfit. Anyone who says they don't want to wear a cavalier hat with an ostrich plume is a fibber. Plus, at 6ft 8 inches tall I've got the legs for plum-coloured stockings!
What makes a Giclée Art Prints better than regular printing?
Well, for one, my home inkjet printer is possessed by a vengeful spirit that sprays ink with abandon. Some of my early designs, that I used to print at home, I intentionally added 'artistic ink splatters' so that no one could tell the difference between them and my printer being faulty. True story!
The main benefit to me is that Giclée Fine Art Prints don't fade like basic prints do. If someone is paying for my artwork, then it's not a good look if their print fades after a few years (which has happened to me with art I've bought for myself). Many Giclée Prints will outlast the buyer (and me) without fading.
We source our Fine Art Print paper stocks from Hahnemühle. Do you have a favourite paper and how would you describe it?
The German Etching paper is the paper I use for our prints. It has the closest finish to the watercolour paper I actually paint on, and it's pleasingly lightly textured, like a Basset Hound's nose.
Who would your dream customer be?
Pinocchio because you'd be guaranteed to get honest feedback from him.
If you could only choose three items to have beside you as you work, what would they be?
1. A cruffin (which is a cross between a muffin, a croissant, and a doughnut). Though it would very quickly be inside me rather than beside me.
2. My box of 1,000 googly eyes. It's impossible to be unhappy when you stick googly eyes on inanimate objects.
3. My 'stache' of emergency moustaches – You never know when you need to look more impressive on Zoom.
What advice would you give to other creatives looking to design and sell Fine Art Prints?
Be different. Don't be afraid to make something weird that YOU want to make. Trust me, someone will like it, you just need to get it in front of them.

Also, don't use your home printer unless your designs have lots of splatters on them already.
What's next for Bewilderbeest?
Well, I did a silly rap video about blue cheese on social media recently and have been emailed by a talent scout (who I'm sure is totally legit) telling me that I 'have a mesmerising voice' and they'd like to 'take me to the moon'. So, sounds like I'm off to space to record an album.
Feeling inspired? Whether you're reproducing your illustrations, designs or photography, discover our Fine Art Prints today.