#InspirationPrinted- Discovering all things typed with AV Typography
We've always been proud to put small businesses and creatives at our core, so at Printed.com, we'll take any excuse to shout about the amazing work they do.
Today we're looking at all things script with Amy of AV Typography. At just 17 years old she's already founded a well-established stationery business and has plenty of creative wisdom to share! Read on to find out all about it.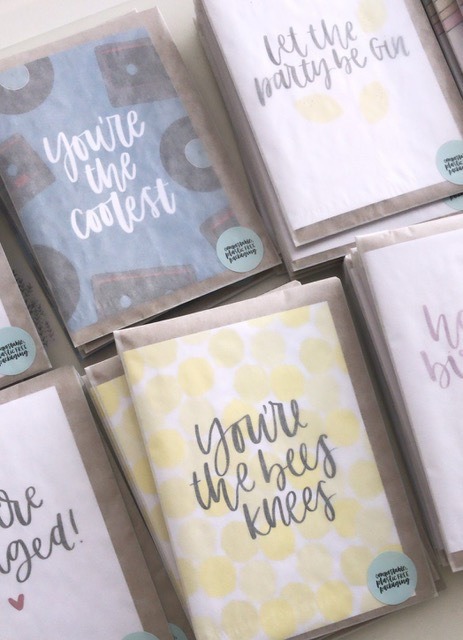 Amy – hi! Tell us a bit about your stationery business and how you got started?
Hello! AV Typography is all about creating ethical, beautiful Greetings Cards, Prints and lettered goodies for the everyday stationery lover. All my FSC certified cards are plastic-free and packaged in 100% compostable packaging, as over the past year I have been making a conscious effort to reduce the plastic consumption in my business.
My love for lettering began in 2016 as a hobby and kind of just fell into a business from there. I wanted to turn the things I loved doing most into a job I knew I would adore – something that didn't feel like work. It's a great way to start a business I think! I'm happiest when I'm creating and have found passion in the work I'm doing with lettering and illustration.
Where do you find the inspiration for your designs?
I'm inspired by the world around me, the people I meet and I'm always spotting those unusual things that other people would perhaps miss. I start experimenting with design ideas and card ranges naturally form, as I constantly illustrate and experiment in my studio.
Which is your absolutely FAVOURITE quote used in your designs to date? Why?
As we're approaching the festive season, my favourite quote from my Christmas collection has to be 'Ho Ho Holy Sh*t It's Cold Outside'. When I'm at any Christmas fairs, it's the one card people chuckle about and is one of my best sellers! Can't think why!
You recently did a Kidpreneur interview with Holly Tucker of Not On the High Street – can you tell us a bit about this experience?
Totally out of my comfort zone to do something like it but it was such an amazing opportunity to be interviewed by Holly! She made me feel completely at ease and towards the end of the interview, I had completely forgotten there was even a camera there. I had so much amazing feedback from this and Holly & Co now stock my cards in their shop!
What's it like to be a young person in your industry? Is there a good sense of community?
There is such an amazing community of makers and creatives! From being strangers on Instagram to meeting lovely fellow indie makers at markets, everyone tends to support one another. I get so many wonderful messages, especially through Instagram, with people saying 'I can't believe you're 17!?' and find that age doesn't tend to make a difference at all. In fact, it seems to motivate others that are maybe thinking of starting their own business as there aren't many people my age running a business or two.
What does a typical day in the studio/at home look like for you?
I'm now in college, so my typical day tends to end with me working in the evening, however, I do have a few breaks during my days at college where I get through emails and admin. When I get home, I check off my most important tasks before having creative time where I can design, illustrate and package up card orders for stockists. It means I have to juggle more in a general week but it's worth it as I love what I do.
What kind of challenges do you face running a small business?
Consistent sales and getting into new stockists (particularly the bigger ones) are my current challenges. I'm always on the lookout to expand my independent stockists but it would be lovely to be in larger retail outlets like Oliver Bonas and John Lewis too. Maybe one day!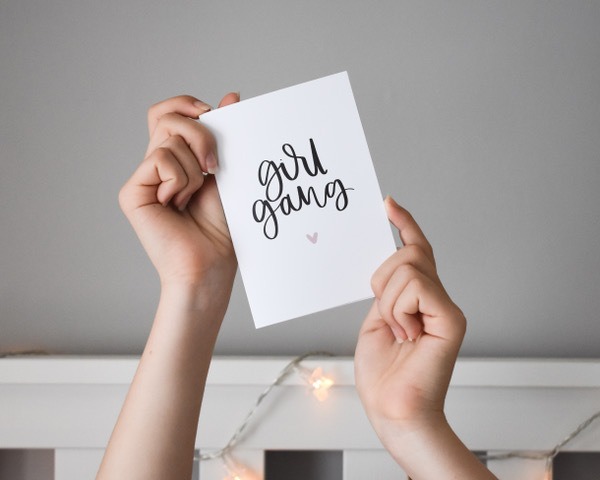 How did you come across Printed.com? What do you print with us?
I think I found Printed.com by searching online while looking for quality Card printers in the UK. This was when I was just starting out with my first collection! I thought I'd see how my designs turned out and since then, all of my printing has been done with you! I print all my Greetings Cards, Stickers and Business Cards with you and wouldn't go anywhere else! The quality is just amazing and the fact that they are printed on FSC certified paper is that extra bonus that makes all the difference in the Card industry.
In the final run-up to Christmas, what 3 pieces of advice would you give to other creatives looking to boost their festive offering?
Firstly, promote, promote, promote! Christmas is the perfect time to shout out about how amazing your business is. Don't be afraid to be heard and push your product out into the world during this time of year.
Another piece of advice is to network. Go to the networking meetings and pitch up at fairs ready to talk and connect with other people. I guess that's still promotion but in another form where you can unite with like-minded creatives and build a community. Lastly, get your orders in early so you have plenty of time to prepare and boost your festive marketing – it is the busiest season after all!
Make sure to check out Amy on her Etsy, Facebook and Instagram!
Here at Printed.com, we're committed to reducing our impact on the environment. From innovative packaging and sourcing carbon-neutral and eco-friendly papers to minimising and recycling our waste, we're dedicated to doing good for our planet.
Find out about our greener pledge