Wedding Photography: alternative ways to showcase your memories
Get creative with your Wedding Photography!
Whether it's your special day, or you're creating for a client, we've got some excellent ideas for unusual and interesting ways to capture those wedding memories with wedding photography. With everything from fridge magnets to Instagram style prints and even some creative upcycling – take a look and get inspired with us!
Magnetising memories
What better way to remember a special day than pinning the memories straight to the fridge? Order yours by choosing Business Cards and selecting magnetic paper. You can print more than one design using our versions service too!
Or, why not create a single design, and add a message of thanks to send to guests as a cute memento of the day that they can cherish forever?
Snap happy
Why choose just one photo to hang pride of place? With our Instagram Prints, you can choose as many photos as you like and turn them into Polaroid style snaps. Whether you pop them into a frame, blu tack them to the wall or string them up in a line, your memories will stay alive in the most unique way!
Get stuck in
Our Instagram Prints also come in Sticker form, perfect for popping into blank notebooks to make scrapbooks. With Stickers you're not limited to placement either, and they make annotating easy – an ideal alternative to a traditional photo album!
Scatter effect
Looking for something more permanent than Instagram Prints? Why not create a collage of your favourite shots with Canvas or Photographic Prints instead? Arranging them in an array of different sizes but keeping the frame style the same gives a cool, sophisticated 'scatter' effect that turns a wall into a feature.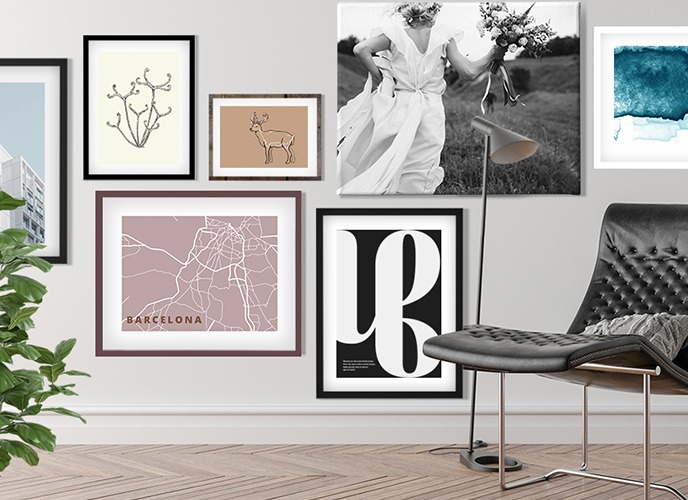 Go digital
Save lugging a photo album around by creating a digital disk containing all the shots of the day? They're easy to hand out and give everyone a chance to print the photos they liked best, as well as keeping their own memories of the day. Don't forget to add a special photo to your CD or DVD Covers too.
Unusual upcycling
A fun an interesting way to create a unique focal piece starring the big day is with some creative upcycling. Grab an old vase, print yourself some Stickers and get covering! Plus, as our stickers have a strong permanent self-adhesive, you'll save yourself from having to whack out the PVA.

Cheers to that!
Thanking guests is the final touch for any big day. Why not create photographic Thank You Cards featuring a snap from the day? Available in flat or folded options, guests will love the personal touch, and they can keep the photo as a memento the day.
A sleek showcase
Rather than traditional photo albums, why not design photobooks using our Hardback Books? They look great on display, and their ultra-durable nature means they'll stay pride of place for years to come.
Have you got any similar alternative ways to display Wedding Photography? We'd love to hear from you in the comments section below, or alternatively, tag us in your creations using the hashtag:
Want more inspiration? Check out our alternative ideas for a Wedding Guestbook or The Big Day and Beyond, everything you need to know post-wedding.