A big hello to Hello Treacle!
At Printed.com, we're lucky enough to help thousands of people boost their businesses with print. We work with brands and companies from all sectors – from business services to charities, creatives to retailers.
We're passionate about print, and even more passionate about helping each and every customer succeed. So, each and every month, we'll be talking to our very own customers, asking them the questions you want to know the answers to. Whether you're just starting out, or you've already found your feet in the industry, get tips, tricks and inspiration from people just like you with our Customer Spotlight series.
Hi Amy! Tell us a little bit about you and your business…
I started in October 2016, from my little spare room in Swindon. I now have a slightly larger space in our new home. I sell lots of things with a focus on positivity – cards, pins, badges, mugs, milestone cards.
Tell us about how you got set up and a bit about why you do what you do…
I experienced fertility problems while trying to conceive both of my children and set up Hello Treacle to occupy my mind while we were hoping that the Tiniest Treacle would be on his way soon. I started with three greetings cards covering more general fertility topics, including my "I'm sorry that your uterus is being such an idiot" card, which remains one of my favourites.
Skip forward to May 2017 when I released my IVF milestone cards, which have been incredibly rewarding and are used by women the world over. I particularly enjoy following some amazing women on their IVF journeys using my cards on social media.
Since then my business has grown and evolved to include some vegan goodies and positivity focused products, especially pins and mugs and I'm excited to expand further. I've recently launched a pink variant of my positive pants pins in collaboration with The Pants Project and in support of Fertility Network UK.  I hope to do more charity pins in the future. (www.thepantsproject.com / www.fertilitynetworkuk.org)
What do you print with Printed.com?
At the moment I use Printed.com for all of my pin backing cards. I absolutely love the velvet finish and I think it's a really nice touch, especially for pin collectors and anyone gifting pins. The quality is great and I've received some fab feedback about them.
I love that there are templates for actual business cards, but by using my own artwork, business cards are a perfect way to present my pins.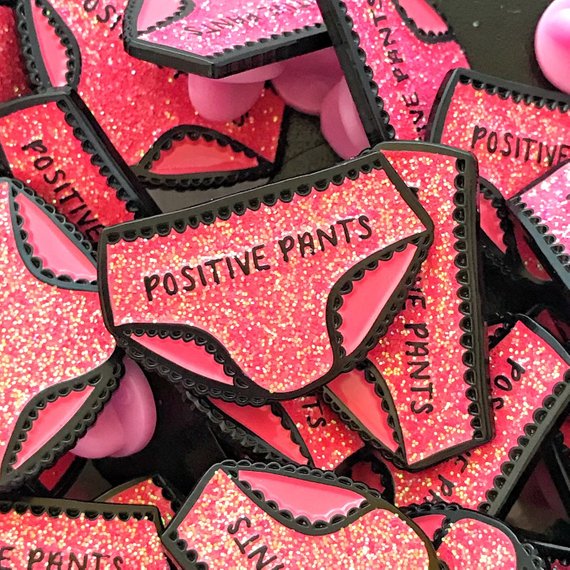 I'm also planning to get more of my business stationery printed in the near future – I love receiving attractive happy mail and I'd like to liven up my packaging a little bit.
What does the future hold for you and your business and where do you see your business going over the next year?
This is such a good question!
I'm about to give up my day job to spend some time at home and grow my business around family life! Argh! I officially left paid employment at the end of June and I'm super excited about the future!
In terms of where Hello Treacle is going next, it turns out that my own struggles with infertility and motherhood strike a chord with many other women. I really want to do more for women at all stages of their journey, whether in waiting for a longed-for baby, or feeling frazzled by motherhood. Hey, I also want to support those who choose not to have children!
One of my more recent passions, largely because of my own experiences since my little one arrived in February, has been around normalising breastfeeding and championing and celebrating breastfeeding mums. I've recently run a Kickstarter campaign for breastfeeding milestone pins, which also focus on body positivity.
I'm about to order some Printed.com pin cards for the pin rewards and I can't wait to try your foiled cards for those! I'll also be using Printed.com for my "Thank you for breastfeeding in public" cards, too – also rewards from my recent campaign. (www.kickstarter.com/projects/hellotreaclestore/hooray-for-boobies.)
I think you can mostly expect to see more from a motherhood perspective, plus more bright, cheerful, positive and punderful pins. I've also been playing with ideas to expand my vegan range and I hope to get a few things together before the end of the year.
Do you have any advice for creatives looking to get set up in your industry?
Just go for it.  It doesn't matter whether you start small or go in big, just start somewhere. When I listed those three cards I didn't expect to be sat here 20 months later, interviewed for a Printed.com blog and about to enter the world of self-employment.
The creative community is fantastic and I've met some wonderful people and made amazing friends over the past couple of years.  Reach out, say hello and don't be afraid to ask for a little help or perspective.
Oh, and do what makes your heart sing.  If you do something you love it will shine through.
Loving Amy's work? Check out her awesome products, pins and more over on Etsy! etsy.com/uk/market/hello_treacle
Fancy getting featured in an upcoming Creative Spotlight? Tag us on social media using the hashtag: