Talking travels, motherhood and inspiration with Annie Montgomery
At Printed.com, small businesses and independent creatives not only inspire us every day, they're at the very core of our business. We're proud to support creatives from all backgrounds, who create a whole range of products, and businesses of all shapes and sizes.
Our #InspirationPrinted series gives you a sneak peek into the world of these creatives. The second showcase in our series is the one-woman powerhouse that is Annie Montgomery – a.k.a. the brains behind MontgomeryFest.
Read the full interview below, or watch the #Inspirationprinted video here.
Annie, hi! Tell us a bit about yourself and how you started up your business
I started out in accounting which is a really funny tidbit. I travelled with my husband for work and that's where this whole thing really started. Back in Dallas me husband and I met working at the same firm. We both wanted to travel, so we threw a pin in a map and headed to Europe.
I started a travel blog. Mostly to tell all of our friends what was going on in our life. I started to create little graphics, so that's kind of where the painting came in. From doodles in Brussels to art challenges in San Francisco to arriving in London – my inspiration grew with each place we travelled to.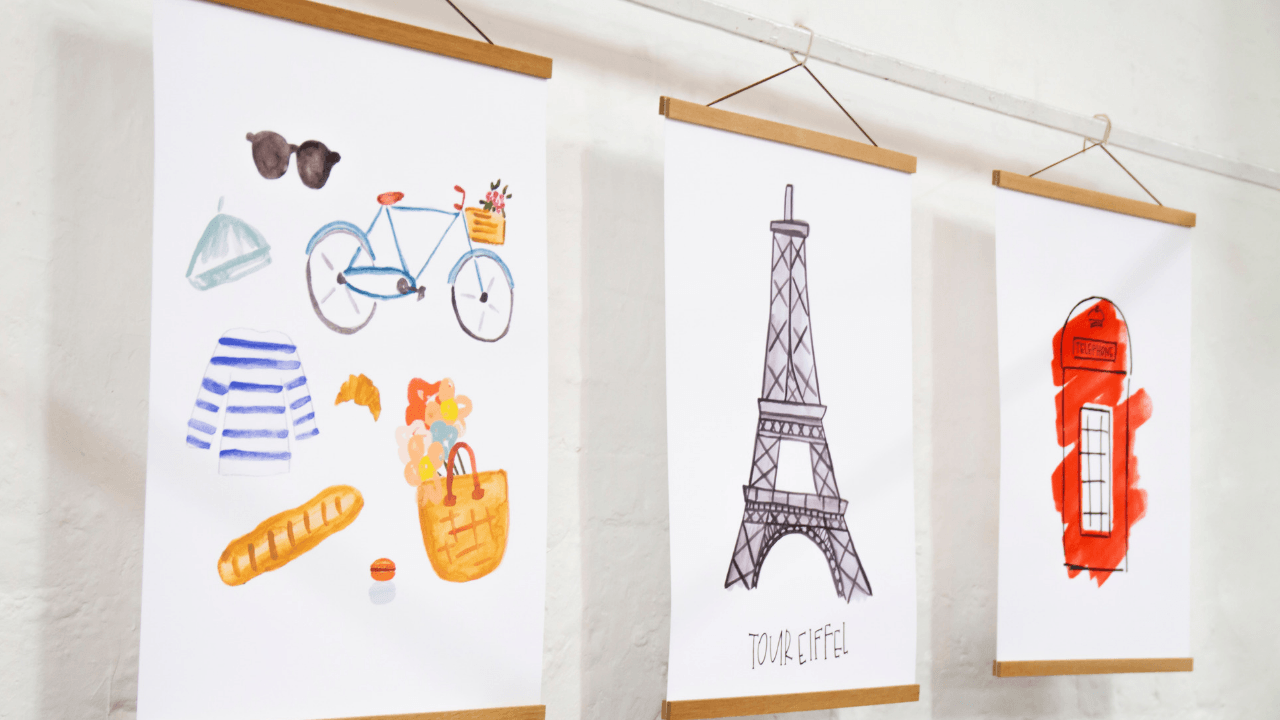 Can you pinpoint your biggest achievement so far since starting up your business?
Hmm. There wasn't a big defining moment – when the [online] shop opened I was creating art and then people wanted to buy it – and it just slowly snowballed. And now, I find myself just creating more and more.
I think this first exhibition [The London Artisan] is going to be the biggest step that I've taken throughout this whole thing. This will be my first step where I'm putting myself out in front of the public, and as an introvert that feels really big.
Where do you find your inspiration for your work?
I had like an onslaught of inspiration when I had a baby, it came out of nowhere. I was never this interested in half the things I want to create now.
But I get most of my inspiration from my travels. And here, London! I'm just endlessly inspired by London, anytime I go out it sparks this need to come home. I have notes everywhere, on my phone. Anything I can jot on. It's like I don't have nearly enough time to create all the collections that I have in my notes. One day I will have time to get all the drawings and the doodles in my head from all of my walks
What kind of challenges do you face having a small business?
So, I'm a one-woman business. I do everything under one roof, and I have to partner with certain people and companies. I just want to create, create, create. That's all I want to do. But I also have to consider manufacturing, the printing, the research, the shipping… I have to consider packaging, gosh packaging. That's such a big one.
I also have to research who I'm going to work with, the quality that I have that I want to offer the quality that company is able to match, so that we can work together. It turns into this long drawn out plan, something that 'how I'm going to get it to my end customer' takes so many steps, so many wonderful intense steps, that I've signed up for, but it all falls on my shoulders. In the corporate world [of accounting] I had one department and if it didn't fall under my department, I'd send it over to my friends in another department. That is not at all what my life looks like now.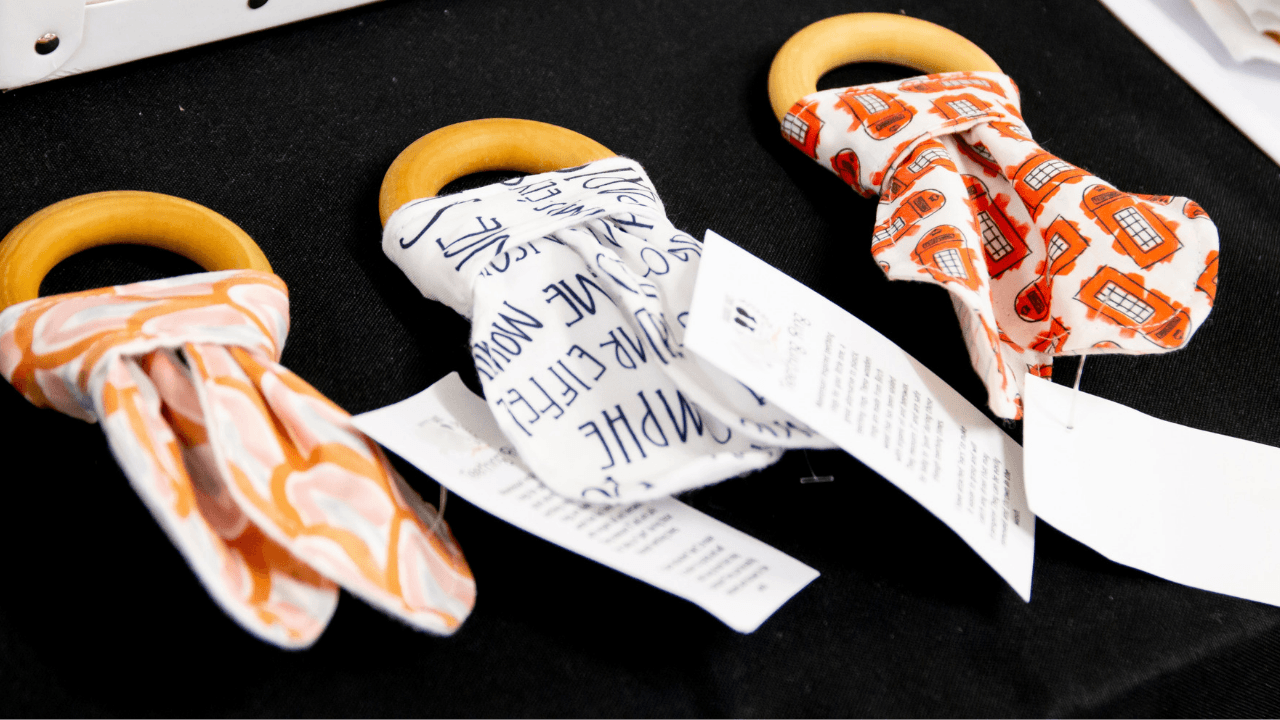 How did you find Printed.com and why do you like working with Printed.com?
So, I was looking for a print company, and by chance, my friend sends me a card in the mail*. When I opened the envelope I immediately messaged her and was like 'where did you have this made?' I just had to have it, the quality was impeccable, it was just very beautifully done. And it ended up being Printed.com. I had samples from all of these different companies, and I immediate pushed them aside. It's one thing to know that you love this paper, but also to have a friend that endorses the company. A lot of this isn't just a one-off – its forming a relationship with these companies. So I Ioved that she had already taken that step for me.
A big part of this starting out is nailing the finances and budget. I can only afford to have so many misprints and so many samples and orders and things like that. So, to just be like 'this works this is beautiful this is what I want' it was a really good feeling to have that settled.
What do you have printed with Printed.com?
I have Postcards, Greeting Cards and Gift Wrap and lots of packaging, like my Stickers and all of my promotional marketing materials that I put in packages. For the Postcards and the Greeting Cards I use the Cream option which I adore. I love the luxury feel of it. What my friend sent me was a foiled version and foil doesn't kind of work with what I'm creating at the moment, but it also felt kind of aspirational. Like maybe in the future I could open the range to that.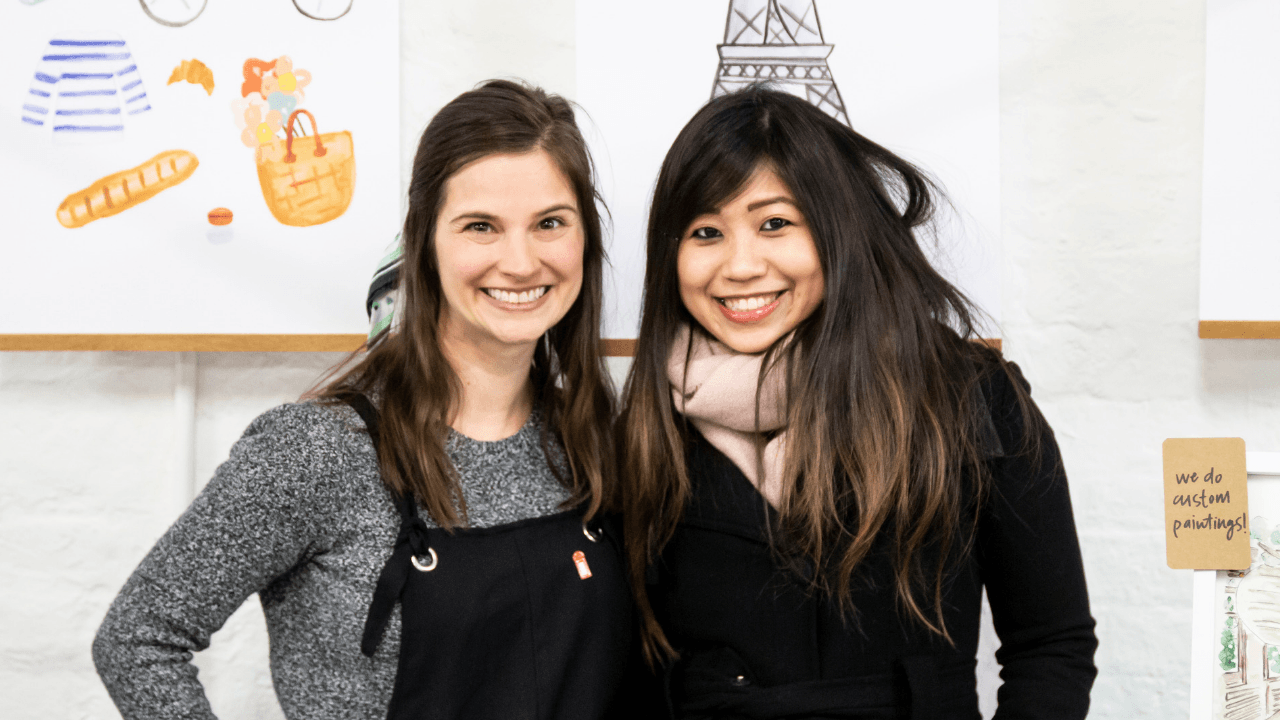 *We were lucky enough to meet Annies friend, Zhi Ling Lee (@curiouszhi) at the London Artisan, so we could resist taking a quick snap.
How do you juggle being a mum and running a business from home?
When Florence was a baby she could nap all day, she could play on the floor, she could not reach things that were on my desk. So, if she was playing I could occasionally get in work, and whether that would be painting at my desk, or designing different things on my computer.
The first year of Florence's life I really gave myself grace and decided, it's going to be about Florence. After a year I'll put her in nursery and I'll really focus on my career, because I don't work at a company that gives me maternity leave, I had to take it myself.
They say that that's the only time in life that you create new brain cells, and I really felt it, well not felt it but you know, I had all this time before I had a baby – what did I do with all that time? I had so much time and now I have a baby and I don't have any time, but all of the ideas, all of them.
That first year was really hard because I had loads of inspiration and little time to devote to the long list that I wanted to create. So then once I put her in nursery a couple of days a week that opened the door. And dear goodness it's that saying that if you want something done give it to someone busy. I got so much done in those 2 days. I was ripping through my to-do list because I knew that I had to pick her up at 4.30. Like there was no choice. And so that's kind of how it's been for the past 6/7 months with her being in nursery, and me getting in everything that I can while I have 'me time'.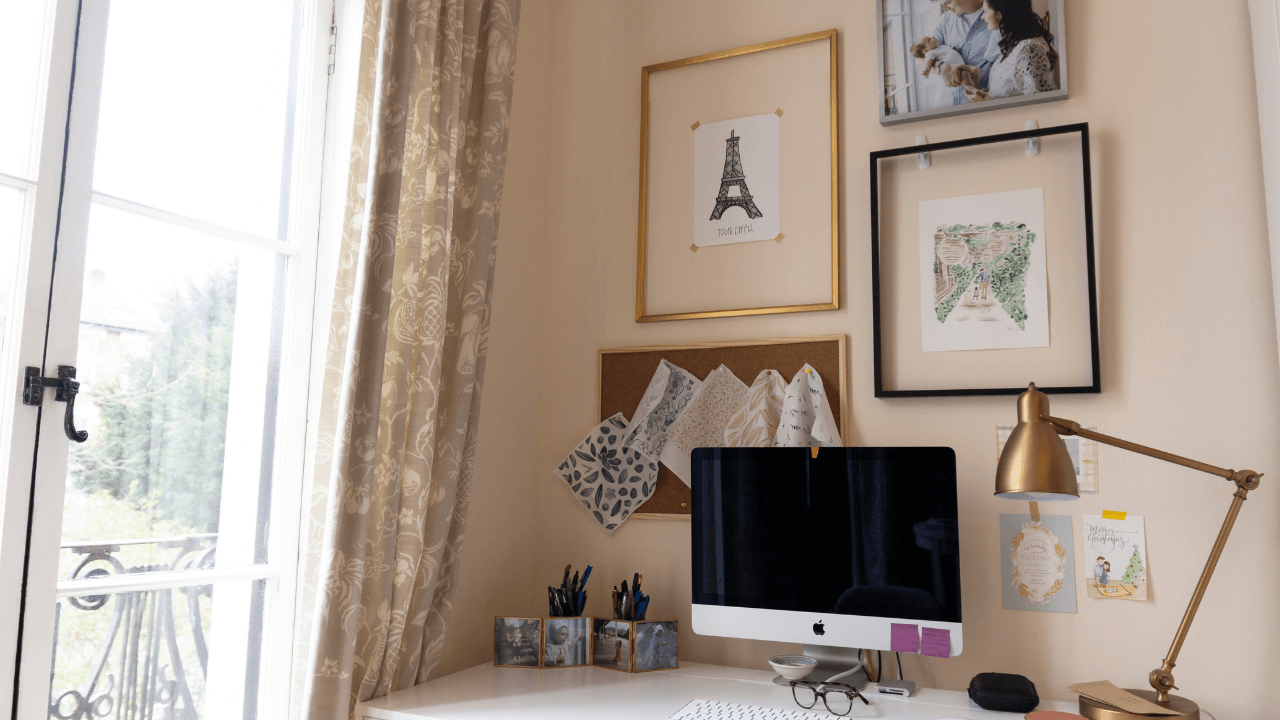 What advice would you give to other women looking to set up their own business whilst being a full-time mum?
It's all about prioritising, oh my goodness. It's about saying, okay, if I have 5 hours this week, these are my priorities. This is why you hear all these stories about mums not showering because, do I want to nap? There is a long list of things and shower is on there somewhere but what is the priority for today?
Allowing people to help is important too. Along with making time for yourself, because ultimately the more fulfilled you are the more you're bringing to their life anyway.
This whole motherhood thing is so giving of yourself, so it's just really important in actually giving back to your family.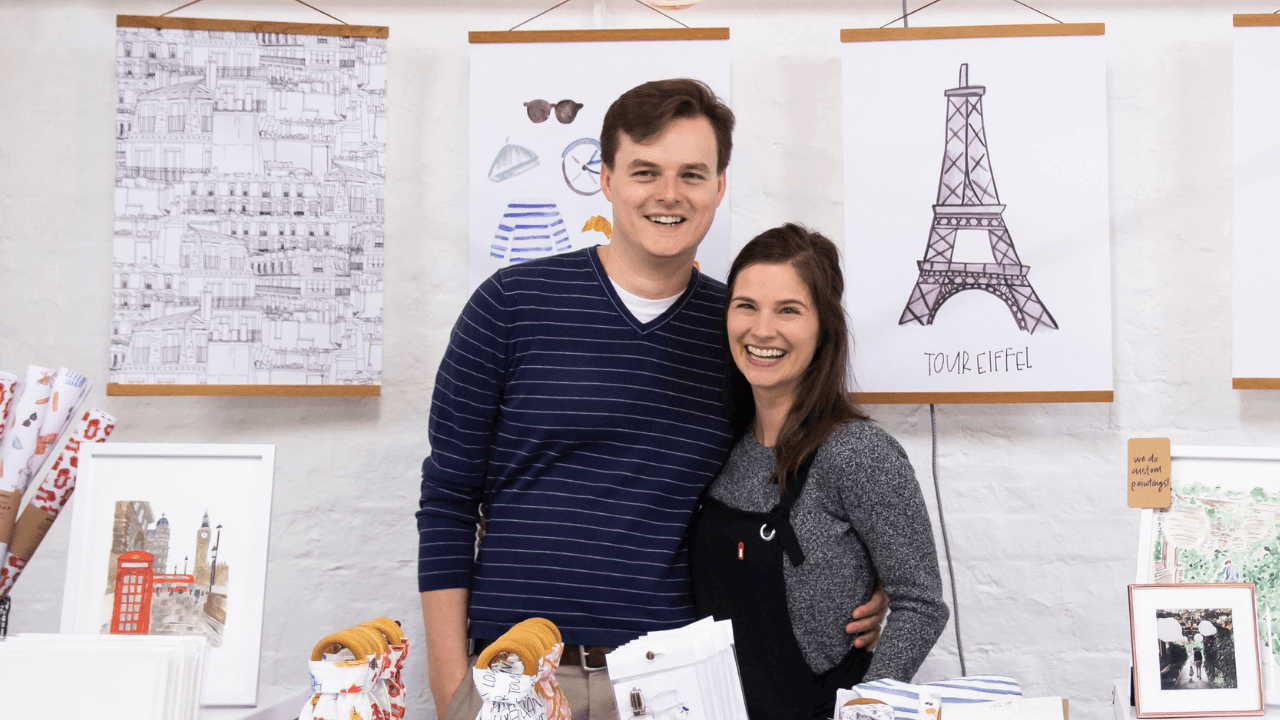 Could you tell us a little bit more about the exhibition and what you are exhibiting/what it's about/ how you're feeling about it in general.
So I applied for the London Artisan a couple of months ago and when I got accepted, I kind of had this rush of 'oh I have to kick it into high gear'. So then, I had to look at my whole range from a different perspective, which has actually just been really good for my business, just looking at it from a different lens.
The show will let me see what my audience is going to respond to, physically. It'll be interesting to see what they are most drawn to on the table and what kind of conversation that sparks. I'm hoping it'll help me fine tune where my art goes to next. That could be a fun adventure that can come out of this one big step.
I'm going to be presenting my brand, unfolding here what I'm offering through my art. It's a very vulnerable place and so it'll just be on this table for people to come and peruse. And judge and walk away if they don't want it – you know, it's very vulnerable. But yeah, it'll be wonderful to see what resonates with people.
It'll also be cool to open to door, to allow people to feel the art, feel the paper, feel the prints and Postcards on the materials that I use to create them. It just adds to the experience that you get with my pieces.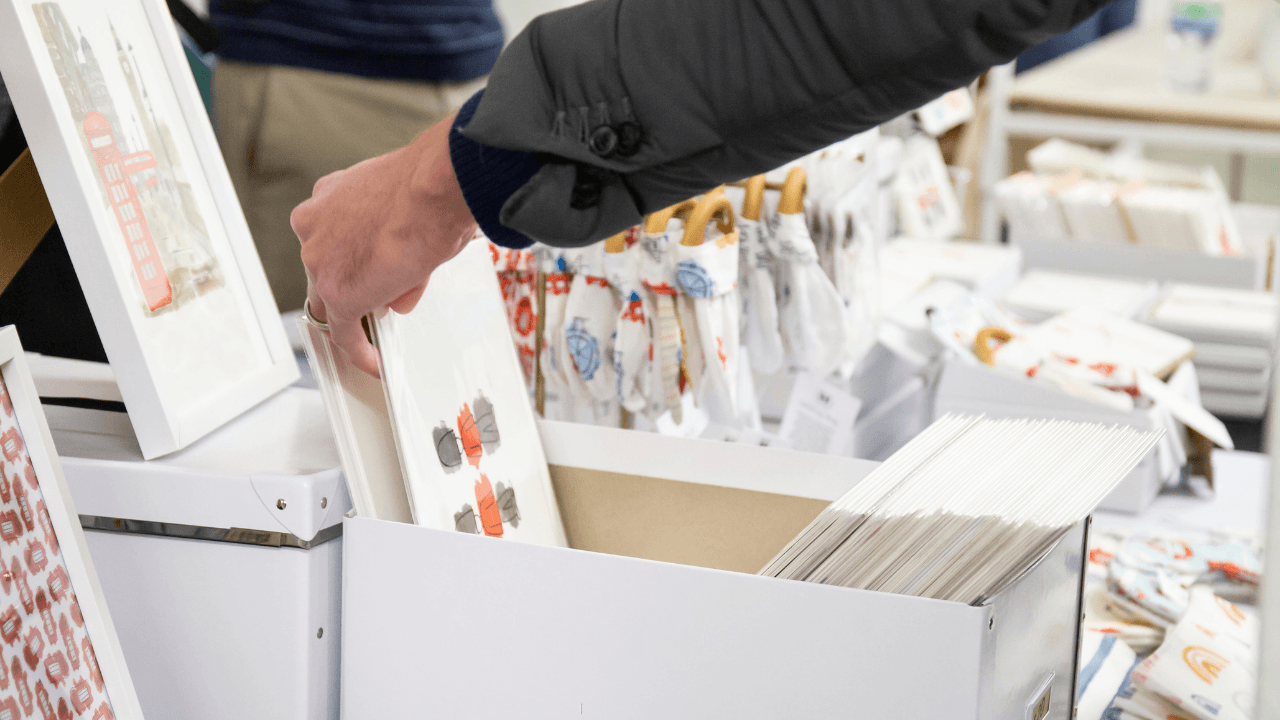 If you had to some up in one sentence what inspiration is to you?
Anything that kind of sparks a joy or a rush to make or do. When you're inspired by something that, I guess a spark, like it makes you want to create, or whatever your field is to bring more into the world, something that can start as small as a seed, the tiniest thing that can flourish into something no one has seen before… and that's kinda cool.
Feeling inspired by Annie's story? Keep an eye on our social channels for more insights and inspiration from our creative customers.
Want to be featured here? If you're a creative, designer or maker get in touch with us on social or by emailing creative@printed.com, we'd love to hear from you!