New White Ink: what you need to know
Cyan, magenta, yellow and black have a new buddy and his name is White Ink! We've added this fifth colour to our printing process so you can reach a whole new level of creativity! Read on to discover how you can get the most out of it.
What is White Ink?

You may be well acquainted with printing's four main stars, CMYK (cyan, magenta, yellow and black). The entire spectrum of printed colours are made up of these magnificent four… but not white. This elusive beast used to be rarer than a genuine yeti sighting until now.
The kind of white ink printing we offer is what print pros refer to as 'spot white'. This basically means that the white ink appears as a colour in a design or is used as a highlight in a coloured design, like printing a white flower onto a coloured paper stock, for example. Because white is a light coloured ink, we need to make several passes to layer the ink up and get a stronger colour, which means the finished effect won't be 'paper white' or opaque against the coloured card.
Why go white?

By adding white as the fifth colour in the CMYK printing process, you can enjoy all the colours you normally design with, but on a heavily pigmented substrate. This means getting effects like striking white text on black card.
Using white ink in your designs frees you up to all sorts of exciting creative opportunities. Instead of being limited to white or cream paper stocks, you can use vibrant, brightly coloured stocks and still get white colour in your artwork. Without white ink, the elements you colour white in your design will simply show as the colour of the paper underneath.
Get set for White Ink
Creating artwork with white ink takes a little more jiggery pokery than the average print order. Because it's a fancy fifth colour on the printing press, we'll need your artwork file set up in a certain way so our system can read it properly. Without properly formatting your artwork file, there's a good chance your finished print won't come out the way you want it to, and that's no fun for anyone. To make sure you folks can get set up, we created this downloadable artwork guide.
Meet the new White Ink paper stocks

We couldn't introduce something as cool as White Ink without providing the paper stocks you'd need to truly get creative. We hunted out the most pigmented, heavy-weight papers we could find so your cards will be as impressive to touch as they are to see. Here's what we got you: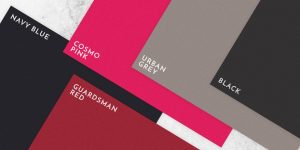 We love a bit of magenta down at Printed.com, so when we saw this punchy pink number, we couldn't resist. This is definitely a shade for designs that need to bring the sass.
It never goes out of fashion and it's slimming! This shade of paper suits luxury brands and those that love a dash of darkness with their designs.
A regal red for bold designs. This is the kind of princely pigment that suits both up-market and every day styles. The traditional heritage vibe this paper exudes is warm and accessible.
Perfect for minimal, sophisticated urban designs, choose this cool character to boost your brand in the sleekest way possible.
Both contemporary and traditional, the versatility of Navy blue makes it easy to add your own touch. Ideal for almost anything, this deep hue is guaranteed to get all the right attention.
Head on over to our Business Cards and check out White Ink for yourself!