#InspirationPrinted – women, wellness and workshops with Laxmi Hussein
At Printed.com, small businesses and independent creatives not only inspire us every day, they're at the very core of our business. We're proud to support creatives from all backgrounds, who create a whole range of products, and businesses of all shapes and sizes.
Our #Inspirationprinted series gives you a sneak peek into the world of these creatives. And with some seriously some talented artists and creators on our books at Printed.com, we're launching with a bang! Meet Laxmi Hussain: artist, mother, creative, women's advocate, and not only that, she was even featured on Sky Arts Portrait Artist of the year 2019. Phew.
So, without further ado, get to know her unique style, find out where she gets her inspiration, her workshops and how she uses Printed.com to grow her business.
Watch the full video here:
Tell us a bit about yourself. How you got started, why you started up and what it is you do
I'm Laxmi, people know me as "thislaksmi" because my name should be pronounced "Laksmi" but no one ever does. I'm an artist and have lived in London all of my life. I've drawn from such a young age- even on the countertop at my parents' shop when I was a kid.
After I had my kids I needed a way to be much more creative and just find that outlet again. So I start drawing. I got a project that was really exciting. I got to design a logo for a hotel. I've got some design background so I was able to edit it and create a final logo piece and they loved it. So now my logo is on a hotel in Spain and it's one of my original format styles.
I realised from that project that I don't want to have a full-time job anymore. Then, I started pushing my work out on Instagram more on social media. I also love connecting with women because I love drawing figurative nudes mostly women – well actually only women and I just wanted to share how diverse women are and how beautiful we are – and it doesn't matter what shape or size or colour and just to share that passion for celebrating women and that's made it grow into something that can actually support myself and my family which is incredible.
See more from Laxmi on Instagram
What inspired you to start drawing women?
So I started drawing women figuratively because after having my children and my body fluctuating from one size, one extreme to the other extreme, you obviously don't have the time mentally to catch up with what's happened to your body through motherhood because you're then busy with children and work and life and you don't address those insecurities that you have immediately and they can come back and rear their heads in various ways.
I had enough of what my body looked like and instead wanted to appreciate what it did – it birthed two children and it grew them and it didn't matter what it looked like anymore, I wanted to celebrate what it had done. And now I love my body even more than I ever have and I hope that I can share that with other women, that I can share that I see that beauty in them all.
What does inspiration mean to you?
Inspiration is what I see in the strength of another woman. Someone who feels today is the day they're going to wear something special. Or they're going to be extra confident and just appreciate who they are, is definitely what inspires me.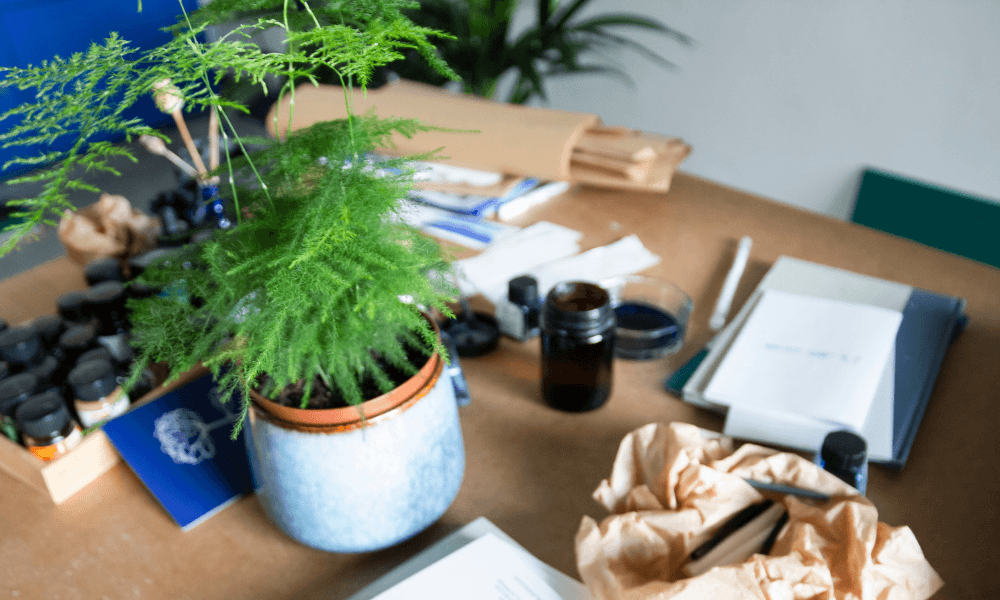 Where do you find your inspiration?
As I've always promoted myself through Instagram, I find my actual inspiration usually through Instagram because that's where real women share everything that's personal about them and we're so lucky that this is a social media application, an app, where we can connect to so many people around the world without actually having to see them. And I know that sounds really weird but there is no way in our lifetime that we can meet everybody on the planet and there are so many phenomenal people out there that I'm so lucky that I get to share who they feel comfortable to share themselves and I can draw them.
Tell us about your signature style and your first painting
My signature is that I work mostly in blue and I paint women – all kinds of women. The way that I established a style, was that I was an art store one day and I found this beautiful iridescent blue and the sun was shining on it and I had to pick it up.
I painted my first portrait in blue and from another woman on Instagram. She just had this really striking natural pose that day and I shared it on Instagram and everyone loved it and I did a short series of women in blue which I want to pick up again. But because mainly I share body positivity artwork I then adapted this blue to my nudes and I love to work in ink and it just naturally feels like a very subtle way to share softness instead of harsh blacks and I think on different colours and with different colours it can look very natural even though blue in itself doesn't feel natural.
Painting my first portrait in blue, I just love how the ink travelled through water and as I grew and experimented with it I realised how the ink reacts over time, how you can go back to it over time and change it, how it separates into different pigments – like my self portrait has pinks in it and purples in it because the ink just changes as it evaporates.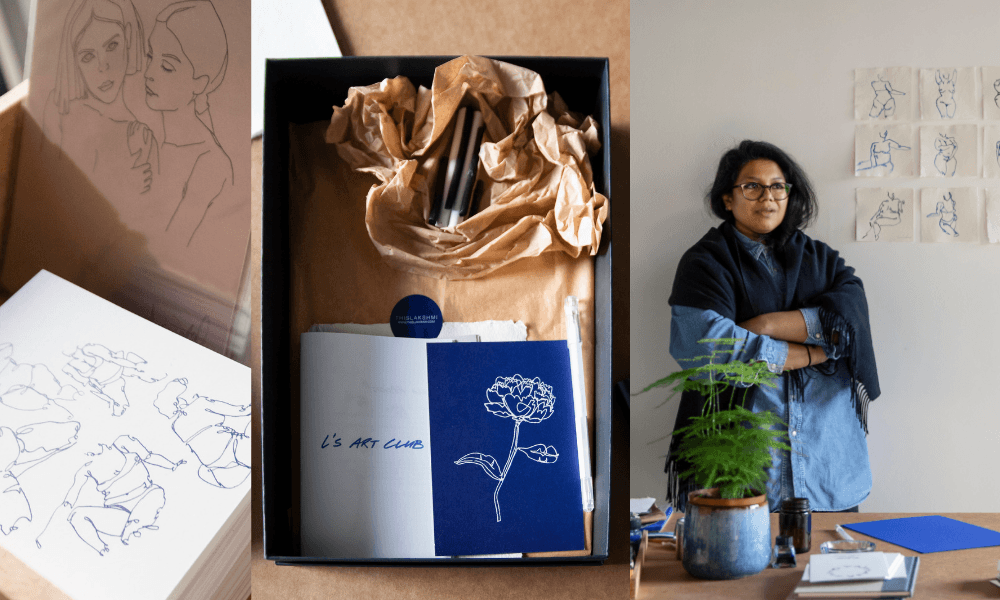 Your Botany workshops are really cool, how do you run these?
So, to talk a bit about my workshops, I hold botanical drawing workshops at the shop Botany on Chatsworth Road and it's this really beautiful little Aladdin's cave of the most wonderful plants and botanically inspired projects like ceramics and artwork, it's so well curated.
I reached out to the shop owner a few years ago and said I'd love to teach workshops – and at the time she was looking for someone to do botanical drawing and asked if that was something I could adapt my style to. I'd wanted to teach for a long time but not so much exactly how do draw because that then means you're only reaching out to a certain type of person, someone who is technically got some skill but I want to share drawing with everyone so I put together a little pack and I create an experience where people receive beautiful art materials and I teach drawing from a wellness perspective.
How do you inspire people to harness their creativity?
Ink lends itself very well to that in that it's beautiful to watch. It's very easy to work with. It's not like watercolours where you have to worry about blending colours and you can work with just one ink and it fascinates people, the way that it moves and sometimes people don't even realise when I do a demonstration and I put water on paper and they're like "Oh wow, that's what ink does." And some people just come and paint pieces of paper. They find it very inspiring just to see how the ink moves and I love doing that. It's a way to share drawing. The idea of the pack is that they go home and keep doing it.
My botanical workshops became so popular that they would sell out almost immediately! I just didn't have the time, because it's in east London it's far for me to get around everything else that I do and being a mum and wanting to be home quite often. So I can't do workshops in east London very often so when I do they normally sell out very quickly. Because they're also in the evenings not everyone can get to them and I have an audience all over the world! So lots of people said I've love to come but I'm just not nearby. The [subscription] box [art club] was an idea that filled that gap so people have ordered from all over the world – they've gone to the US, they've gone to Germany, they've gone to Sweden. It's something I never thought would happen. It's incredible and people just want get on with drawing even though they don't have any experience. That's what I find really inspiring.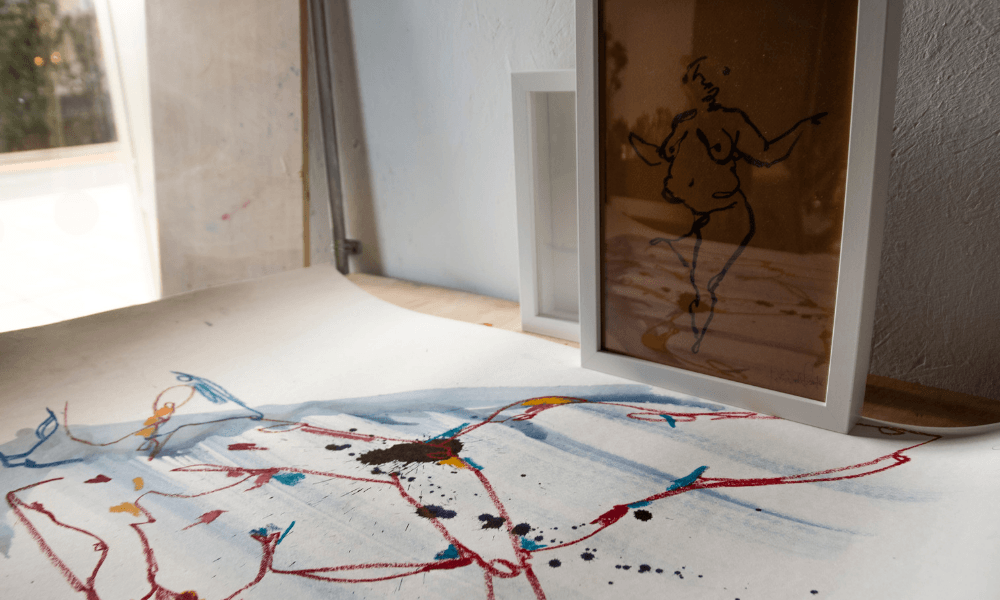 How did you come across Printed.com?
When I looked for a printer I basically needed someone who could produce something that was affordable but still beautiful. Someone had enquired about a piece of work that I had on my website and they wanted it really urgently for some project. I found Printed.com in an internet search. It's so well displayed actually that they have the paper samples. You can get an idea of the textures, so I picked the Gesso.
I put the order through for a watercolour drawing I did and when they came back I could barely tell which one was the original. The client received it and they thought it was phenomenal. I literally never looked back. It's an affordable way to print things. It's such a big help to print things that are beautiful but that don't kill your budget.
What do you print with Printed.com?
I do everything. Apart from my original work. I produce my business cards which are actually leaflets. They have a perforation down the middle so I can put them in with an envelope. When people receive these they think they're really cool.
So, I've explored so many different products with Printed.com. I print large posters and fold them into magazines or zines. They then unfold into this big poster on the other side! This means that if people want a sample of my work I can give it to them. It's really down to the fact that Printed.com are so affordable that I've been able to explore the whole range. This lets me share more of my work than I normally would. And actually, the quality is spectacular for what I do.
Feeling inspired by Laxmi's story? Keep an eye on our social channels for more insights and inspiration from our creative customers.
Want to be featured here? If you're a creative, designer or maker get in touch with us on social, we'd love to hear from you!