How to theme your summer sales
Having a summer sale? Get your print sorted right here.
With warm weather comes loads of opportunities to sell, sell, sell! But, what's really important is to make sure your sale is coherent – and ties together with all of your other marketing efforts too. Check out our top tips for branding your sales right here…
1) Choose your colour wisely
Whether it's a summer sale, event or promotion, make sure you choose popping colours that'll catch the eye. Consider how each element of your POS works harmoniously together too – a clash of bright colours is likely to look unprofessional and deter customers rather than draw them in.
Think about your base colour. If it's a sale, will you be using classic red? Perhaps you're dressing your POS or display for a special promotion or event? Consider using one main colour throughout, whether that's on your Posters, Banners, Strut Cards or Flyers, and carry the theme across each piece of media.
Make sure each element, whether it's images, logos, branding or text is easily readable and visible to passers-by or to customers in your store – even if they're at the furthest point from your POS.
2) Brand your entire space
You might be confining your summer sale or promotion to one area of your store or space, but consider bringing elements of it throughout your space to encourage customers to shop. This could be Desktop Roller Banners at your till point, Table Talkers on your shelves or tables, or Banners in your windows or behind the counter.
The key is not to overpower your space, but keep your message consistent and keep your branding recognisable. Use similar colours, the same fonts and the same, clear message.
3) Go bold!
If you really want to catch attention, consider using Self-Adhesive Vinyl to brand your wall space. Ours come in a multitude of finishes, from semi-permanent to reusable and removable and even clear for your shopfronts and glass displays. Remember to think about how your wall promo ties in with the rest of your store or space– if you create artwork that's too busy, it could be off-putting for your customers and end up detracting from your products or services.
Display Boards are also an affordable option for sales, promos events and quick branding solutions. In a choice of mounting options for in and outdoor, they're easy to hang and remove in seconds, making them perfect for short-term sales and events.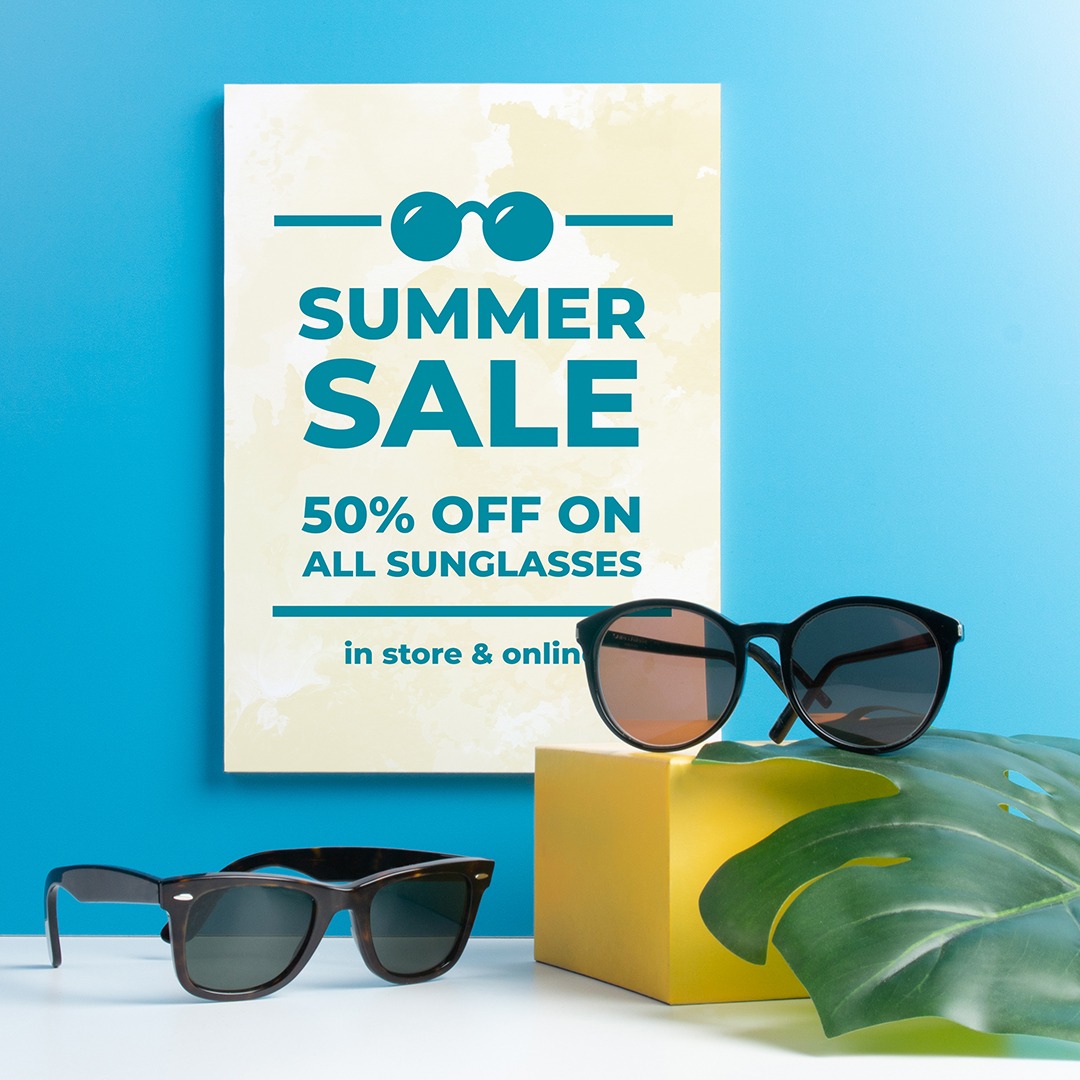 4) Go direct
If you really want to get those customers in for a summer sale, a storefront display might not be quite enough. Consider flyering in your local area, or sending direct mail to your customer database. The key is to make sure your extra messaging has the same theme as your sale in-store. You want people to recognise your Postcards and Leaflets or Saddle Stitched Brochures with your top offers, and make the connection when the visit you in-store. If you trade online, be sure to include details about your upcoming promos n your packaging to let people know.
5) Think outside your store
Why keep your summer sale a secret? Create your own Free-Standing Flags and take your promo to the next level. Our Flags are designed for both in and outdoor use. They make the perfect choice for when you need to catch attention, and you need to catch it, fast.
Ready to create the highest impact themed POS and retail displays? Check out our dedicated Retail Collection for everything you need.