FESPA – what we learned at Europe's largest international print expo
We're always on the hunt for new trends and innovation. Find out what we learned when we visited Europe's largest international print expo – FESPA.
A bit about FESPA…
FESPA 2019 is Europe's largest international wide format professional printing exhibition. Over 700 exhibitors showcase their latest innovations and product launches in the digital and screen printing sectors for graphics, signage, décor, packaging, industrial and textile applications. The 2018 FESPA Global Print Expo over 20,000 individual visitors, attending from a record 142 countries – and it was even bigger this time around!
We chatted to Jack, our Product Manager about the event and found out what he had to say, some key learnings and some industry insights that you won't want to miss.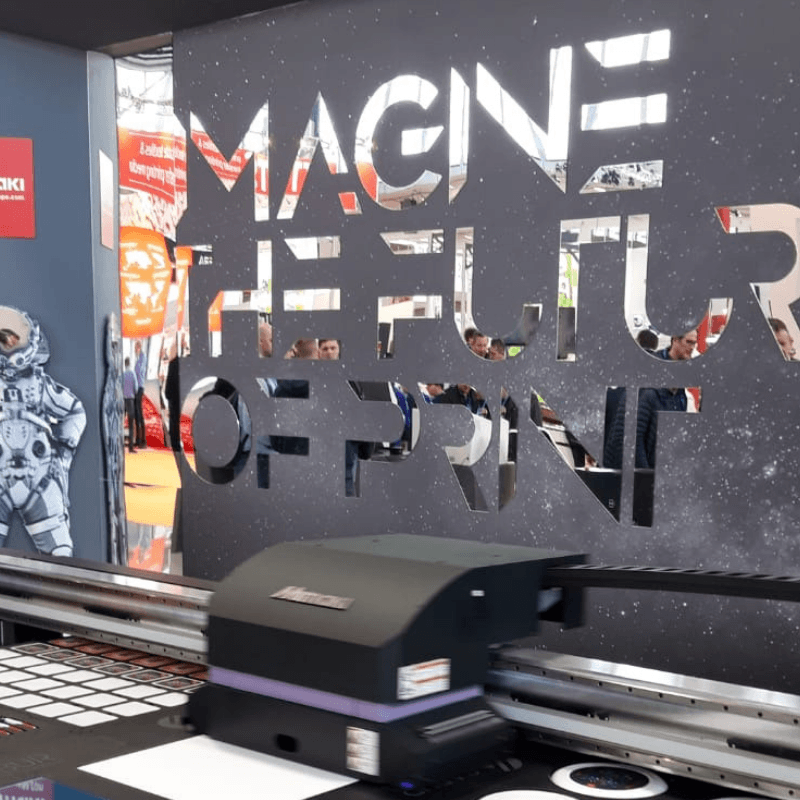 Jack, tell us why it was important that Printed.com attended FESPA?
FESPA is a great opportunity to catch up with suppliers, check out the latest innovations in print, discover where we can unlock value and provide solutions for our customers and also get a feel for where the biggest changes are happening in the industry – not only in regard to the product itself, but also the impact of our business on the environment and other external factors.
What was the most notable trend or innovation that you spotted at FESPA?
FESPA is focussed on Large format, display and textiles, so much of the innovation was in these areas. The most notable trend appeared to be the advancements in the speed and accuracy of large scale flat-bed printers and cutting technology which dominated the exhibition. It's a sign of things to come, printers will need to keep up with the ever-increasing demand for speed and precision when it comes to large format printing – but maintain that crucial element of quality at the same time.
What else did you spot?
Advancements in digital textile printing, especially in the personalised garment industry is a fast growing area. The quality and speed of digital garment printing is beginning to catch up with the traditional much more labour intensive screen printing process.
This is interesting and the advancements are similar to the world of digital vs litho printing. The traditional, long-standing litho method is still considered to be the superior method in term of colour accuracy and detail, but the digital side of things gets better year by year, making it accessible, quicker and more costs effective for printers, especially in the 'one-off' personalised area. I predict that this'll be a trend in the industry as more printers can, and will branch out to garment print options.
Which areas were of particular interest to Printed.com?
The main area of particular focus for us was the increase in the number of small to mid volume digital cutting and creasing machines. A solution which again is comparable to Litho vs Digital, meaning that small bespoke packaging ideas can be brought to life and produced without the need for expensive dies or complex set-ups on ageing equipment.
Did you spot any big innovations or anything that looks like it'll be a big deal for the print industry?
In my opinion, most of the advancements appear to be in speed and efficiency and sizes of equipment which are available today. There are a lot more machinery models available across the production scale now, not simply entry level and top of the range equipment, meaning that wherever your volume or demand is, it's much easier to find the right piece of kit for your customers' needs.
There were a few stands showcasing 3D printers, some with some amazing output but this still has a long way to go before it becomes viable for an on-demand print business, due to the speed of the output at present.
Printed electronics could be one to watch but we will have to watch that space and see.
What are your three key takeaways from FESPA?
The Textile and garment printing space is a fast growing and exciting new world. Whether or not you'll see Printed.com offering it as a service is a question for our customers…
The wealth of machinery available knows no boundaries and more and more manufacturers are entering into the print world with new equipment which will only open more opportunities in the future.
Despite the common idea that digital advertising is taking over physical print, exhibitions like this prove that physical print is still big business.
Did you attend FESPA this year? Let us know over on social, we'd love to hear what you thought of it!
Don't forget, for more insights, trends, tips and advice, bookmark the Printed.com Blog!