The ultimate guide to creating your 2022 Calendar
Want to create the perfect printed 2022 Calendar?
Whether it's for corporate gifting, Christmas presents for friends and family or for resale, we'll walk you through the process of creating your ideal design. We make Calendar printing easy; whether you're looking for printable Wall Calendars, Desktop Calendars or Calendars for your business, we've got you covered.
Why create a 2022 Calendar?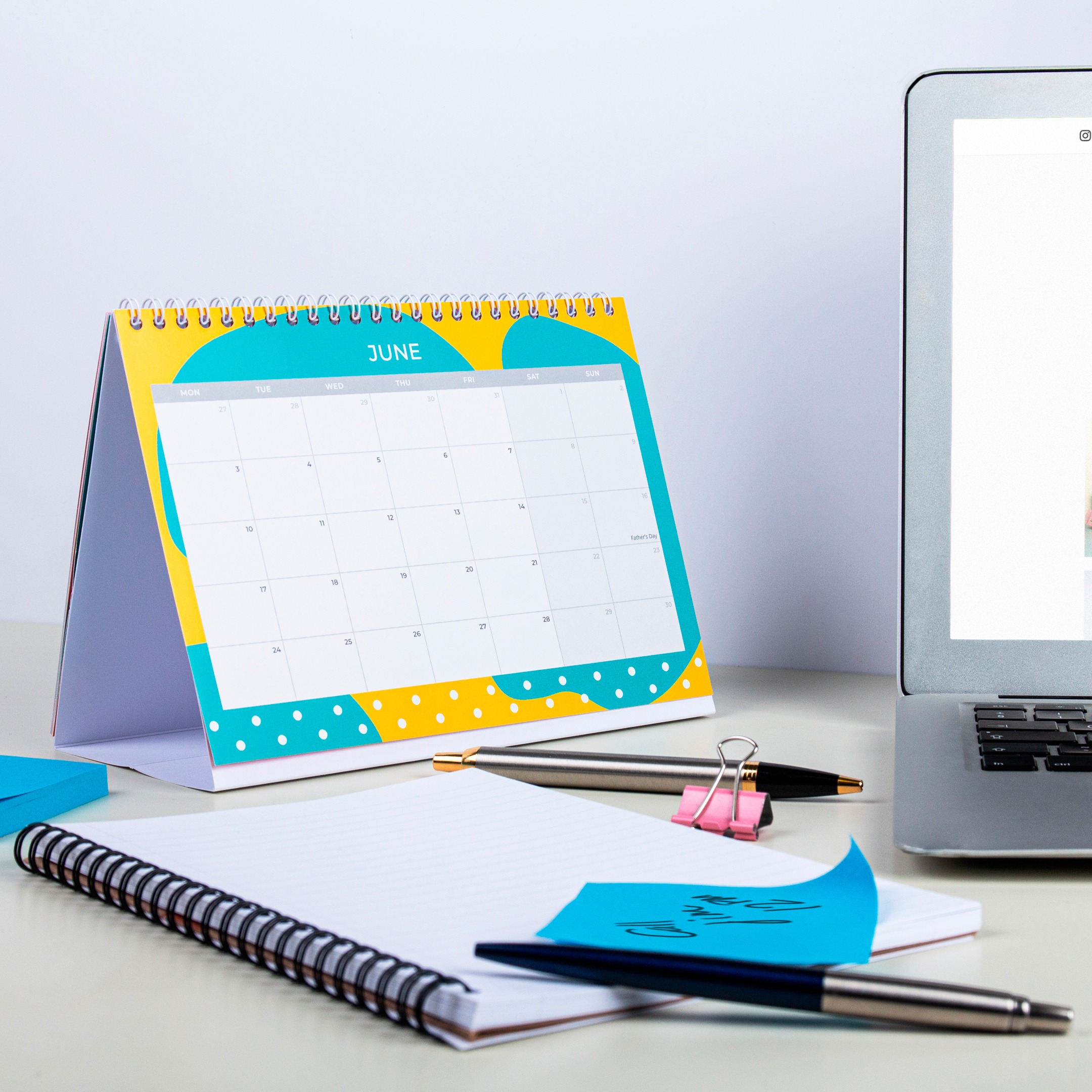 Whether you're a business, solo creative or retailer, Calendars are a great way to keep your brand front of mind all year long. The best part is, almost every human being needs one – sure, smart technology has meant that a lot of our diaries have moved online, but nothing beats putting pen to paper!
So you've decided to create a Calendar for 2022. Great! Now what?
First of all, decide on the type of printed Calendar you're interested in. Will it be a Desktop Calendar? Single Page Wall Hanging Calendar? A Thumb Cut Calendar? We have a whole range to explore so let's take a closer look at some of your options.
Desktop Calendars
Whether you work from home or in the office, no workspace is complete without a Desktop Calendar. Luckily we have a host of free templates for all our Calendar types, so getting started is just the bit easier.
When it comes to the design, you could fill each page of your 2022 Calendar with the standard grid of 30+ days, or shrink this element and use half the space for an image, or even a 'to-do-list'.
All our Desktop Calendar options are finished with a strong wire binding and have a thick cardboard support to make sure that it keeps its shape no matter what your work life throws at it.
Photographic Wall Calendars
If you've got photos you want to showcase throughout the year, why not use them in a design for your 2022 Calendar?
Choose a Double Page Wall Calendar and display a full-colour printed photo on the top page with your months below. It requires minimal design, but it looks great hanging on any wall! Perfect if you're a photographer looking to showcase your work or just someone who has memories they want to share.
Adding a Foiled Cover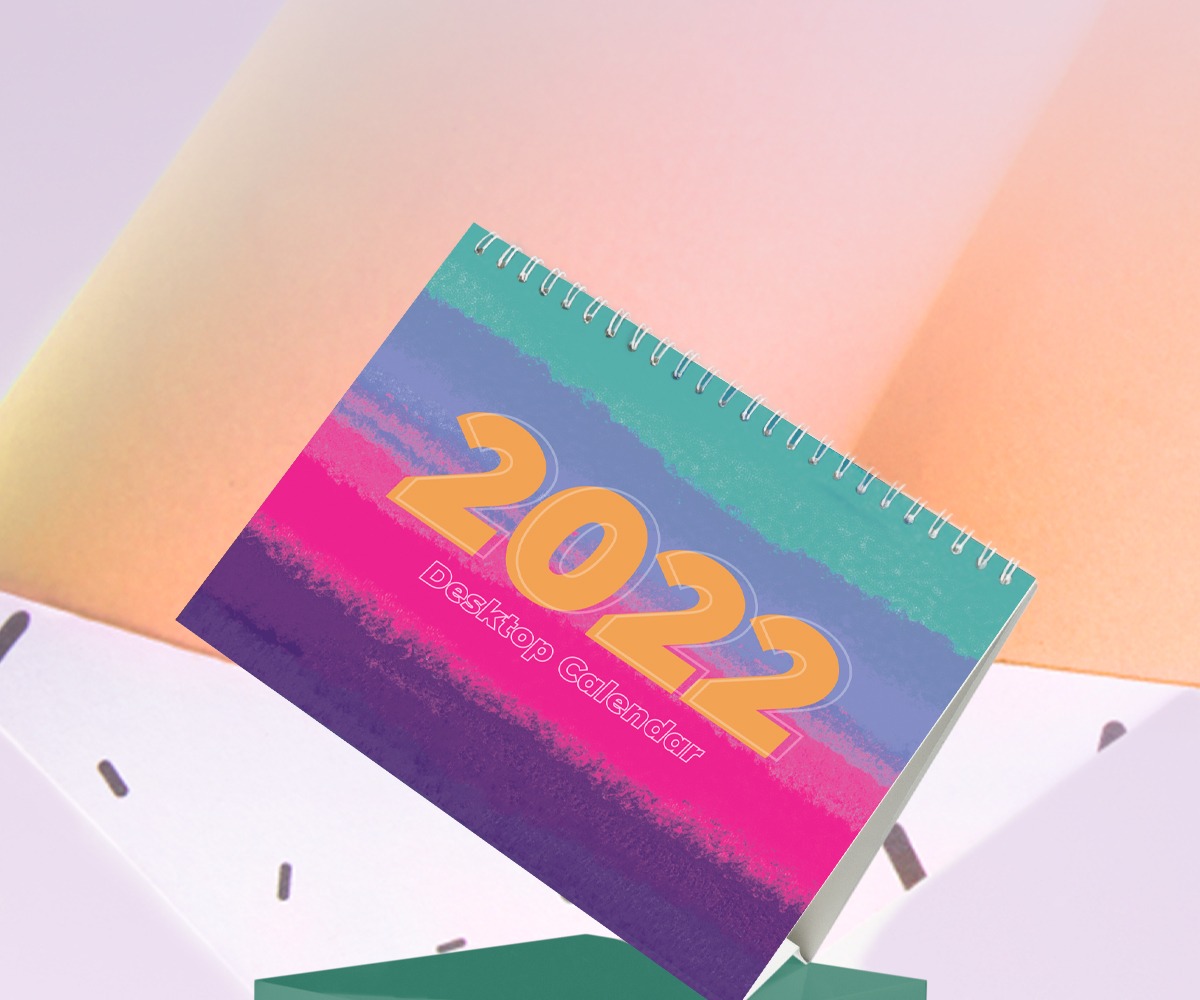 If you're looking to really stand out, you can always add a little shine with Foiling. Whether you're a business looking to impress, or creating Calendars for resale, Foiled Covers make the ideal choice. With a range of 6 metallic colours to choose from, you're sure to find sometimes to suit.
You can add Foiled covers to your Calendars using our Bespoke service here. Because who doesn't like a bit of shine to see in a new year?
Illustrative Calendars
When it comes to our creative customers, they'll stop at nothing when it comes to eye-catching Calendar design. A Single Page Wall Calendar or a Thumb Cut Calendar can be used to feature half as your chosen artwork and the other half with your Calendar grid. We especially love this design from last year by Sarah Francis Art.
Creating your design
Once you've decided on the purpose of your Calendar, think about how it'll look. Depending on who you are, your design will have different needs. For example, if you're creating corporate 2022 Calendars to give out to clients and customers, you'll want to make sure that your branding is front of mind and on every page. So be sure to include on every spread:
Your logo
Your brand colours
An inspiring image or quote that relates to your business
It's also important to think about paper types, and which will be most suited to your design (and print numbers!). To find out a bit more about our various paper stocks – from the luxury to the budget – check out our blog here.
Include important dates
You'll want to do a bit of research around which important dates are relevant to your customers. Of course, you'll include Christmas and all the important bank holidays (because everyone wants to know when they're getting a day off!) but what else might you need to consider?
If you're creating one for education, think about term dates and inset days.
Creating a business design? Think about important events related to yours, like exhibitions and trade shows.
If you're a charity, why not include important events that you support throughout the year, such a fun runs and fayres
If you're creating for resale, have a think about your audience. Would they find it beneficial to know about events such as Black Friday?
If you're in the hospitality sector or provide services like hairdressing, why not include your key sale dates or promotions?
Feeling inspired? Then it's the perfect time to get started on your 2022 Calendar. Shop our range below, and don't hesitate to get in touch with us if we can help in any way.