Get your products noticed: talking Christmas Gift guides with PR Dispatch
We're back with another awesome guest blog from our friends at PR Dispatch. While Christmas still feels like a long way off, July is the perfect time to start organising your product range as the press begin to collate their Christmas gift guides for 2021. 
So guys tell us, how can our customers get prepped?
It's only July but for product-based businesses Christmas is just around the corner. The UK press produces some of the most comprehensive Christmas gift guides in the world and each year, Christmas shoppers turn to these guides for gifting inspiration for the festive season. And right about now is when the press starts putting feelers out there to receive pitches.
The number of features the press produces sees a significant increase in the lead up to Christmas. This means ample opportunities for businesses to get their products featured at a crucial time of the year. Getting your products featured in Christmas gift guides can help increase your brand awareness, reach a wider customer base, increase website traffic and sales, long after Christmas is over.
Be in the right place at the right time
It is important to know which publications compile their Christmas gift guides and when. This way, you will be sure to pitch at the right time to the right publication and not miss out on any great coverage opportunities for your brand.
There are three kinds of publication lead times to be aware of:
Long-lead: These are print magazines such as ELLE Decoration, Red and Ideal Home. They plan their editorial calendar months in advance so the Christmas gift guides will typically be compiled between July and August
Short-lead: These are weekly or daily magazines, such as The i and Sunday Times Style and normally start working on their guides from September
Online publications: Digital publications have the shortest lead time (ranging from weekly to sometimes daily) and usually compile their guides from October to December
Research is crucial
Now that you know about the lead times, the next step is research. It is important to look through the previous years' Christmas gift guides. This will give you a good idea of the different types (from shopping features to editorial gift guides) as well as the volume. Bear in mind that most print gift guides are also published online. So there is a wide variety of these guides available for browsing digitally and referring back to.
While researching publications you should think about things such as: what price points do they cover? Do they feature specific categories? Who is the target readership? This will help you to narrow down the publications you want to reach out to and make your pitch specific.
Be creative and broaden your 'product' horizons
If you look through previous Christmas gift guides, you will get a lot of inspiration for what categories to pitch your products into. Most publications will cover a range of categories and it's more than likely that your product will be suitable for multiple ones. This opens up countless opportunities for your brand.
With publications running Christmas gift guides across different themes such as kid's products in Red (a women's magazine) and women's products in GQ (a magazine for men), you have the opportunity to be featured in publications that normally wouldn't include your product category.
However, don't be disheartened if you have a limited product range. This is where thinking outside the box is important. Try and think about your products from a 'shoppers' perspective. This will automatically throw many options in front of you and you will be able to creatively pitch them for categories that you may not have previously considered. It is a great opportunity for you to 'upsell' your products.
Choose your most 'giftable' products
If your product range is big, it's beneficial to narrow it down to your most 'Christmassy' products to maximise your chances of coverage.
Typically, Christmas gift guides tend to look for the following:
'Quirky' gifts
Festive-themed gifts
Ready-to-give gifts in beautiful packaging
Food and drink
Stocking fillers
Is your product range small? Don't worry because that doesn't necessarily mean fewer opportunities. You could secure coverage in multiple publications with just 1-2 products that are ideal gifting items.
Remember that even if one of your products gets all the 'Christmas press attention', customers will still head to your website to check out your other products. So don't be fussed about what gets featured. The editors know what items their readers want and what will look good on a page. Your aim is to get your brand and products out there so that you can capture the Christmas shoppers – and ultimately a wider audience.
Your pitch email is your foot in the door. Nail it!
Once you have made a list of your key Christmas products, the categories and publications you want to target, it's time to write your pitch. Ensure that your emails are concise and tailored to the Christmas press. Here are a few quick tips:
A descriptive and snappy subject line will make your email stand out from the plethora of emails that editors receive. Be sure to make it clear that you're pitching to the Christmas gift guides in your subject line.
Use gifting keywords in your email so that when an editor searches for Christmas products your email will appear
Attach a line sheet if you've got one
Ensure that your email is free of spelling errors and typos. When you are sending several pitches in a day, it's easy to get the names of editors and publications mixed up. Make sure that you have checked everything before hitting send
Stay on the press's radar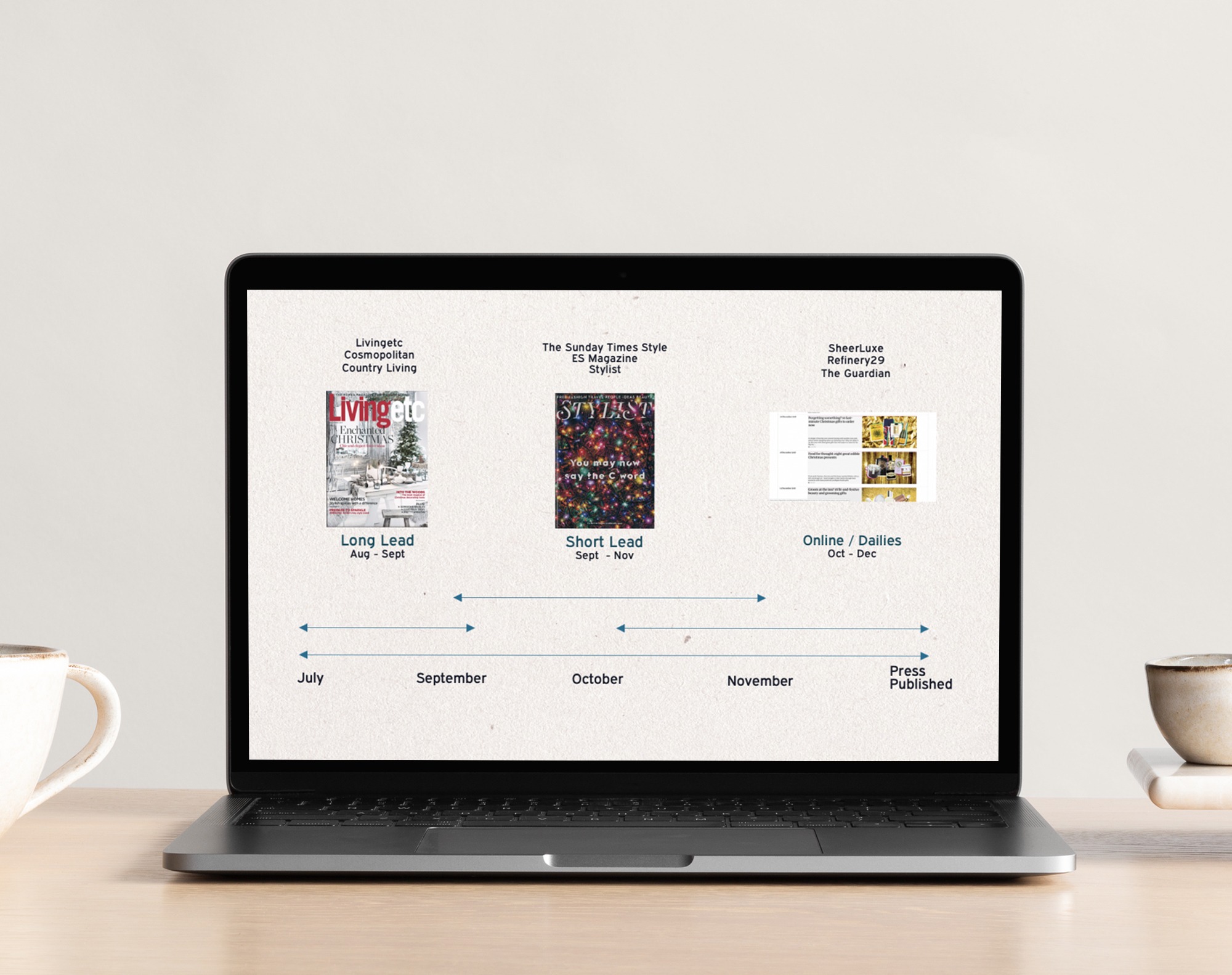 Persistence is everything when it comes to PR. If you have sent a number of emails but haven't heard anything back, don't be bogged down. This is perfectly normal as editors get swamped daily and emails tend to get lost. So, be sure to send a follow-up email in 1-2 weeks (depending on the gift guide deadline). This will instantly increase your chances of getting a response.
When you do get a response requesting imagery or credits, provide the journalist with the details and assets as promptly as possible. The Christmas press works to tight deadlines and responding too late means that you could miss out on a piece of crucial coverage.
Digital publications will often 'pull' what they need directly from your website. This means that you could pitch and follow up, never get a response, but still be featured. That is why tracking your coverage regularly is key.
Most short-lead and online publications will be running multiple Christmas gift guides covering different categories, so it is alright to go back to an editor with varying angles. By pitching different products for different categories and themes you'll maximise your chances of being featured.
A huge thank you to the awesome team at PR Dispatch for sharing these insights with the Printed.com community. We can't wait to see what our customers have got in stall this festive season, and if you're already chomping at the bit our Christmas Store will be launching again very soon.