Get your products noticed: talking Christmas Gift guides with PR Dispatch
We're back with another guest blog from our friends at PR Dispatch. While Christmas still feels like a long way off, now is the perfect time to start organising your product range as the press begin to collate their Christmas gift guides.
So guys tell us, how can our customers get prepped?
Christmas is the most important shopping period of the year for product businesses. People will be actively looking for gifts to purchase and you want to make sure you're on their radar – and being featured in the Christmas gift guides is one of the best ways to stay visible. 
Long-lead magazines start compiling their gift guides as early as July so if you want to make the most of the many coverage opportunities, now is the time to start your Christmas PR. 
We've supported hundreds of brands in confidently pitching Christmas gift guides and in this blog post we tell you everything you need to know about getting your products noticed by the Christmas press.
What are the benefits of being featured in Christmas gift guides?
Help increase awareness of your products and reach thousands of customers in the lead up to Christmas.
Gift guide coverage builds trust and credibility with potential customers as third-party endorsement from the press that can help sway people to purchase from you. 
The gift guides give you the opportunity to be featured in a publication you wouldn't normally target. For example, if you run a homeware brand, you could see yourself featured in fashion-focused magazine. This means you'll be able to reach and test a completely new audience.
When do the publications compile their gift guides?
Knowing when publications compile their Christmas gift guides will ensure that you don't miss out on any great opportunities for your brand. 
Generally speaking, long-lead publications (print publications such as ELLE Decoration, Red, and Ideal Home) compile their gift guides from July until early September.
Short-lead publications (weekly print publications such as The Guardian and Sunday Times Style) start working on theirs from September until late October/early November. And online and daily newspapers compile work on theirs from October until December.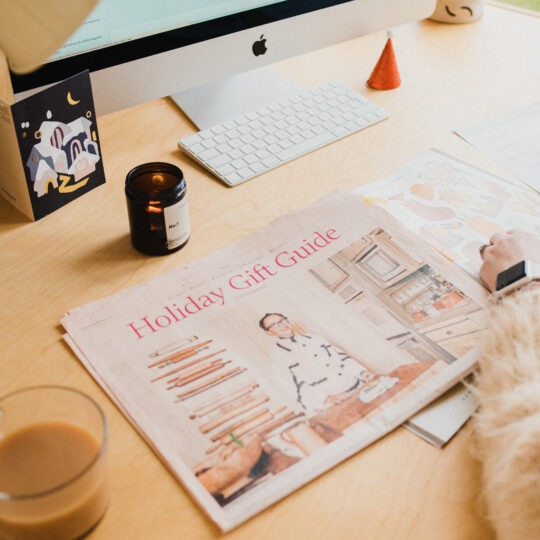 How many Christmas gift guide opportunities are there?
Editors are always on the lookout for great products. But in the lead up to Christmas, they'll have an increased number of shopping and gifting-focused features to fill.
To give you an idea, last year there were over 8000 gift guides published in the UK, with over 29,000 products featured. So it's safe to say that there are countless Christmas press coverage opportunities waiting for you. But to be in with a chance of being featured, you have to be in the editors' inboxes.
What do you need to think about when pitching?
Before you hit send, ensure that your emails are concise and as tailored to Christmas press as possible. Here are a few quick tips to help you out:
A descriptive and snappy subject line can make all the difference. Make it clear that you're pitching to the gift guides in your subject line.
Use gifting keywords in your email so that when an editor searches for Christmas products your email will appear.
In the body of the email, you want to keep the copy short and sweet, mentioning your brand name and products.
Always include the price of the products you're pitching, along with a link to your website and direct links to the products.
Include the low-res images of the products at the bottom of your email along with the direct website links.
Persistency is everything when it comes to PR. If you've pitched to the Christmas gift guides once, but haven't heard anything back, don't let it dishearten you. This is perfectly normal. Be sure to send that all-important follow-up email.
Most of the time, editors won't actually respond your email, unless they need anything from you. Online press can often feature you without knowing so it's key to track your coverage online.
If you get a response requesting imagery or credits, provide the journalist with the details and assets in a timely manner. The Christmas press works to tight deadlines and responding too late means that you could miss out on a piece of crucial coverage.
Make sure to only send them what they requested and we also recommend naming all files correctly following this format  – brand name, £, www. By naming your files, you'll make the press's job easier as they have all the credits in one place.
I'm worried my brand is too small for Christmas gift guides?
Think again. Journalists and editors love hearing from small businesses and independent brands. In fact, 54% of the products featured in the UK gift guides in 2021 were from independent brands.
I'm not sure my products are right for a gift guide?
Browsing through last year's Christmas gift guides, you'll see what products editors typically look for. Here are some examples of the products that are featured regularly:
Festive-themed products
Stocking fillers
Eye-catching products (colour, shape, print, etc)
Sustainable/charitable gifts
Personalised items
And these are products not regularly featured:
Clothing i.e. office wear, everyday basics
Shoes (unless slippers, party shoes or trainers)
Solid black or white products
Big furniture items
Seasonal items i.e. sunglasses, bikinis
It's important to remember that Christmas gift guide themes are lifestyle-led. For example, 'Christmas Gifts for Gardeners' are not looking for lawnmowers, but for products like a seed subscription box or a personalised garden shed sign.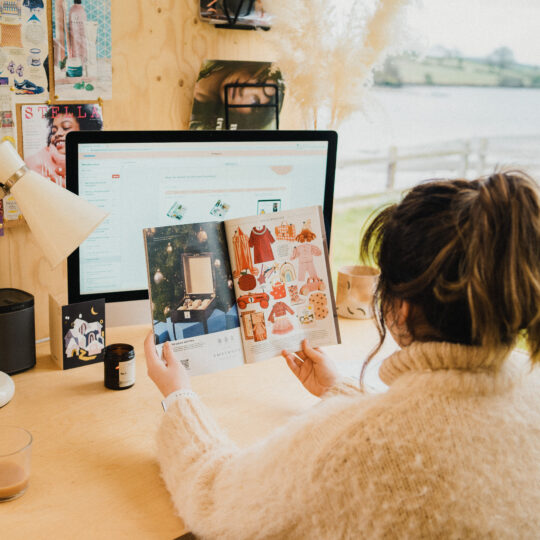 What imagery and assets do I need?
Imagery is your most important asset when it comes to Christmas gift guide pitching – and more specifically, cut-out imagery. These are shots of your products on a transparent or white background with no shadows and product being cut off. And as with all imagery for press use, they need to be high resolution and at least 300dpi.
Some gift guides might use lifestyle imagery, but most publications will be including cut-out shots, so whether you do a small selection of beautifully shot lifestyle images or not is optional. 
If you have a bigger product range, it's handy to add the relevant products to a 1-page PDF line sheet. The PDF should include high-res cut out imagery, RRP prices, your brand name, website, email and Instagram handle.  
I don't have time to pitch to Christmas gift guides?
When running a business, you'll always be strapped for time. Through our Christmas Gift Guide PR membership, brands are able to pitch to the Christmas gift guides in just 30-60 minutes a week. 
To put things in perspective, the average time spent on Instagram is 53 minutes a day – that's over 6 hours a week. If you cut down your weekly Instagram time, could you find 30-60 minutes a week for Christmas gift guide pitching?
A huge thank you to the awesome team at PR Dispatch for sharing these insights with the Printed.com community. We can't wait to see what our customers have got in stall this festive season, and if you're already chomping at the bit, the doors to our Christmas Store are open…