#InspirationPrinted- Talking tasty print designs with Bisou Les Madeleines
Let's dive into the world of Bisou Les Madeleines.
We've always been proud to put small businesses and creatives at our core, so we'll take any excuse to shout about the amazing work they do and the great print they produce.
We've got a tasty treat for you today! We were lucky enough to catch up with the brains behind the fantastic Bisou Les Madeleines– Helene. Known for their scrumptious range of artisanal madeleines, we sat down to find out what inspired this sweet endeavour and how print boosts their business.
If you aren't feeling hungry yet, you soon will be.
So sit back, relax and find out everything you need to about this devilishly delicious business…
Helene – hi! Can you tell us a bit more about your business and how you got started?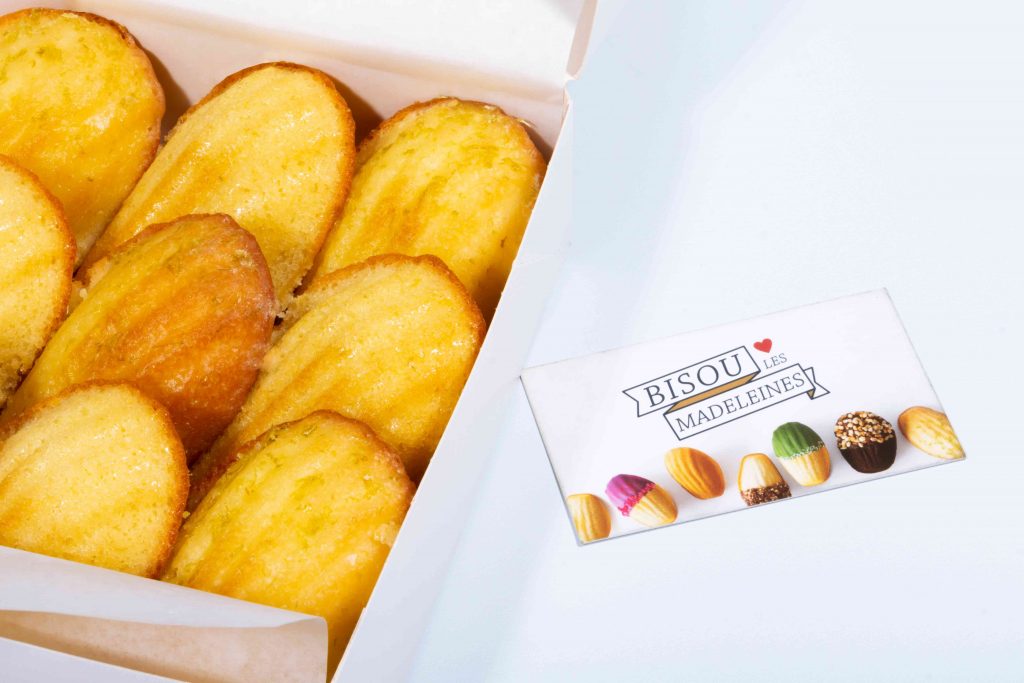 So I started Bisou Les Madeleines in September 2016 and sold my products at local markets. I was living in East London back then, so there were a lot of markets and I wanted to get insights from customers about the recipes, prices etc. That took me about two years.
So, why madeleines?
I used to bake madeleines all the time in France. My family on my father's side is from the northeastern region of Lorraine, and this is where madeleines are from. I used to bake cakes with my grandfather when I was a child, and it's my grandfather's recipe that I use for the madeleines. I needed to work on it though, because from the very beginning of the business I wanted to work with local ingredients. Even changing to British flour made a huge difference to the process of the recipe – so there was a lot of work to do on that side of things!
Who helps you with the running of Bisou Les Madeleines?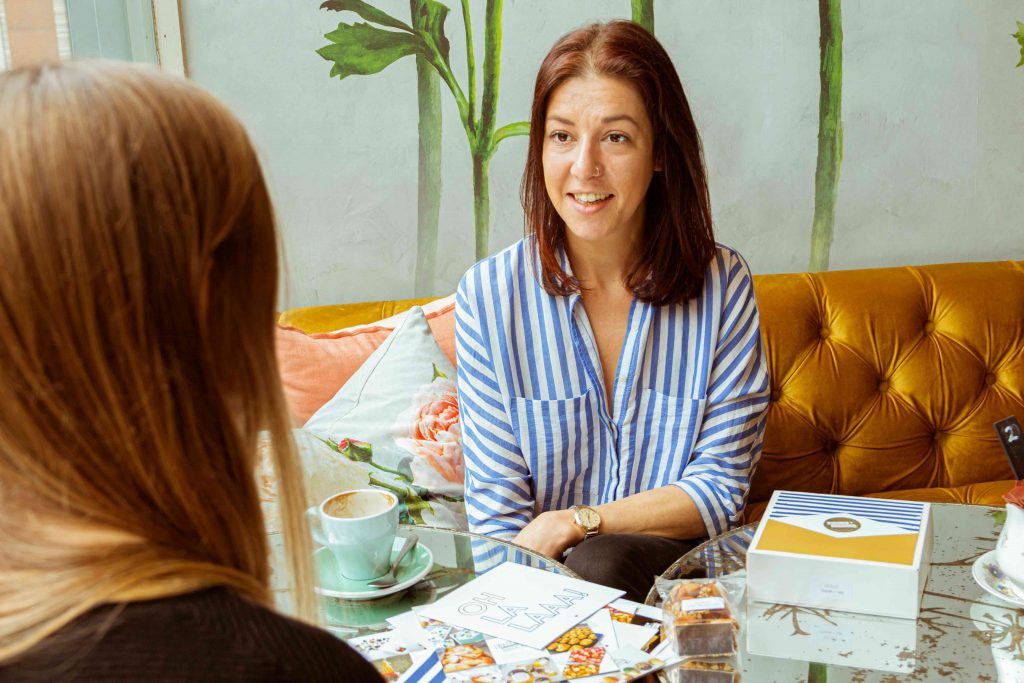 I started the business out on my own from home, and then about a year ago I met Caroline, who is now my business partner. We then created 'Bisou Cakes' as a Limited Company! Initially, I was baking from home, but now we have a professional kitchen and deliver to the whole UK.
How easy was it to start up Bisou Les Madeleines in London?
Our business grew significant by word of mouth and through a lot of networking. There are a lot of French nationals living in London as well (who obviously miss original French products!). The French community in London is massive, especially in West London which is where we are based.
Since starting Bisou Les Madeleines, we now also sell on our website as well as through a number of online marketplaces, which have nationwide exposure. We also do a lot of pop-ups! It's a huge amount of work – but it really helps, especially for corporate orders for press events and meetings.
Can you tell us a bit about your ingredients and why they are so important?
There are a few reasons why our ingredients are so important. Firstly, I want to enjoy eating what I produce. I wouldn't eat something that had bad ingredients, and I wouldn't feel okay selling that either. Also when I used to bake with my grandfather, we would collect eggs in the yard at the house. That's a real part of the memory and the process of sourcing ingredients. The simplicity of having the most simple, organic ingredients. The basic recipe for our madeleines it just 5 ingredients, there are no preservatives, artificial proving processes or anything nasty.
How important is packaging and print to your business?
Packaging is essential for us. Having a nice box is part of the experience, it helps tell a story. People can see our identity and our quality through our packaging – even small details like the gold stickers show that we really care about everything. It's part of the experience when you open a box, having that element of discovery and suspense.
We've also recently moved to eco-packaging. For instance, our bags and are now made of wood fibre which is fully compostable. It's really hard to change the habit, but we (and all small businesses) need to find the solutions where we can.
What kind of challenges do you face running the business?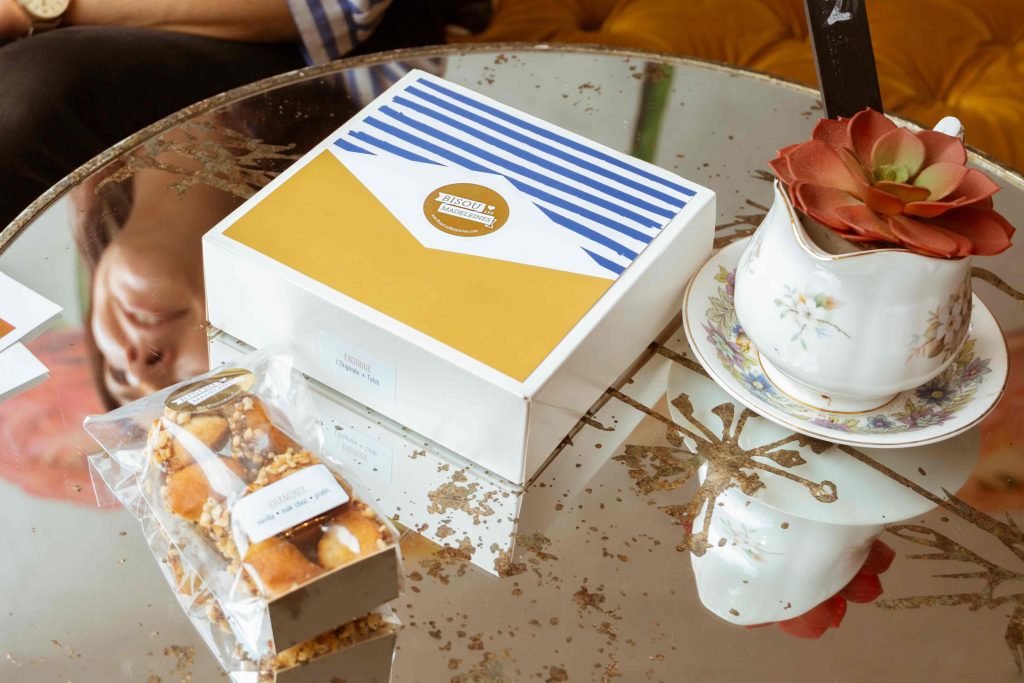 There are many challenges when running a small business. Initially, the delivery was very challenging because it requires a lot of logistics. You don't really think about it too much when you start, especially when you want to ship UK wide. Not only do you have to bake and ship them – you also have to think about the size of packaging. Just finding the right box was difficult and there was a lot to think about. Now however, we have a good system which we're happy with, but it's still a challenge and always will be I think.
Do you ever take a holiday?
We learn how to take time for ourselves, we have to! Mental health is really important when running a business. My business is part of my life and vice versa. Even when I'm away on holiday I think about the business, and I need to. But with my business partner, we can talk through any issues and have a discussion if something isn't going well. We can resolve most issues in no time, but every day is a challenge!
What's the BEST bit about running your own business?
The freedom! It's long hours and long days, but it's still freedom. There is stuff I hate doing like 'the numbers', but that's why my business partner is really helpful. It's also lovely when someone sends an email, telling us how delicious our madeleines were, or how much they reminded them of their time in France. It's really rewarding. It's the emotion I remember having when I was baking with my grandfather, and eating his cakes – it's the most simple thing, and now I can offer that experience to my customers.
What do you print with printed.com?
We print everything that enhances the visuals of our packaging. So everything from Stickers and Greeting Cards to Flyers and Instruction Leaflets. We order plain boxes for the madeleines and then accessorise them. We have our original classic box design, and then we have limited edition designs that we can print in small quantities for days such as Valentine's Day.
Have you got any exciting plans for 2020?
We are currently negotiating a contract with a department store, which is very exciting for Bisou Les Madeleines. This would mean we'd gain a new team member for production, leaving myself more time to devote to business development, graphic design and marketing. So 2020 is hopefully going to be very exciting and open new doors.
It's hard not to mention the effects of Brexit, but I'm so proud to have a business like this in London. The business is based in the UK, but it is a French recipe with French heritage. It's very important to us, and we feel very proud to be French and to be able to live here. We love the British spirit and the way of doing business, and we want to continue to be part of both countries.
Make sure to check out all Bisou Les Madeleines' delicious products on their website and make sure to follow their Instagram too for all things madeleine!