6 things you didn't know you could do with Business Cards
At Printed.com we know how important your Business Card is to you. Afterall, it's so much more than just paper – it's a visual representation of your business – and it has to look its best!
Since the 17th century, the Business Card has been used as a tool to share contact details, but things have a changed a bit since then!
Originally Business Cards were playing card sized affairs, left at people's houses when you went to visit them. They were usually hand written, featuring intricate imagery or illustrations. Nowadays, things are a little different…
Take a read of our 5 things you didn't know you could do with Business Cards and get inspired to refresh yours.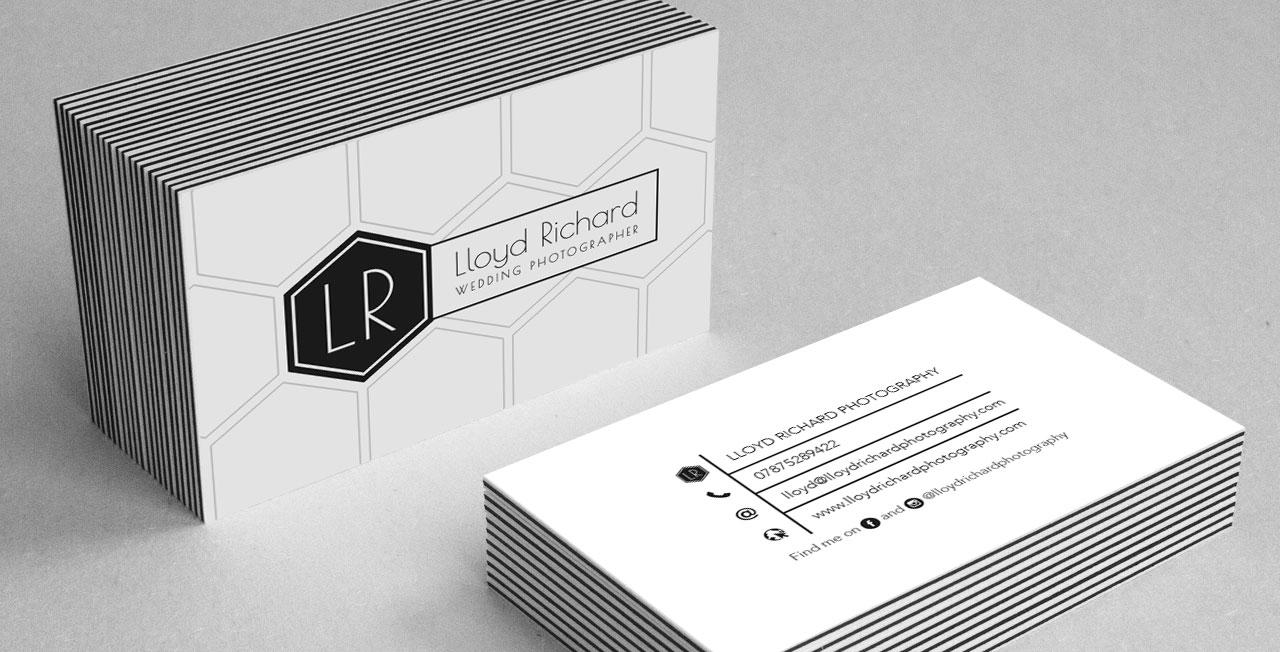 Go beyond standard paper
Our most popular Business Card paper stock is Silk 400gsm – but did you know that there are 16 papers to choose from at Printed.com? From super-heavy papers like Lux, (which features a brightly coloured, eye catching core) to our popular textured stocks and even options like of magnetic material. Imagine the difference just switching up your paper could make! A simple texture makes your card intriguing, a magnetic backing makes yours practical, Tearproof helps you stand the test of time, Lux gives you slick design cred… the list goes on! Why not go and explore your options…
Add a fancy finish
Want to add a little extra to your print? You might have heard us talk about Foiling and the great ways it can enhance your print, but did you know we offer a range of six special print finishes?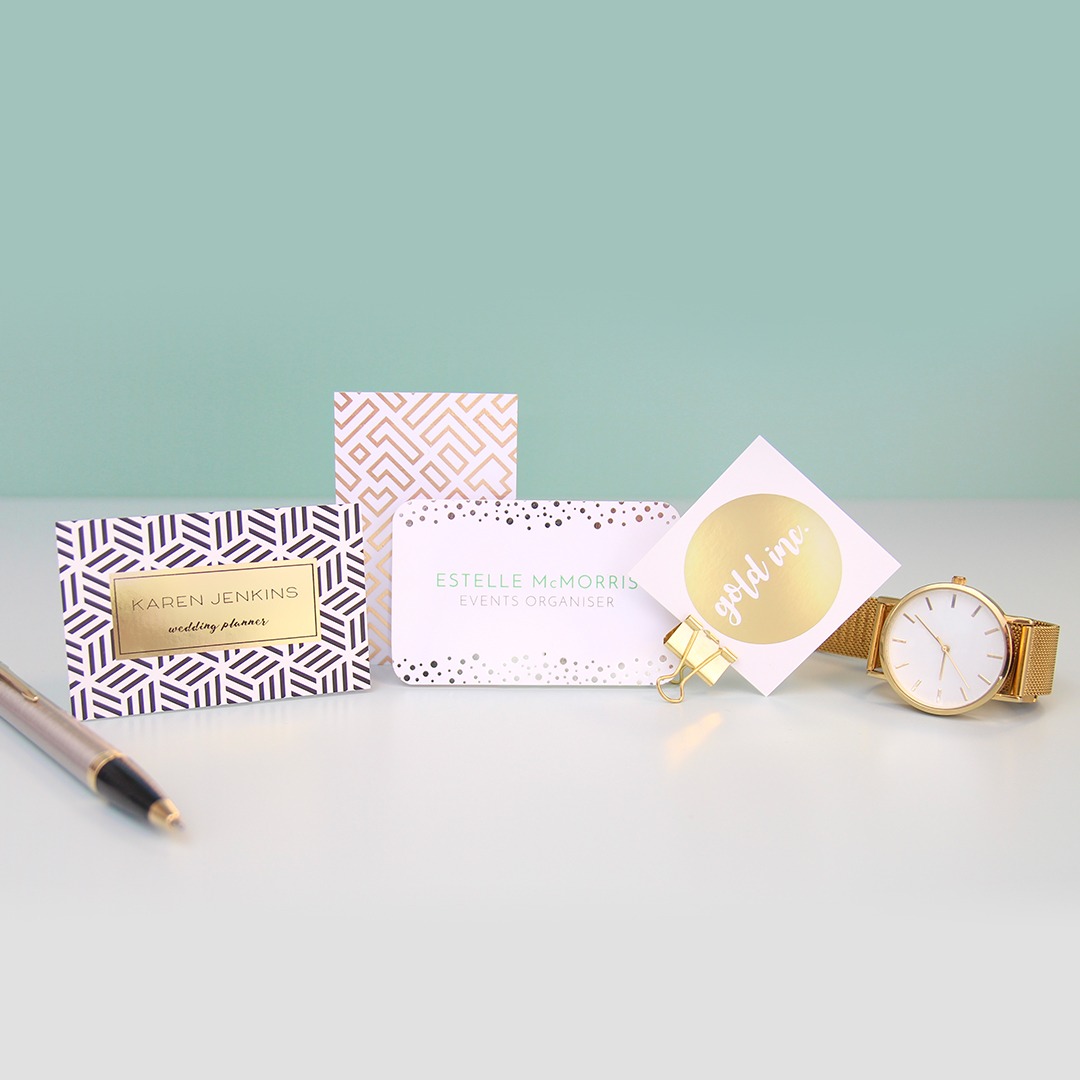 Ready to think outside the box? We've introduced a range of brand new special print finishes, ideal for elevating your designs. Discover Block Foiling, Die Cutting, White Ink, Laser Cutting and Spot UV, all at your fingertips – and all ready to help take your Business Cards to the next level.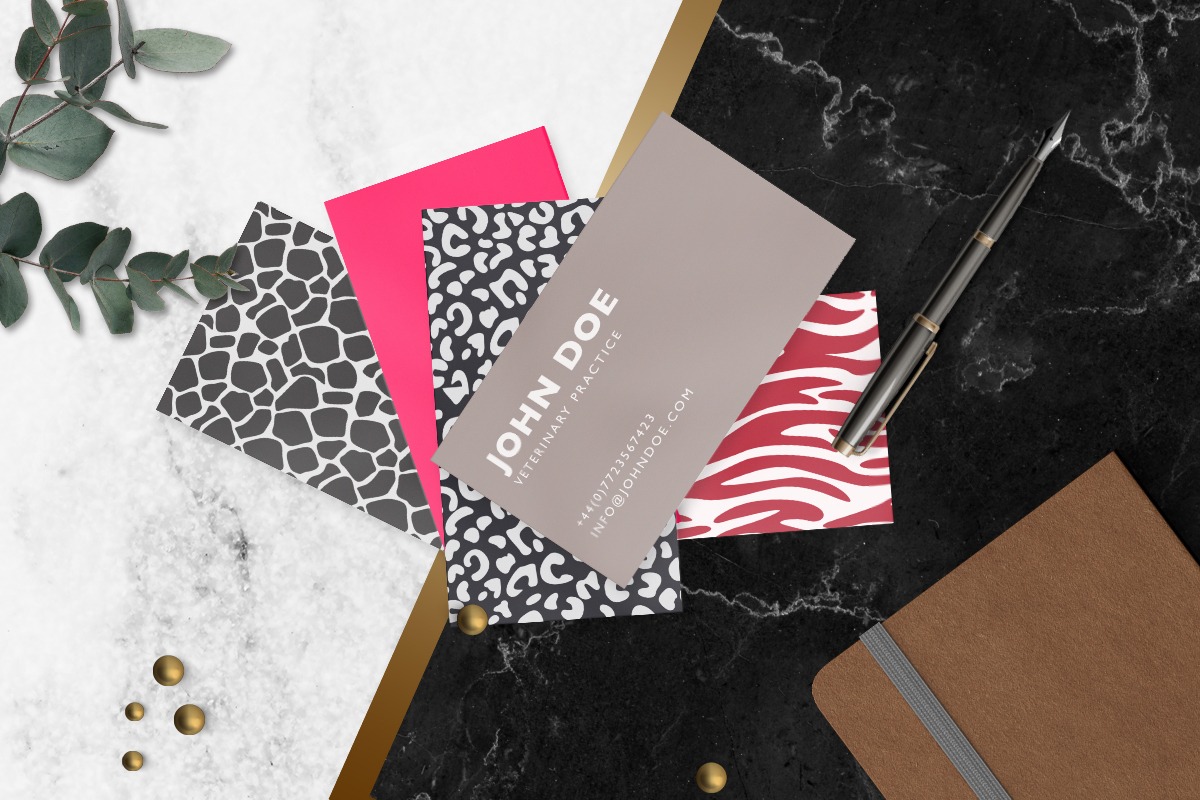 Go folded, square or extra wide
Did you know that we offer six sizes and variations of Business Card? Our 85mm x 55mm – Standard is the most popular, but our cards also come in 90mm x 55mm (extra wide), giving you an extra 5mm of width, or 55mm x 55mm (square).
But why consider a different sized card? Surely it's best to print the universal size? Well, the standard Business Card size is widely accepted, and it fits in wallets, which is great for transportability. But, picture this – you're a customer or client visiting an event. You've spoken to loads of people and suppliers and at the end of the day you've got a stack of Business Cards. They're all same, except for one, which is poking out at the side because it's extra wide… Of course, it's going to catch your eye!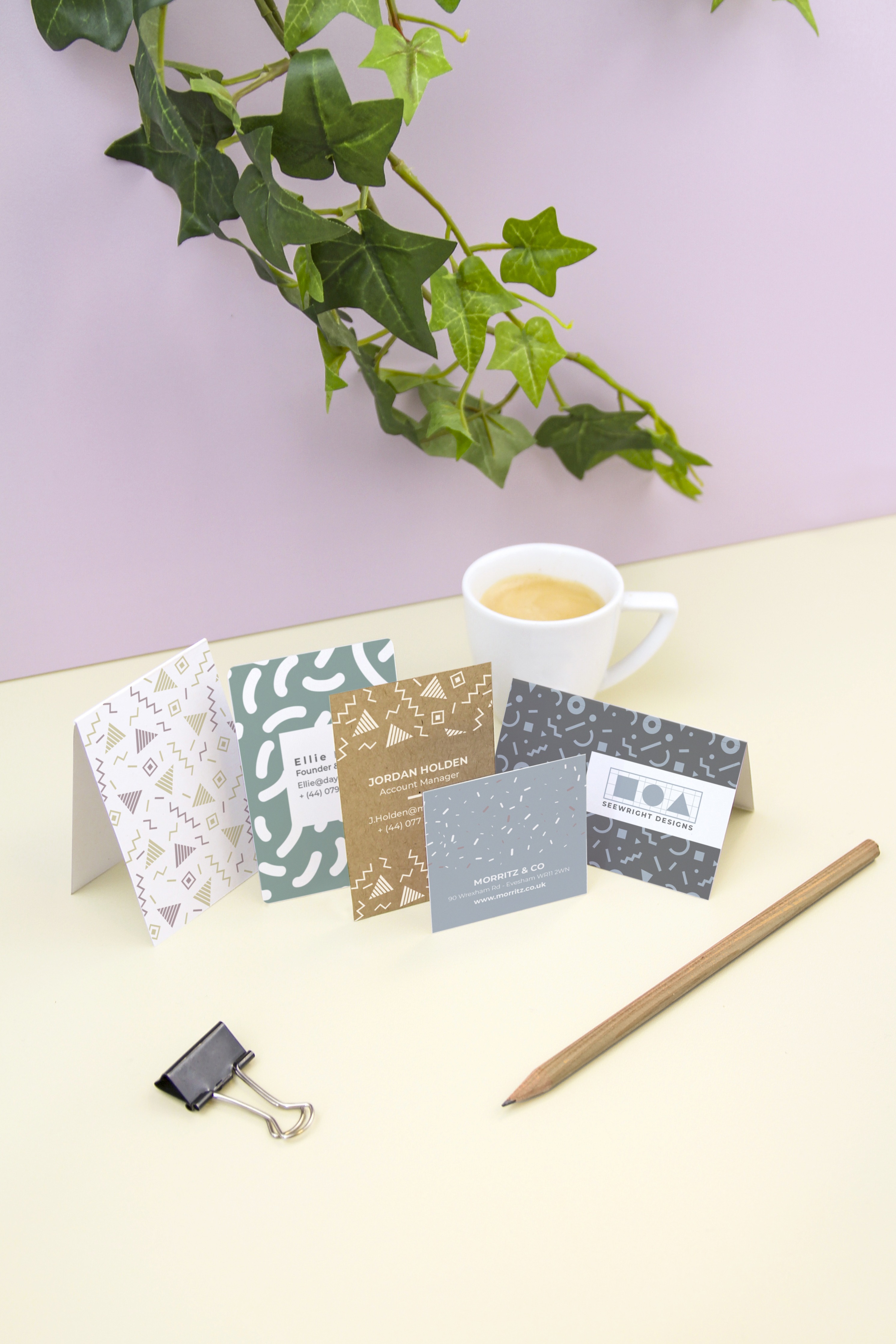 We also offer folded options too, which is a great way to add more detail to your Business Cards, and offer a snapshot of your business. You could include price lists or perhaps your most popular products, customer reviews, or even offer/discount codes. The list is endless, and because you've got more space, there's no need to compromise on your current design, logo or branding.
Laminate your way to tougher Business Cards
Lamination… what is it? Well it's not to be confused with the thick, plastic-ensnared end result of those pouch laminators you might have come across in schools, universities, or any place that likes making its own ID cards or the like. This is a far more refined process, one that leaves your chosen paper stock feeling and looking lovely, all while offering an added touch of protection. You can choose whether you'd like matt or gloss lamination too (shiny or matt finish).
This super-fine plastic coating is bonded with the surface of your prints to give them a scratch-proof, resilient finish, that helps them last longer and stay looking fresh from the press for longer.
When laminating, you can choose to cover one or both sides (referred to as single or double-sided) depending on how much protection you want to give. Or put another way, which part of the product you want to keep looking pretty?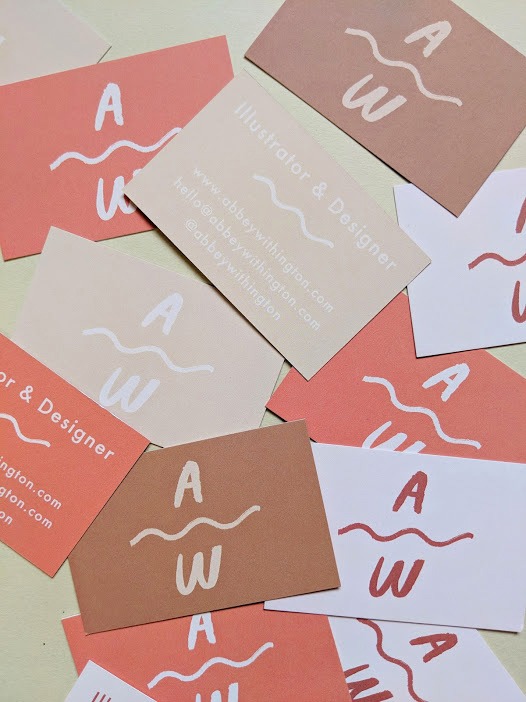 Print multiple versions
Did you know that we offer a versions service? So, if you're printing cards for the office (or just more than one person) you can print multiple designs all on the same spec, without having to go through the ordering process all over again. How good is that? Just check the box at the bottom of the order wizard, and upload the amount of files that corresponds to the amount you've put in the box. (i.e. two versions of double sided Business Cards would be 4 files. Two fronts, and two backs)
Go Bespoke
Push the boundaries of possible with our Bespoke service. Transform standard Business Cards into beautiful, bespoke print creations that are totally unique to you – guaranteed to help you stand out from the crowd.
Size matters when it comes to print – and we know you can't always find your exact specifications – but if you need it, chances are we can print it for you. Whether you're looking for an unconventional sized card, or you're thinking a little more 'out there', (maybe a unique shape?) we can help.  Get your quote now, by filling in our quick and easy Bespoke form. A member of the team will get back to you with a quote within 24 hours!
Feeling inspired to create show-stopping Business Cards? Head over to Printed.com now and get started!