#ProudlyPrinted – The Mother's Day Edition
In case you didn't already know, consider this your formal warning that it's Mother's Day on the 31st March –  and that means a whole day dedicated to mum. Here at Printed HQ , we're definitely feeling the Mother's Day love – we've seen thousands of gorgeous greetings pass through our presses – and we couldn't wait to share just a few of our favourites with you!
Oh, and while you might be a little late to create and print your own designs, what with it being this weekend and all, Father's Day is creeping up on us too (it's June 16th), but there's still plenty of time to design your Father's Day creations.
Karen Benjamin the brains behind My Type on Paper and we're loving her hand-lettered creations. With an impressive 10 year history in the graphic design industry, she turned her passion for all things hand crafted and so, My Type On Paper was born! This is just one of her gorgeous designs – it's perfect for telling mum how much she means to you!
We love this intricate, yet simple, monochrome design by Jolie Carte. Finished on luxury paper, we love everything that Jolie Carte creates – from Wedding Stationery to Cards and even Bespoke creations, her timeless style makes for some seriously showstopping designs.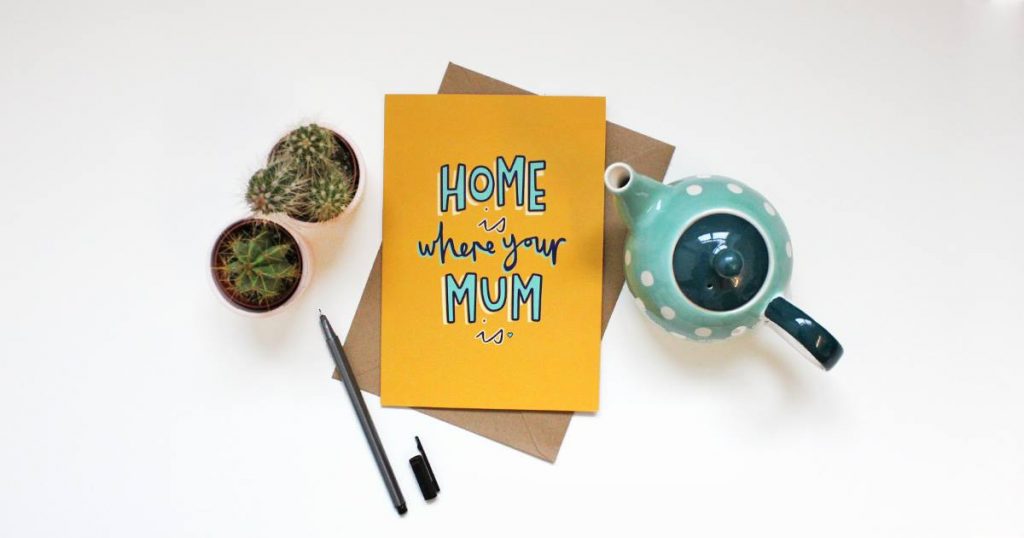 Simultaneously giving us all the feels and making us have a little chuckle, Sam Warnerr's 'Home is your where Mum is' card is just one in a huge collection of gems. Her bold use of colour, fun quotes and unique style make her cards the ideal choice for any occasion.
How cute are these Mother's Day Cards from Rock Paper Swan?! We love their deceptive simplicity – we reckon they'd look great framed! Combining some seriously on trend pastel hues and a straightforward, yet touching sentiment, we reckon mums all over would be pretty chuffed to receive a card from Rock Paper Swan!
We love, love love Drawn By Emma's hand drawn creations – and her Mother's Day cards are no exception! We can also spy a cheeky Father's Day card in there too, so if you're a little late on the ordering in time for Sunday front, well, perhaps you could share one of Emma's creations with your Dad instead?!
Is your Mum the cat's pyjamas? Tell her that with these cards by Rosie Fairholm. We love this Brighton based illustrator and plush toy maker's style. She's a self-confessed cute animal, cat and chocolate lover – alongside designing and selling on Etsy she even works part-time in a chocolate shop called Choccywoccydoodah! We think she's living the dream!
How cute is this moth(ers) day card from heymichaelajoy? Alright, so moths aren't always considered the most endearing of species, but this card is working for us! We love Michaela's hand drawn style, and as a bonus bit of info, she designs everything herself, on her iPad! Technology, ay!
We hope you enjoyed our #ProudlyPrinted – The Mother's Day Edition
Remember, if you fancy a slice of the action, just tag us in your printed creations over on Facebook, Instagram and Twitter and use the hashtag: 
While you're here, why not check out some other #ProudlyPrinted creations with our Colour Trends and Invite Only edition?