#ProudlyPrinted – The Summer 2019 Edition
Welcome to the summer 2019 edition of #ProudlyPrinted!
This week our #ProudlyPrinted series is getting hot! With the recent arrival of the sunshine, we decided to take a look at all things bright, bold and beautiful with some summery creations by our very own customers. So while you're soaking up the sunshine, why not soak up some seriously cool inspiration too?
Want to see your designs here too? Tag on social using #ProudlyPrinted!
Honey and Velvet Studio have been featuring round here a lot these days, and can you blame us? With so many gorgeous designs like these on-trend, summery creations, we've got a feeling we'll be saying 'aloha' a lot more to Jessica Tarling and her creative studio.
It's summer wedding season! These floral and watercolour inspired designs from Confetti and Ink Studio bring on all the summer feels! We love the bold colours and stand out calligraphy. This is one Save the Date that definitely won't be forgotten!
When we saw this gorgeous design by Annie Montgomery, we were instantly transported to Europe – Aperol Spritz in hand, lazing outside a cafe with the sun gently beating down through the flower canapes. Ahh. Bliss. Can we have one in every room, office and meeting space, please?
Pastel is big news for summer 2019 – and The Design Hut know it! This wedding set pulls together cool blue and dusty pink shades to create a summer-themed set that ticks all the boxes.
These gorgeous designs from Natalia Juan Abello are certainly turning up the summer feeling. The soft watercolour designs, combined with hand-drawn elements and fun typography really bring these cards to life!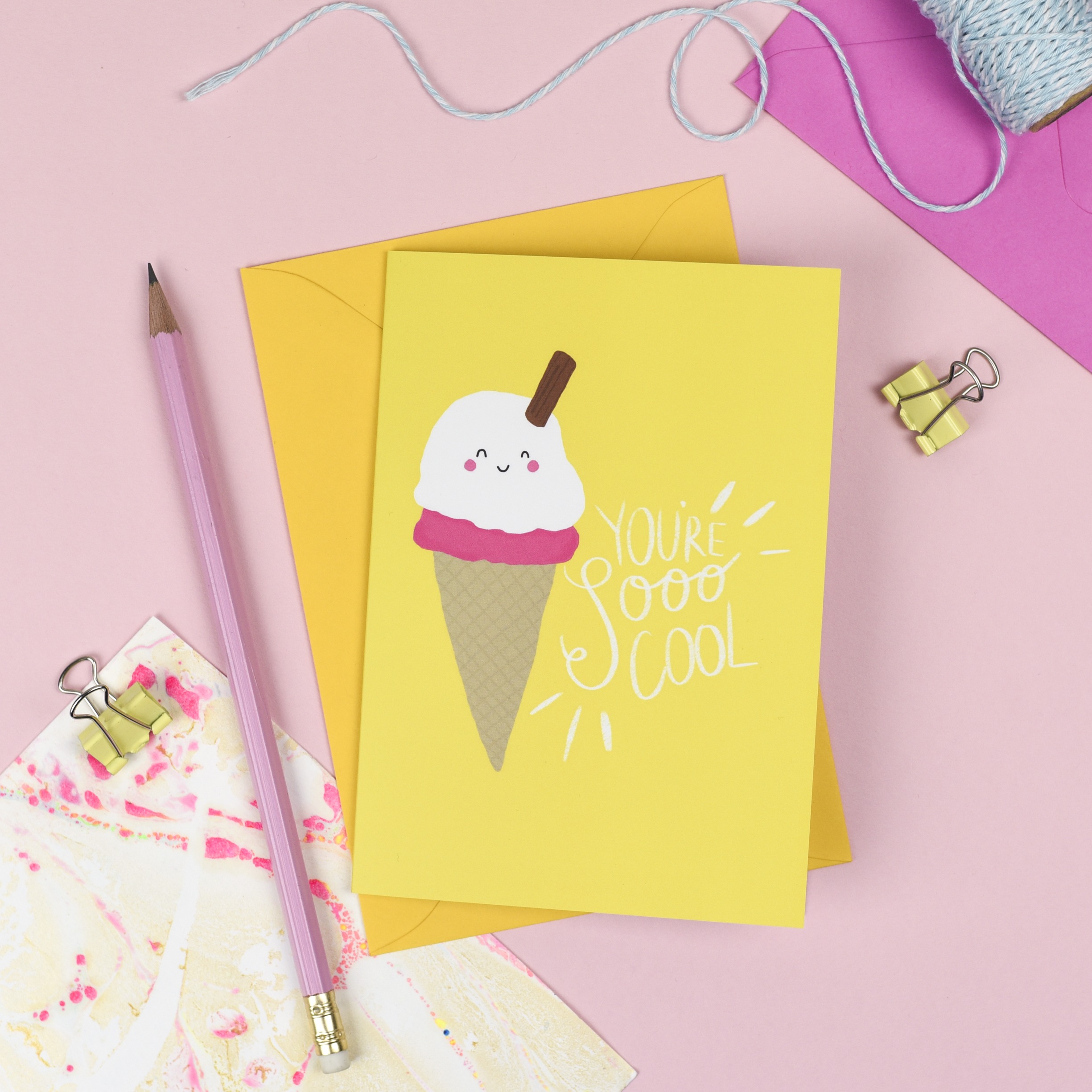 A favourite from last year, we just had to bring this cute little character back for a second round – who else is craving ice cream now?!
We hope you enjoyed our #ProudlyPrinted – The Summer 2019 Edition
Remember, if you fancy a slice of the action, just tag us in your printed creations over on Facebook, Instagram and Twitter and use the hashtag: 
While you're here, why not check out some other #ProudlyPrinted creations with our Adorable Edition and Positivity edition?