#InspirationPrinted: Chatting weddings, and all things weird, wild and wonderful with Blush and Gold
Here at Printed.com, we've always been proud to put small businesses and creatives at our core, so we'll take any excuse to shout about the amazing work they do.
We recently stopped by Blush and Gold HQ, to chat with husband and wife creative due, Mara and Paul, about all things wedding – so, without further ado, get to know them both right here!
First of all a big hello… tell us a bit about your business!
Mara:
"Hi, we're Mara and Paul and together we run Blush and Gold. It's a stationery design studio."
Tell us a bit about yourselves and how you got started in the stationery design business?
Mara:
"Blush and Gold started when Paul proposed to be at the end of 2015. I was a graphic designer so I knew I wanted to work on the stationery for the wedding, and then the more I started thinking about it and designing for my own wedding, I realised that it would something I could potentially do as a business."
"I was already looking for something that could give me creative freedom, and I kind of fell into wedding stationery by accident."
"I realised that it would something I could potentially do as a business and that I would enjoy doing. "
Paul:
"I was amazed at how quickly Mara was able to put together designs and start the business and start bringing in customers, and it was so nice to be able to see her using her creative talents and putting them into something that she really loved and seeing the reactions from her customers when they receive their wedding invites and the feedback she would get from them. It was amazing, really heartwarming."
"I was kind of jealous at the start so I'm just really pleased that I'm able to be a part of this business now."
What does a typical day in the office/studio look like for you?
Mara:
"We normally get woken up by our cats at about 5 o'clock. But really we get up about half 8/9 o'clock. We generally try to have breakfast in bed and share a couple of words, and then we just start working straight away"
"In the morning we tend not to talk to each other much, we just try and focus on replying to emails and anything that has been building up since the previous day. We sort of work separately in the morning, and then lunchtime is when we sort of discuss things that we need to discuss together. Sometimes it's about moving a project along or dealing with some suppliers that might need input from both of us. And in the afternoon we go back to work, but if we manage to do as much work as possible in the morning, we try and be a bit more relaxed in the afternoon. So something we'll just go for a walk, or go shopping or a meal. The afternoon is a bit more flexible."
"We both work really well in the morning, I think we just work better ourselves. Working together that's really taught us quite a lot of things and morning is the best time for us for work. So we do like to have our afternoon."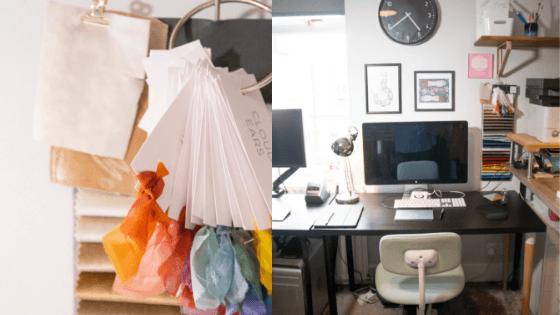 Paul:
"I think there are two things to it because I think living together as a couple and then working together are two completely separate things, because you have to understand how each other works. You might have been with someone from a long time, we've been together 10 years, but we'd never really worked on any projects together or done anything like this. So working together and learning how each other worked and each other idiosyncrasies and, the key is knowing how not to annoy each other, which is probably the best thing we learned."
"We do have a rule that at 5/6 o'clock or whenever we leave the office, we don't talk about work until the next day. I think that's something that we had to develop as a bit of barrier to keep our lives a little bit sane."
"There might be times where we're sat on the train, or one of us will be looking at social media and will see another design from someone else, or an email will come through at 10 o'clock at night and the other one will just start talking about it, and we have to almost stop each from going into work mode. Which can be a bit of a challenge sometimes, but it's just one of those things you have to get used to. "
"You just have to find ways of working together that suit each other, and make it as productive as possible"
Mara:
"We both know that if we've got our headphones in we're off limits and focused on a particular task…. it was tough in the beginning, but now that we've been working on this together for at least 18 months, it's become a lot easier and manageable and you go through the lows together and the highs together. "
Paul:
"It's really nice to be able to do it as a couple and enjoy the rewards from it. And to be able to go on nice holidays, and hopefully, have children in the future and provide for them through this."
"When you first start a business on your own, there are risks and it's hard work, but it's almost like you don't think about those risks really, you just go ahead and do it, because you don't know anything better. But when it's been running for a year or two, and you're paying your mortgage with it, it started to become something that you start to think a lot more about the risks, and it's harder to just put money towards something without thinking about the consequences, or 'it this going to affect how we pay our mortgage this month' or does this product/project have to come off for us to eat next week?"
Where do you find the inspiration behind your designs/what inspires you
Mara:
"So the inspiration behind our products, what products we would work on, is definitely inspired by life's big events. So for example, the wedding planner which is one of our first products, started because I was looking for suppliers and checklists to plan my wedding, and I couldn't find anything that was comprehensive enough for my level of planning."
"So that's how the wedding planner developed. And then all our products after that, they've always been linked to something that I've gone through. So, for example, our 'body and soul' journal, our fitness journal, that's evolved from me not having a work/life balance, so that was kind of my way of creating something for myself to stop and reflect every day and just take some time for myself. And the baby book is because we're in a stage in our lives where we're starting to think about a family. So the products are based on where we are now."
"Ultimately, the products are based on where we are as people, and as a couple. "
"It's a cliché, but inspiration is everywhere. We tend to like just going for a walk down the shops and seeing what the trends are and what materials there are. Inspiration from fashion, or interior design, or sometimes just you know when we were doing our house, we were looking at so many tiles and so many patterns and colour swatches, so it can be really from everywhere."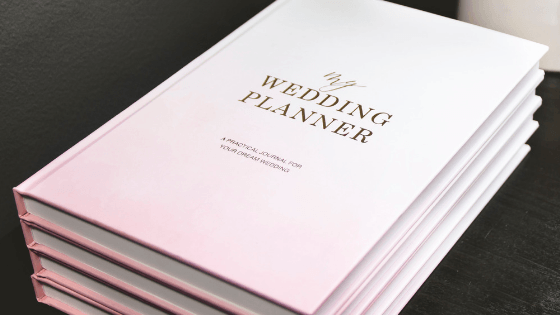 What is the most important thing as a designer to keep in mind when you're creating design for print?
Mara:
"I think there are two aspects of what I look for in a printer, and what Printed.com has actually been able to assist with. One is the quality of the print, so the variety of paper finishing, stock, I love the fact that you can actually order quite small quantities, so a lot of the time we'll just get samples done and then we'll rework them until they are the finished product."
"But the second thing is the repour we have with printed.com. We have this direct line to our Account Manager. We do feel that we have a direct line to our account manager and if there are any problems or the need for ay quotes she's always really really quick to reply. So I never feel like as are waiting too long."
"I think the nice thing about Printed.com as well is the automation, there are some other printers as well, but Printed.com you can go on the website without having to speak to anyone and find your way through the website and send everything you need to print on your own. It's nice that if there are things that go wrong, which there always are, that there is that direct line to speak to someone and get it sorted."
"It's nice to work with a company that takes as much pride and care in putting together the products for our clients. Because essentially it's our reputation on the line and it's just great to work with a company that's so attentive and take great care to detail. Working with printed it's so easy and if there is a problem it normally gets sorted pretty quickly."
How do you juggle all the different elements that come with having a creative business?
Mara:
"In terms of being to juggle things like dealing with packaging, inventory, how much to order I think that's something that I've been able to bring to the business. Which allows Mara to more focus on designing and products and really being creative. And it's something that you just have to learn as you go, I think that the first time you realise you need to do it is when you run out of things, you run out of boxes to put some product on, and it's a frantic rush and you have to run down the shops to buy some packaging materials, so the next time you're a lot more prepared and you just learn each time you do it."
Paul:
"I tend to look after those aspects of the business from the background that I've had working in other jobs working in that kind of thing, being able to take on that side of the business and just let Mara be creative."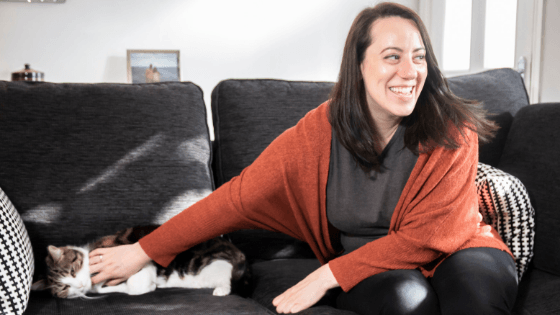 How do you stay up to date with trends?
Mara:
"I think it's quite hard because we've got so many different branches of what we do, so we have the wedding branch, and the baby branch, and the lifestyle branch, and I think there are trends within all of these different areas. So sometimes it's quite hard to keep track of what's in the for the baby business, what's in for the wedding business…"
Paul:
"We go to exhibitions to keep up to date with current trends, we go to exhibitions, wedding fayres, we look in baby shops and bridal boutiques, and also as we've grown the business you start to move into things like wholesale and selling to other business and you understand the trends in the market by speaking to them and finding out what you customers want, sometimes that's what can drive the business forward and drive product development forward, because you're responding to the market in real-time."
"Plus, we take into account the feedback that we get from our customers, whether it's customers on our website, or online or any of the stores we sell on. It's their feedback that will drive innovations in our products. Or new designs, from what they've been requesting."
What's it like to work with brides and grooms?
Mara:
"It's really nice to be able to work with couples, to be part of the big day. I really like working with brides and grooms. Although it's generally the bride. About 90% of the time it's the bride, but sometimes it's the groom as well. They work in very different ways, the groom seems much more organised and less emotional about things, so they just know what they want, they write a list and that's it. Whereas brides you can see they are a little more emotionally involved with the whole process. But there are just different ways of working, a different way of approaching the job and I do really like both."
"When Paul came into the business and started looking at the customer service side of the business for our planners, I was quite worried that I was going to miss that one-to-one repour with the customer. So obviously I still really treasure the wedding stationery side of the business because of that."
"We got a lot of feedback for couples asking if the wedding planners were suitable for say, lesbian, or gay or bi/transsexual weddings and at that point they weren't because they would mention the bride and groom and genders. So that was something we took on board in terms of feedback, from that we decided it would be a really good idea for us, because we wanted to be as inclusive a company as possible, to create something that would serve that market. So we've recently bought out a, we're calling it the 'You and me' planner – so there is no mention of the bride, no mention of the groom – it's completely gender-neutral, so it should work for any LGBT weddings or anything where people don't want to conform to any gender norms regarding weddings or looking for something a bit more non-traditional."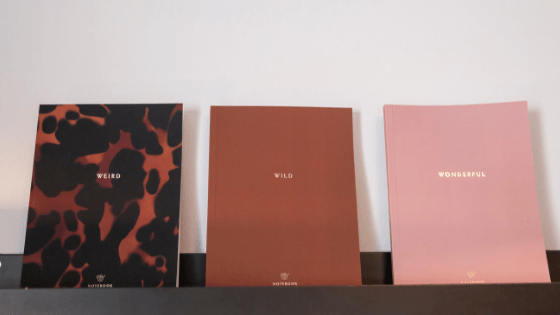 What inspired your #InspirationPrinted designs?
Mara:
"The inspiration behind the 'weird wild wonderful' notebooks is, it's really a way for us to be able to show the diversity and uniqueness in women."
"One of the things we really want to do this year is to expand our stationery range. So when printed.com got in touch with us, we immediately thought about doing some notebooks, we wanted to aim them at women, we wanted to make them fairly luxurious, beautiful and practical."
"The idea behind the 'weird wild wonderful' set of notebooks is that we wanted to produce a set of notebooks or diaries that reflected the different natures of women's personalities, and how unique they can be. Like you might not be all three, you might not be weird wild and wonderful, but you're at least one of them. We're all wonderful."
"I did want to add foil onto the notebooks, that was definitely going to be the option, it's really important for us that it really kind of flows through our other products, and adds a little touch of luxury as well. We didn't want it to be too much, we just want it to be quite classy. But we wanted to be able to contrast really well with the colour palette that we chose for the notebooks. I really love the velvet finishing as well. It's something that I hadn't considered before looking at the options on Printed.com, but I really like the feel of it, it makes it look really quite tactile."
What was important to you in choosing Printed.com as a printer?
Mara:
"I've used with Printed.com since the very beginning, I did look at other options as well but I did love the fact that the printed.com website was just so comprehensive, and I could find pretty much any options of possible print that I might have needed on the website without having to really interact with anyone else, for me the automation part of it is really important. I did get some samples printed, to begin with, and I liked the choice of the paper stock, there is a variety of choice of paper stocks."
Paul:
"What's really great about Printed.com, is that even on the website for someone who's not a creative or a designer, is that I can myself go on the website and say if Mara is busy or she's working on other orders and she needs me to take over something or get some designs printed and work with Printed.com on something, even someone like me who's not a creative or a designer, I can go on the website and I can go through that process, and I can order it, I can take everything from, I can choose the paper stock, I can put the designs through and upload it and then I can see how much it's going to cost, then I can send it off to print, and I can do all of that pretty much in the space of a few minutes. And if someone like me can do that, that's not trained and hasn't had that much experience with printing, it's such a such, especially the way we work, it's great for us that I can take on that responsibility as well."
Mara:
"So Blush and Gold are featured as a stationer in the Wedding print boutique, and since then we've definitely had quite a few enquirers coming through. As much as the Printed.com website makes it easy for anyone to order, I think there is still a need for a designer to be present and to help couples make their dreams a reality."
"I think couples still want to work with a designer to make their ideas come to life."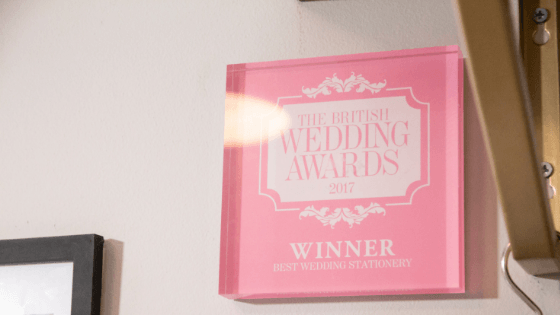 What's next for Blush and Gold?
Mara:
"I think the next steps for us as a business are to find new ways to grow and come up with products that are not just products for us to sell but products that mean something to us as well. We don't just create products for products sake, we want things that are going to be useful to us, ourselves to use – the wedding planner was useful to plan our own wedding, the baby journals if we have a family we'll want to use those, and getting peace of mind through the body and soul journal and the lifestyle range, I think we want to create products that are useful to us and then we can see that they'll be useful to other people in the future."
"It's not just paper, I know that some people might think it's just paper – it actually means really quite a lot for someone that is planning their own wedding. And just like a wedding planner could be just a book to someone, but you know when it's a gift or something that someone treasures, could be a memory forever."
Paul:
"I think that's what's really nice about the products is that, you see from the feedback that people really treasure these as gifts, whether they've been given it by their mother/father, sister, their fiancé, and these are things that they're going to keep on their shelves for the rest of their lives perhaps and they'll look at them in 20 or 30 years and you can see the feedback and the joy it brings them, from the comments we get on Instagram to the messages on our website and reviews, and it just really means a lot to us to get that feedback. And it makes you want to continue every day so that when you are going through a tough period you just have to look at the reviews and any messages/emails we've got from customers and it really helps you to keep going."
"Getting those reviews and feedback it makes it so much more than just a design on a screen."
What does inspiration mean to you?
Paul
"Inspiration is really hard to talk about because it's quite innate in that you don't really know where it comes from, but when it hits you you can to capture it like lightning in a bottle. I think Mara is very good at this. She gets a lot of ideas, she is such a brilliant designer, she gets ideas and she just gets them down straight away and I think she just takes in so many ideas, whether it's something she's seen on TV or something that she's seen in the shops and she translates them into products and ideas so quickly."
Mara:
"I think it's just about being observant and trying to capture the world or the most beautiful things about the world and then being able to filter it down and just take what you need to create something that wasn't there before."
"Inspiration is everywhere, and I think the challenge for the designer is being able to filter everything down into something useful and meaningful."
Watch the full interview with Mara and Paul below, and don't forget to stay tuned for more from the #InspirationPrinted series.
Fancy being featured? Get in touch with us at creative@printed.com