#InspirationPrinted- Celebrating Illustration with Claudia Guariglia
It's time to learn all about illustration with Claudia Guariglia for this Inspiration Printed!
We've always been proud to put small businesses and creatives at our core, so we'll take any excuse to shout about the amazing work they do.
Today we're talking shop and scribbles with Claudia from Enyoudraws! Read on to find out all about her inspiration and creative process!
Claudia – hi! Tell us a bit more about your illustration business and how you got set up?
Hi! I'm Claudia, yet another Italian living in London, and my path so far has been a bit of a funny one.
I've always loved illustration and drawing; everyone draws when they're a kid and I just kept doing it. However, somewhere along the way I took a little detour. I have this bad habit of putting a lot of pressure on myself to do everything right and do that straight away, so in my early twenties, I sort of stopped drawing altogether. I started focusing more on photography (another big love of mine), and that's what I was doing when I moved to London.
It wasn't until a couple of years later that I decided to pick up a pencil and paper again. Looking back, I have a hard time believing how I almost completely gave up!
From there everything kinda happened on its own. I wasn't planning on making a living out illustration when I started drawing again, I was just thinking "I used to like this and I used to be good. Why did I stop?" Next thing I know I was setting up an illustration profile on Instagram, and that's kind of where I am right now. Drawing a lot, experimenting, alternating personal projects and commissioned work, but generally still trying to figure it all out!
Could you tell us a bit more about how women inspire your illustration work?
This is something that I think about a lot. My subjects are mainly women, and it's always been like that. Ever since I was a kid I always loved drawing women and just became my thing! Even though I really want to try and be more inclusive with who I portray in my illustrations, I know this is not gonna exactly stop my "obsession".
I also think it's just because my works are very much inspired by myself, my life and my personal experiences. I can't count the times someone told me that I look like my drawings/my drawings look like me. It's funny because I do photography as well, mainly self-portraits, and if you put all of my works together they all kind of "look" like me. And subjects aside, my style is overall quite feminine. I generally end up falling in love with female creatives; it's just what's closest to the way I see and experience life.
What does a typical day in the studio/at home look like for you?
It varies a lot. It depends on what I'm working on at the moment and what plans I have for the day (I'm not freelancing full time yet, I have a part-time job on the side so that takes a lot of my time too, unfortunately).
Having a small business as an illustrator involves sooo many things: there's drawing, but then there's also editing, emails to send and reply to, trips to the post office, products to order and then take pictures of, all the social media to keep updated, and so on and so on.
I normally wake up early-ish (never been a morning person, never think I'll be one), make myself the first of many cups of tea and then make a to-do list. It's not always a list just for that specific day as I very often make stupidly unrealistic to-do lists including a lot of small tasks but also some bigger things too. It's more of a way to see everything I want to get done, what takes priority and how can I fit everything into the day/week. Ideally, the plan is to start having specific days for specific tasks (drawing/commissions, admin, creating content for social media, posting orders etc), but I'm still kind of winging it most of the time.
What are your favourite tools to use for your illustrations?
When it comes to tools, I love mixing things up. As a general rule, I'm more into traditional than digital, but will still work with both (digital being a lot more convenient for commissions/getting things done quickly).
The past few months I've been mainly working with paint markers, specifically Posca and Molotow, that I sometimes combine with gouache if I need a specific shade that I don't own in marker form. I also love coloured pencils (I treated myself to a big box of 40 a while ago and it was like being a kid again) and will use watercolours from time to time, even though I've always struggled with them a bit.
As for digital, I have an iPad and I do a lot of drawing on Procreate, but aways finish it up on my laptop with a drawing tablet.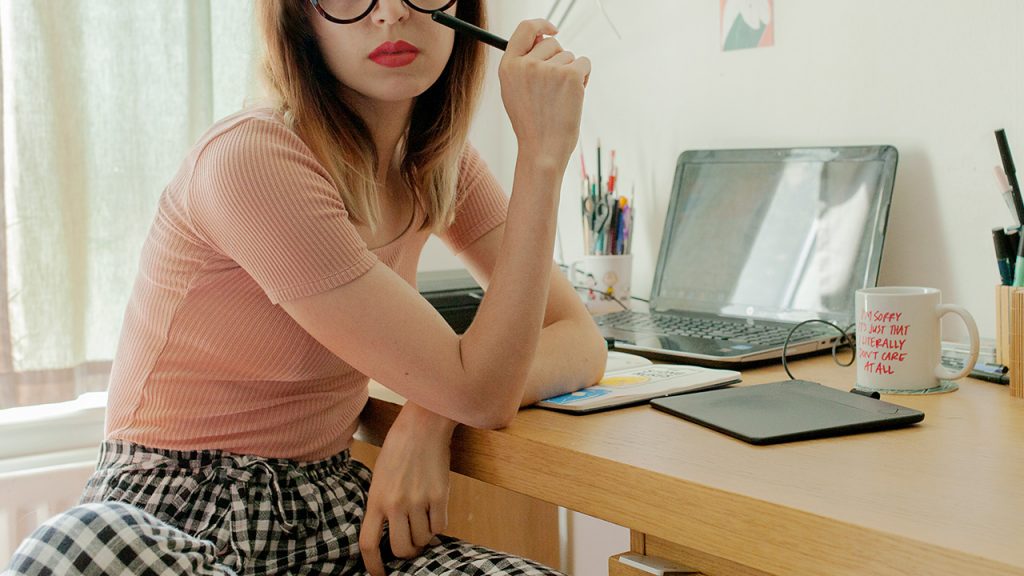 What's been your greatest success so far?
Now this is a tough one.
I'm not quite sure what my greatest success so far would be career-wise, but there's one thing that comes to my mind: the engagement I get sometimes blows me away. What really surprises me is how people sometimes really relate to what I share and talk about on social media, together with my works.
Now, I do a lot of talking on Instagram; I usually write stupidly long captions that may or may not really go with what I'm posting, and if it's not there then it's in my stories. Before, I used to try and keep it professional, strictly illustrator/freelancing life related, and then I got tired of pretending and started opening up. I share my highs and my lows, the little bumps on the road, the little joys, the creative blocks, the healthy gym sessions and the not so healthy drunken nights with a consequent hangover. People love it… and I get why. I'm tired of the perfect, "curated" lives you see everywhere on social media and find it incredibly refreshing when someone shares something real.
I'm trying my best to keep things as real as I can because I feel like that's the best way to use social media. I know it's worth it every time I get a message from someone saying they feel the same, someone opening up about their own experiences, or maybe just someone sending kind words when I'm not doing great. It makes me feel all fuzzy and warm, quite the opposite of what we all feel when we're looking at those "insta-perfect" feeds.
What kind of challenges do you face running a small illustration business?
It's a constant challenge to be very honest! It's a big learning process and it's all about trial and error. I didn't exactly study business-related subjects, and working freelance is one of those mysterious things that sounds great but when you try to do it, turns out most of the time you have no clue what you're doing haha.
Sometimes I struggle with time management and following a schedule. I tend to jump from one thing to another depending on what I feel like, which is obviously not ideal.
Pricing can be tricky too. Money is something that no one seems to want to talk about and when you're starting out it's easy to get things wrong and charge a lot less than you should. There's a lot of googling, checking out what others are doing, shying out of asking people or just getting really vague answers.
Sending emails is also a bit of a nightmare, and something I definitely need to work on getting better at. The list goes on, I could be here forever!
Let's just say running a business is probably not quite as glamorous as one would think, but I think it's definitely worth the struggle!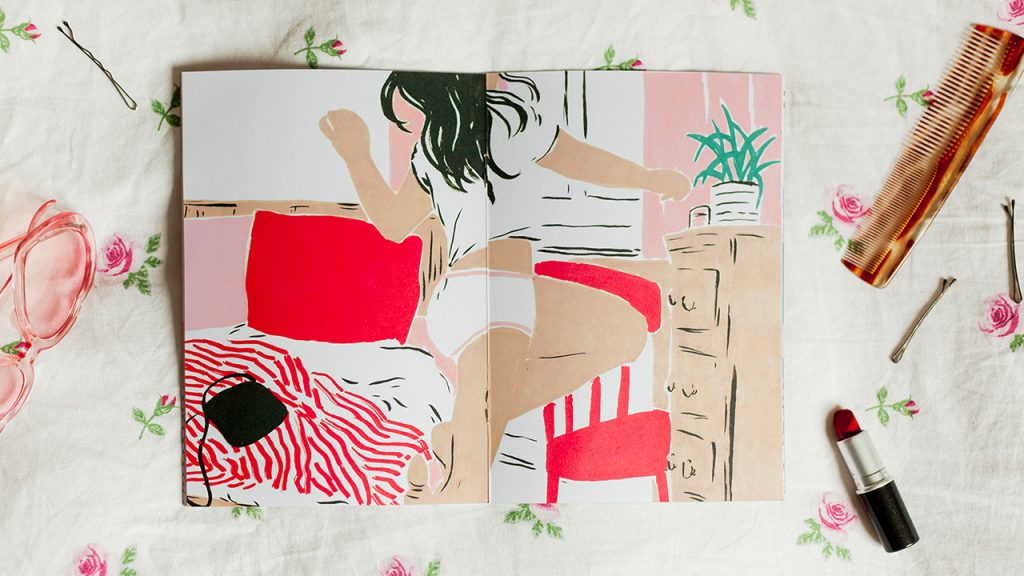 How do you promote your creative business online?
Create a community. It's is sooo very important to talk to people, share experiences and get and give feedback. Don't be an island.
It's 2019. Social media has changed the way we work with everyone now having a platform to share what they do. However, I swear to this day that nothing quite works like word of mouth.
Creatives who see your work could recommend you to a client that they're too busy to work. They might also share your work with other people in the field or buy your merch!, They might just become your friend, which honestly is also great as freelancing can get pretty lonely!
How did you come across Printed.com?
I think I was trying to get some postcards printed and I asked another illustrator. She mentioned Printed.com so I had a look and was pretty impressed with all the products and options. A few months later though, I got some Christmas Cards printed with you and they came out great, I was so happy! I'm not easily pleased when it comes to getting my works printed and am always afraid something is gonna go wrong (as it has in the past), so when my Christmas cards arrived and looked amazing I was sold.
Do you have any favourite products/papers/special finishes for print?
Paper-wise, I'm all about that bit of texture. The matte finish that Hahnemühle paper is perfect for me as I want my prints to look as much as possible like originals.
I'm a firm believer that there's no point in trying to sell something you wouldn't buy yourself, so I strive to create products I'm 100% satisfied and in love with. I obviously love making Prints as well, but I don't have my own flat yet so I don't buy that many prints myself due to space.
I also definitely want to make more Greeting Cards, I'm still very much in love with the Christmas Cards I made last year so that's yet one more thing on my to-do list!
Make sure to check out more of Claudia's illustration work on her Instagram, Facebook, Threadless, Society6 and Etsy store!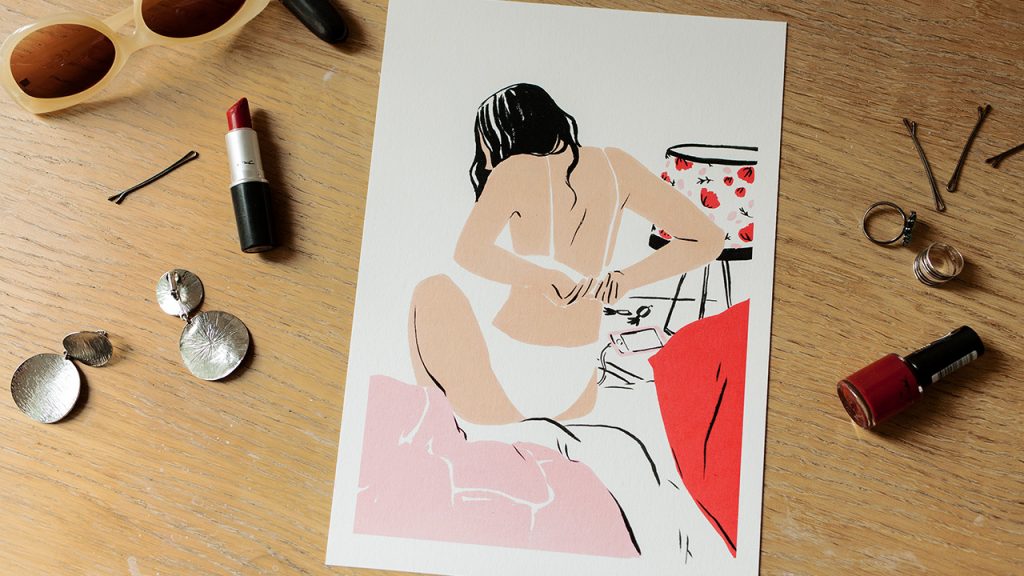 Get next-day print on loads of options and products at Printed.com – perfect for when you need to get your print, fast.

London based? Get same-day print on a range of options too! See all of our delivery options here.