Custom Printing – How to go Bespoke with Printed.com
Forget off-the-shelf solutions. Our Bespoke Printing Service is here to help you get your print, your way (even if we have to get extra creative to do it).
You may have heard us talk about "creative print solutions" here at Printed.com – and it's not just a phrase we throw about randomly. We strongly believe that all sorts of print ideas can be brought to life, and we don't think anything should stand in your way of making something extraordinary.
That's why we developed our Bespoke printing service. From unique shapes to Special Finishes to completely customised print, we help you bring your ideas to life. There's no project too small and no idea too big, so let's take you through how it works.
What is Bespoke printing?
Bespoke printing does exactly what it says on the tin. Whenever there's a job that can't be covered by the standard print options on our website, our Bespoke team is on hand.
Covering everything from Spot UV and Foiled Calendar covers, to projects completely outside the box, with over 40 years of custom printing experience we know how to help make your design a reality.
How does Bespoke printing work?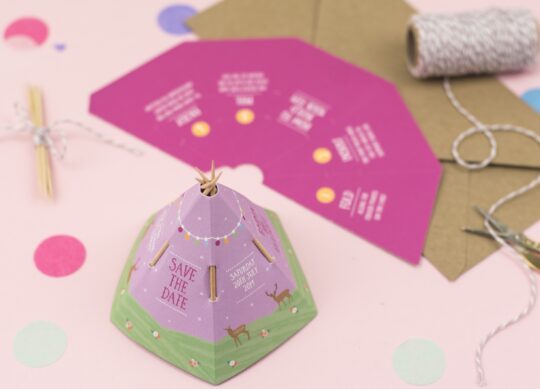 So, you've got a great idea for a print, but can't quite find the options you want on our (or any) website to make it work.
Let's say you want to make branded lanyards and name tags for an event, but you've been tasked with making them extra special. You could add personalised Foiling that catches the light, use a unique textured paper stock for tactile appeal or even create a unique shape and size. You might even fancy going all out with something 3D! All that and more can be done in just a few simple steps.
Head over to www.printed.com/bespoke and complete the following two steps of our form to get started:
Step 1:
Tell us what you need – in as much detail as possible.
Don't hold back! Let us know everything about your project. Don't worry if you don't know technical names or aren't 100% sure about sizes, materials or formats. We can help with that. It's what our team is for after all.
Step 2:
Submit your form.
It'll be sent straight to the inbox of our Bespoke printing team which is where the magic really starts.
Once our team have it, they'll deliver a quote within 24 hours and then start planning how to create your idea. From contacting industry experts to talking directly with our factory floor team, we'll find the best way to bring your custom print project to life.
Then, when they have a solution, we'll get back in touch. You'll get an email outlining your project and what's required, and how we can help. Depending on your project, we may sometimes need a little more information, but we'll get in touch to let you know the next steps.
Who knows! We might even have a brilliant idea that you hadn't thought of yet, that'll make your job more affordable, quicker or even better quality.
What happens next?
If your option is straightforward, you might be able to add the job to your basket (we'll tell you how to do this), checkout, and receive your print. Easy peasy.
If your job is a little more complicated, you might be sent a test print or some samples to make sure that the final project is exactly what you had in mind. Whatever happens, our team will be in contact with you every step of the way.
When you're happy with your options and quote, your print can come to life! There's not another one in the world exactly like yours so make sure to show it off.
Still not sure where to start? Below are a few examples of some of the recent requests we've been working on.
Extra large order volumes: Need more print quantities than one order will allow? We'll sort it, there is no job too big.
Boxes: Looking for a printed box? Our Die Cutting service is the perfect solution to give your packaging the wow factor. All you need to do is ask.
Tissue paper: Designing your own tissue paper? Whether you're Gift Wrapping or adding it to your e-commerce packaging, we'll help you bring it to life.
Merchandise: We have quoted for everything from pens to coffee cups, so don't be shy – just tell us what you need.
Complicated folds: Can't find the right fold? We've recently worked on more folds than you can shake a Wedding Invite at, so let us help you with yours, including cross folds!
Special finishes: We worked with Emma from Blush & Blossom to create pop-up Save The Date tipi's. The design had lots of special finishes, including little cuts so that guests could build their own tipi by popping wooden poles into them.
Our Customer Service Team are on hand to help at all times via live chat, email or phone. If you need any help before you submit the form, or if you need a hand while you're filling it out, just get in touch.
We can't wait to see what you create!