Ready to learn how taking advantage of influencers and unboxing videos can help your business?
These days, the power of influencers can't be denied. You need only take a quick look at your Instagram feed to see celebrities and social media personalities alike teaming up with brands or promoting certain items- with unboxing videos proving very popular right now. So the question is… can this strategy work for you?
Always keen to bring you the best tips and tricks to boost your business, we've recently teamed up with the experts at giffgaff to show you the print you'll need for an unboxing video that will truly wow.
Let's dive in.
What is an unboxing video?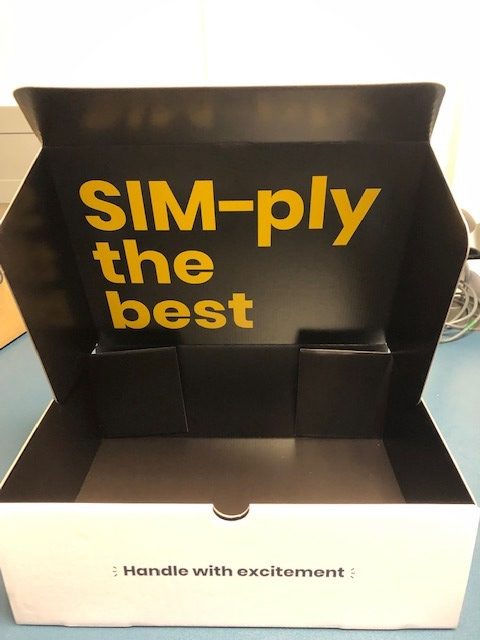 Those of us with any social media account or an avid follower of certain Youtubers will know that one of the biggest things in influencer marketing is an "Unboxing". If you don't know, an unboxing video is where a brand, large or small, sends an influencer or micro-influencer some goodies in a box, which they then unpack and discuss the items in posts on their Youtube channel, social account or blog for their audience to enjoy.
The beauty of an influencer unboxing is its simplicity. It offers the chance to introduce the brand to the receiver and their audience in a fabulously fun way as well as spoiling them with goodies.
It doesn't come without its problems though, as many influencer box campaigns can miss the mark slightly. Little touches can really make a massive impact and can make it a truly immersive experience. The last thing you want is people tuning in and watching someone open up a battered cardboard box and open a quickly scribbled letter.
This is why we recently partnered with giffgaff and created some printed items to go in their lovely #giffgaffgamers boxes. If you search the hashtag you will some real-life examples of this campaign in action.
Can they work for you?
Before we go into the details of Giffgaff's games night campaign, let's discuss the different types of unboxing campaigns and how they can work for you. You don't have to be a huge brand to get something out of an unboxing campaign, nor do you need to send out hundreds of boxes. One box presented to the perfect influencer for your business can have just as much impact as 10 not so aligned with your target audience influencers.
If you sell car parts, it may not be sensible to send a box of them to Zoella for example.
The key is to figure out what you want to achieve with your unboxing campaign.
Brand awareness – Basically, you want as many people in your target audience to be aware of your brand and what your brand is about.
Acquisition – You have set business goals which you wish to achieve with the campaign site visits, email sign-ups, lead/contact form submissions and of course, potential sales.
Of course you can merge both of these goals, but otherwise, it's best to gain an understanding of exactly you wish to achieve before you even decide who to send the box too. Once you know, you will be able to obtain the best influencer for your campaign.
Who is the best influencer for you:
As mentioned above, knowing who you want to attack via the unboxing and what you wish to achieve with the campaign will help you choose the perfect influencer for you.
Things to consider are:

Is their audience popular with your target demographic?
Are they on-brand with your messaging? If you don't like bloggers who swear or do more mature content, then the campaign won't look as natural to their audiences if you don't allow them to speak in their normal tone of voice. Synergy is key.
Followers aren't really a strong indicator of actual influence as you can buy them by the bucket load. Look for engagement on posts instead. If someone gets a lot of engagement from their content this showcases a strong connection between them and their audience.
Have they done other campaigns like this before? If so were they successful? What are their engagement metrics? You are allowed to ask for these things, they are a personal brand and many will be used to sharing this information and already have media press packages ready to send out.
What to put into your influencer unboxing box: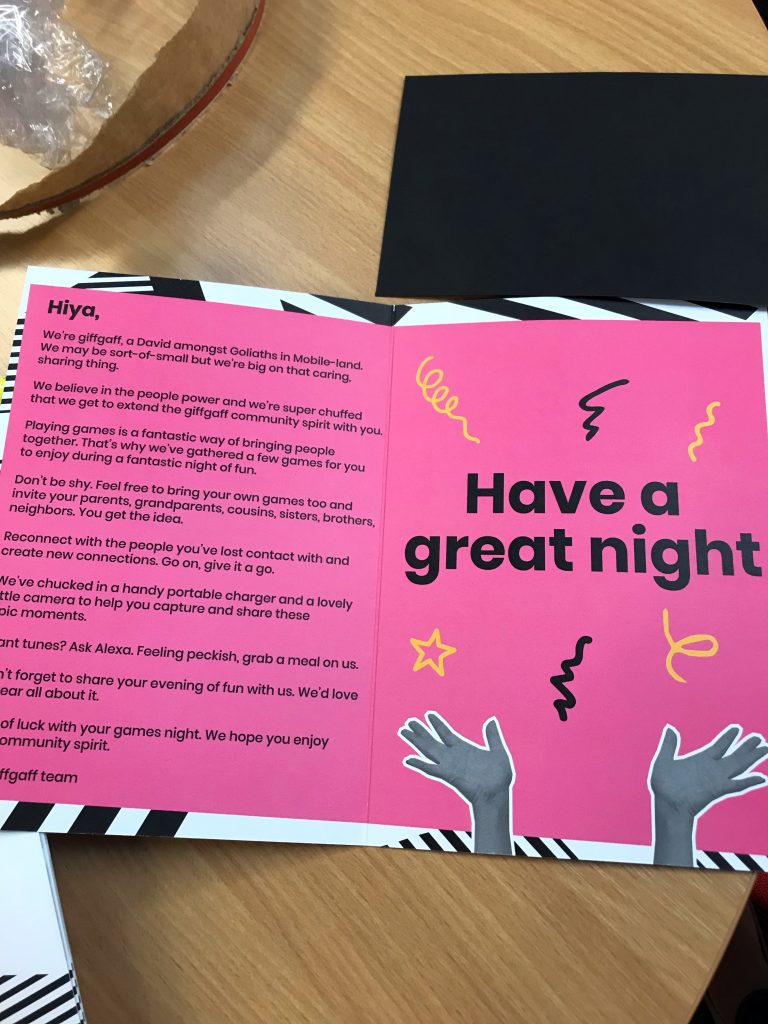 Printed products can add that extra element of finesse to your box and allow for the influencer to feel a part of the experience and valued. Some great items to include are:
This is a great opportunity to build a personal relationship with the receiver of the box, you can print off a Compliment Slip or Postcard and create something handwritten over the top, or print a lovely clear message on the printed product of your choice.

The steer document is a very important part of any influencer campaign. It should indicate how the unboxing should happen and what is expected from the person receiving the box. It shouldn't be bossy, more friendly and offering guidance eg.

"if you wish to mention any of the products in the box here are the [links], we are super proud of our work on our blog, so if you wish to highlight that, it would be appreciated if you feel it's useful to your audience

We've made sure to include the [following products] in the box for the [following reason] so that you can get the most out of this campaign and have as much fun as possible"

You may wish to add other printed flourishes such as the always useful Business Cards which can feature key information and contact details for the influencer to keep for future engagement with you.

Many unboxing campaigns don't have the budget to order 1000's of branded printed boxes but that doesn't mean that you campaign doesn't have to be a beautiful and branded as larger brands. Using personalised printed Wrapping Paper can be a great solution and allows an added extra piece of excitement in the unboxing, as who doesn't like unwrapping a gift?! If you do have a branded box then you can use branded wrapping paper as the filler to protect the items. It's the gift that keeps on giving!

Oh everyone loves a Sticker or two, especially if they look really cool enough to put onto your laptop or notebook. Try to avoid overly branded designs – by all means have the brand on there but every sticker should have a little personality of its own. For the giffgaff campaign, we used the branded stickers on our Envelopes for that extra touch.

Theme or task:
The last part of your campaign is the theme or task. This is to allow the influencer to use the products in the way you intended them to be. This could be something as simple as:
Baking at home
Pamper evening with friends
Clearing out the car
Getting crafty with the kids
Home decorating with printed items
Making/editing an image with new software or device
The list is endless and, as you can see from the above, it doesn't matter what niche or product you are, you can still create a fabulous unboxing experience.
In the case of giffgaff, they wanted to bring people together and build community ties, which is something that we feel very strongly about. With this in mind so they asked their influencers to host a games night on them, and included everything to make this as easy as possible and didn't leave them out of pocket in any way. Some items included in the box were board games, a sim card to organise the event and food vouchers to keep everyone's bellies full..
Safe to say that everyone involved loved it!
Designing Time!
If you don't feel confident designing your own box then we'd recommended working with a graphic designer who can help you with the design and setting up the printing of the unboxing items. Otherwise, just have fun! It's a perfect time for you to express what your business and brand are about in a new and exciting way.
Now, we will leave it to the fabulous giffgaff designers Darren Barker and Eliane Foucher to discuss the creative process of some of the items they featured in their giffgaff games night box:

Box design: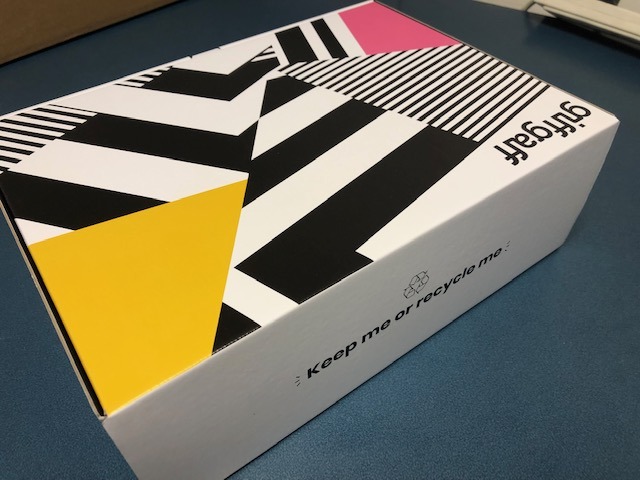 "We use our giffgaff brand Digital Noise asset in everything we design. This Digital Noise graphic is very versatile as it shows our dynamic as a company. It can be scaled up or down depending on which format/platform it is being used in. This box gave us the opportunity to use the graphic in a big and bold way along with a pop of our brand colours which gave the overall design an energetic and lovable design.
The inside of the box is coated in black with a joyful and playful message 'SIM-ply the best' in yellow. We felt that this encapsulated the giffgaff tone of voice and ultimately we design to create emotion and this phrase encouraged a smile for the unboxing experience."
Stir and flyers:
"The box design was also used on the stir and Pre-loaded flyer so all designs looked consistent and aligned. We stuck to using our core colours, black, white and then a pop of pink and yellow from our primary colour palette and we used these colours across all printed formats to make our designs feel considered, bold and on-brand."
What we used: A5 Greeting card folded to A6 (gift card size)
Stickers:
"For the stickers, we wanted to get our tone of voice across and our vibrant colours and branding. We also included designs which showcased our 2019 'Choose' brand campaign. The stickers had to reflect the lively brand in a sticker format and we did that by putting our brand values into the core of the designs."
What we used: Circle stickers (44mm x 44mm) and Rectangle stickers (73 x 27 mm)

We hope we have inspired you to get involved in your own unboxing experience. Just a little it of imagination and print can go a very long way.

Make sure to tag us in your own unboxing videos and to explore our print to decide what goodies you want to put in your box!
Happy unboxing!