Getting creative with Calendars
From corporate gifts to thoughtful presents, add a personal touch with our October product of the month- Calendars!
Calendars are a fantastic marketing tool. Ideal as gifts and perfect for adding to any existing design collection, they're one of the easiest ways to get yourself some brand exposure all year round.
Need a little inspiration on where to start? Keep reading!
Why create a Calendar?
Whoever you are: a business, a solo creative, an educational organisation a charity or a retailer, Calendars are a great way to keep your brand in plain view all year long. The great thing about Calendars is that almost everyone needs one – sure, smartphones have meant that more of our diaries have moved online, but nothing quite beats putting pen to paper and hanging up (or propping up in the case of the Desktop format) a Calendar so you can jot down all your important dates.
While fun to create, they're also an essential piece of business print, so don't sleep on all options you have to make them a standout piece of stationery.
Desktop Decoration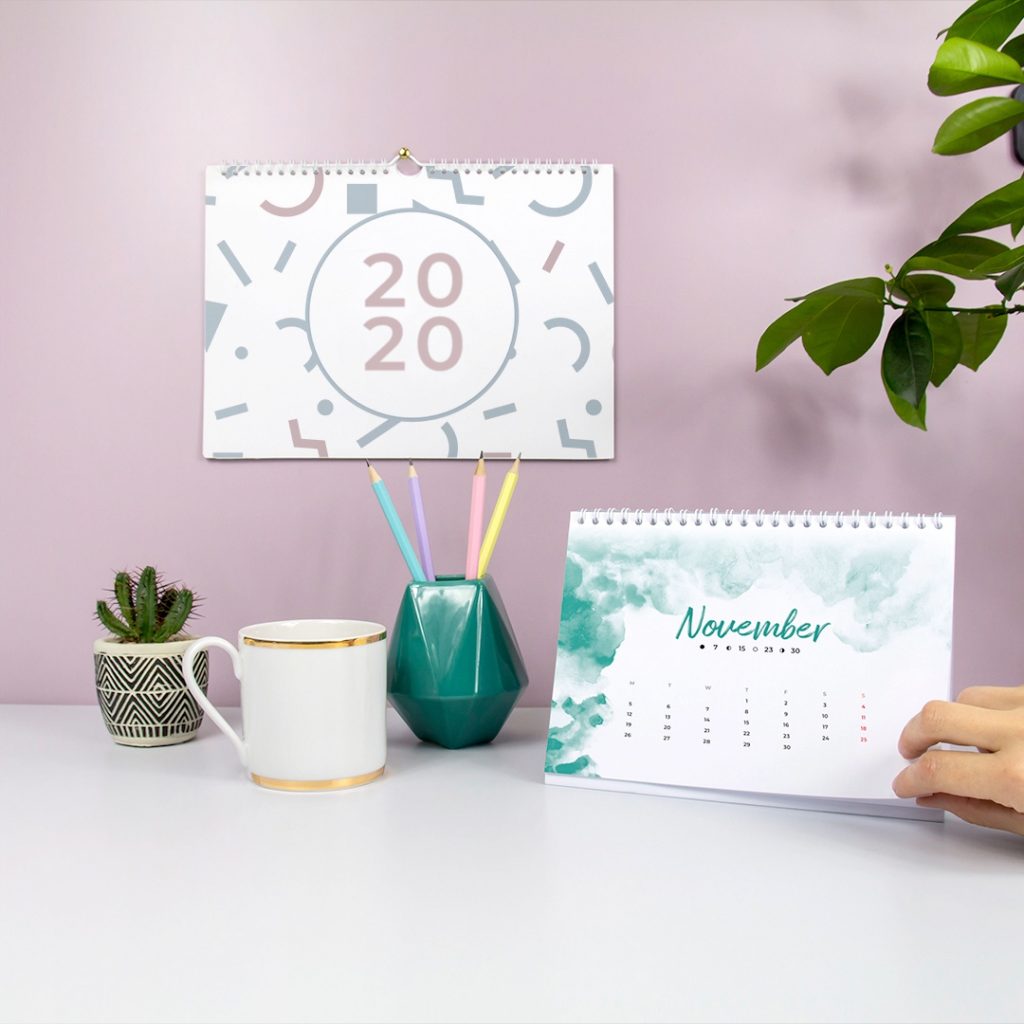 Keep your designs, photos or business name front of mind for at least five days a week with a personalised Desktop Calendar. Always to hand and the perfect portable size, we'll finish your choice of paper with strong wire binding and add a thick cardboard support to make sure that your Calendar keeps its shape no matter what work-life throws at it.
You can even print them double-sided for double the exposure!
Monthly Planner
If you want your Calendars to be as useful as can be, you can always add an additional 'planner' element to yours.
Using our Double Page Wall Calendars you can always use one half as a planner while leaving the other half as the standard monthly view. You could go simple and add seven equally sized blocks for the days of the week, or create lists for more personal events- think 'Birthdays', 'Family Events', 'Meetings' etc…
Photographic Calendars
If you've got photos you want to shine brightly throughout the year, why not use them to breathe some life into your Calendar design?
Choose a Double Page Wall Calendar and display a full-colour printed photo on the top page, with your months below. This is an easy way to create a Calendar that requires little design – and it looks great hanging on any wall! Perfect if you're a photographer looking to spread your brand or just someone who has photos they want to share throughout the year.
Add a Foiled Cover
If you're looking to really stand out, you can always add a little shine with Foiling. Whether you're a business looking to show you've gone the extra mile, or you're creating for resale and want that extra edge, Foiled Covers make the ideal choice. With seven colours to choose from, you'll find foiling to fit your design even if your Calendar is branded.
You can add Foiled covers using our Bespoke service, here.
Calendars you can write on.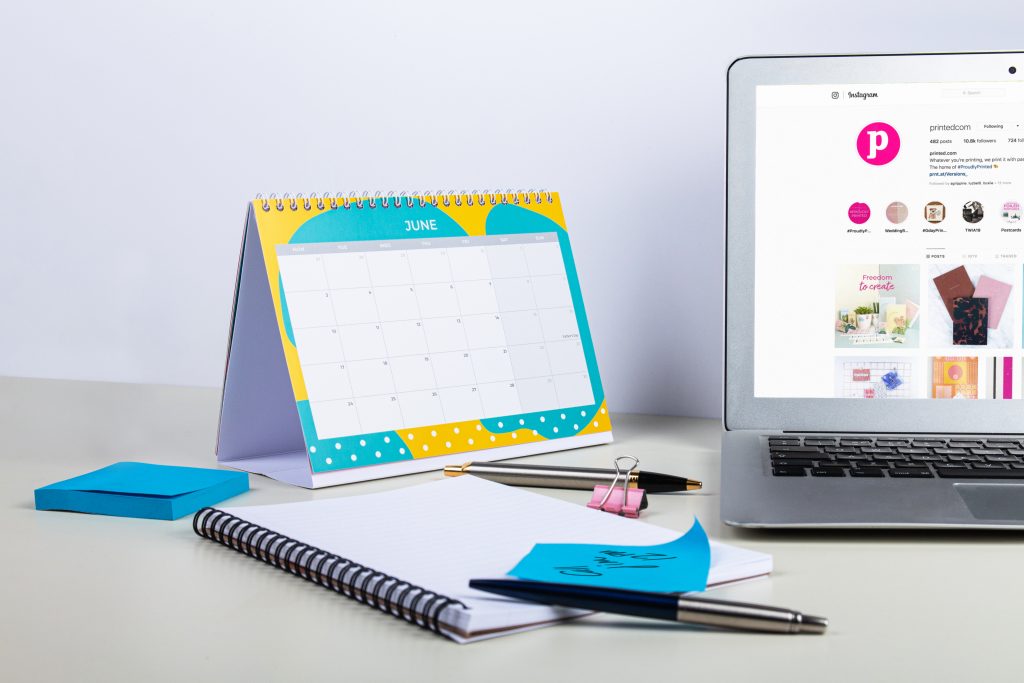 While there are so many different formats for your Calendar, the most important thing is that it needs to be easy to write on. Consider using uncoated or textured papers and creating a simply monthly design with plenty of space to allow people to fill in their important dates and reminders.
Creative Calendar choices
If there one thing your calendar never has to be- it's boring. Since it's a tool that everyone has in their home or business, this is your chance to really get creative with how you create yours.
Not sure where to start? Check out some customer inspiration…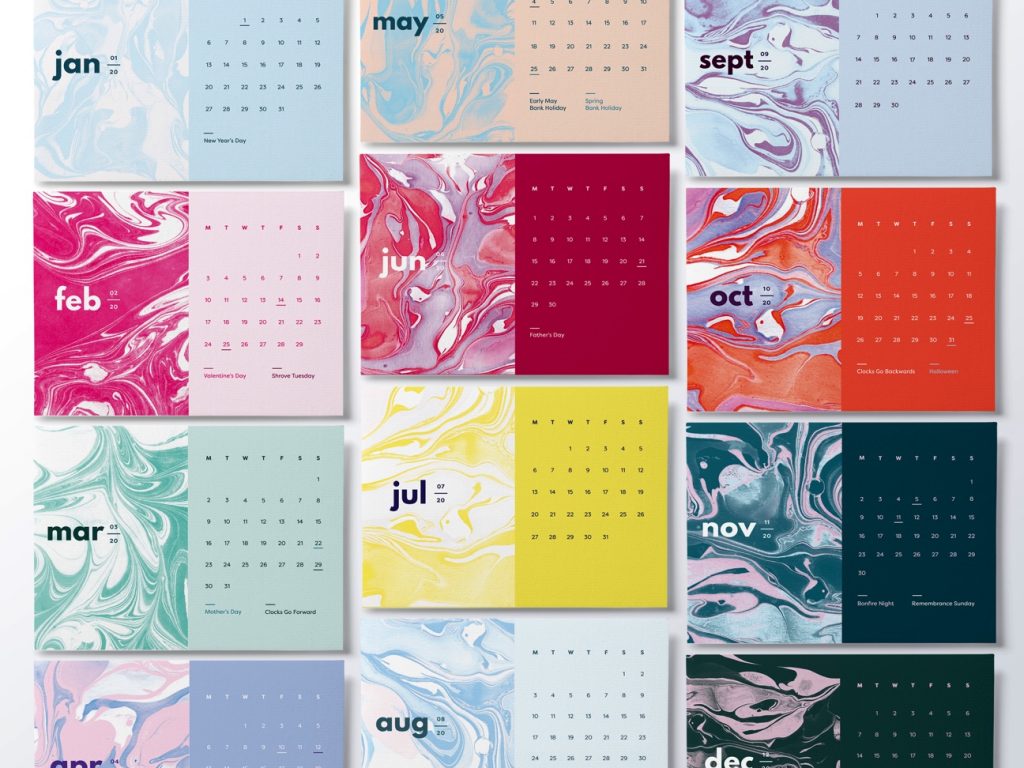 Go bright and bold like these stunning hand-marbled designs from AIM Studio Co! Printed on uncoated paper, the natural texture really helps give a rich finish to the colours.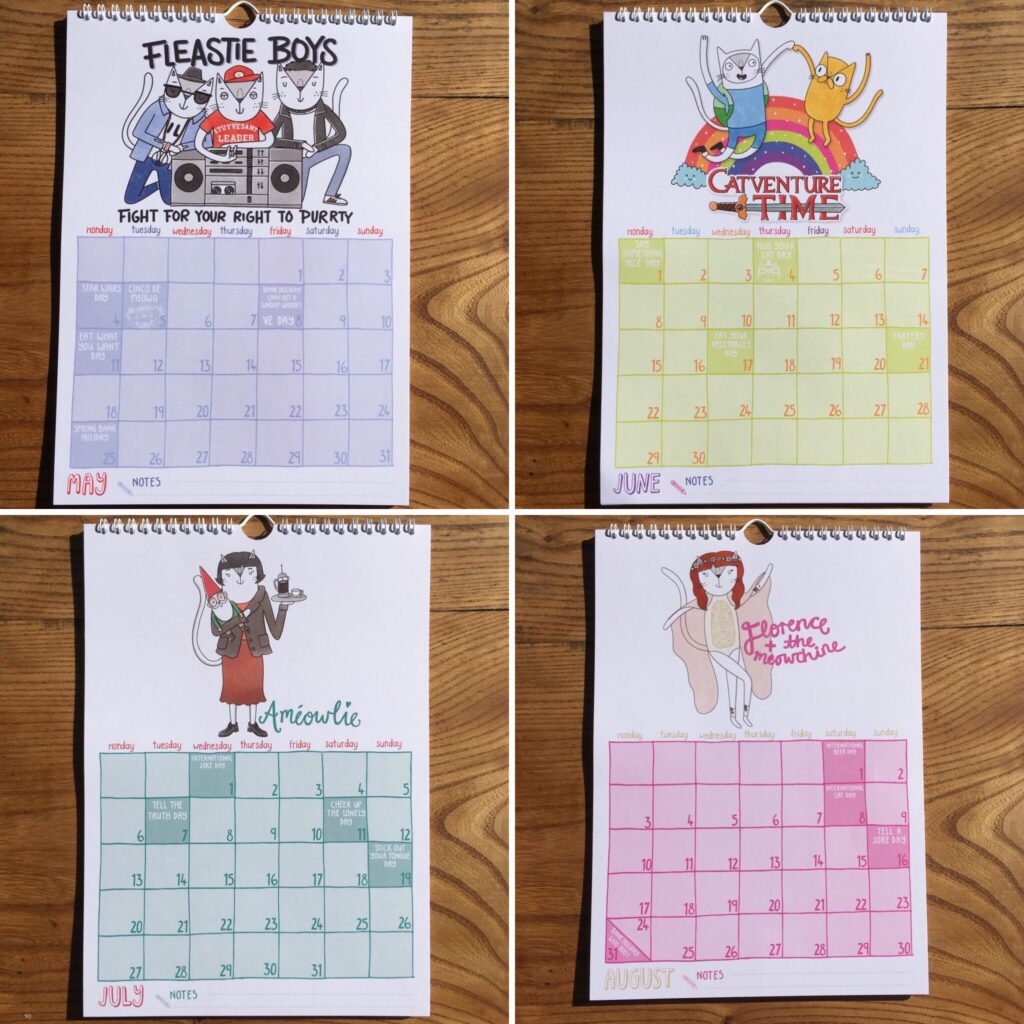 If you have a number of designs you're proud of, you can always collate them into a Calendar so you can keep enjoying them as the months go by! This Thumb-Cut design by Katierubyillustration is the fourth in this Calendar series, each one highlighting the very best puns put into her designs year on year.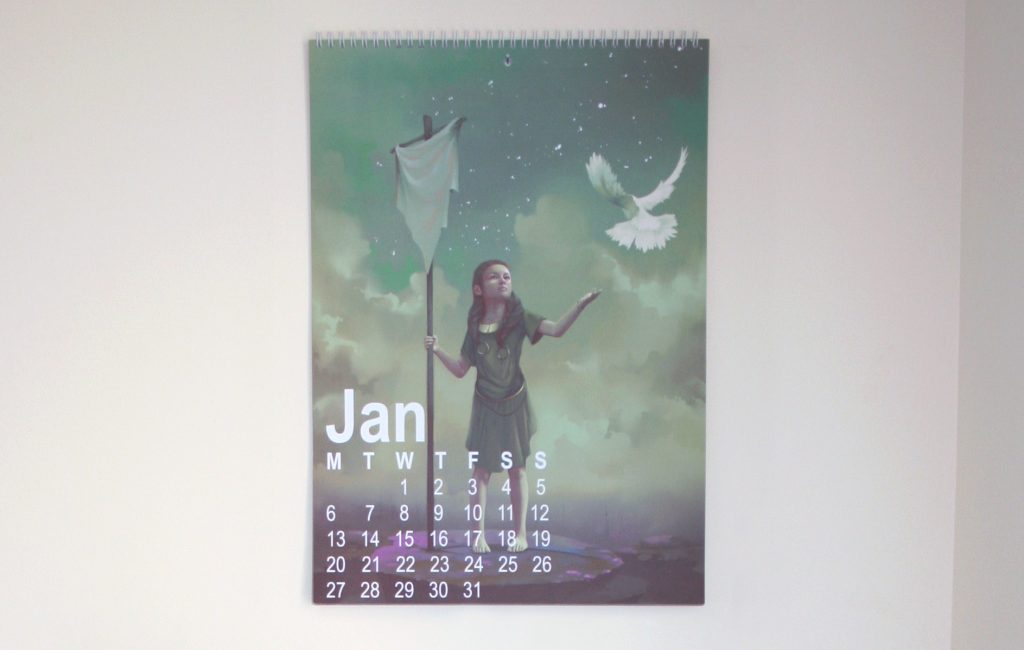 This ethereal design comes courtesy of the wonderful Jack Baker, the Calendar giving him the opportunity to showcase his existing 12 Fay's Tree designs. Hanging from a wall, his rich high-fantasy inspired images are great decoration and show just how stand-out Calendar designs can be.
Ready to get started?
Get next-day print on loads of options and products at Printed.com – perfect for when you need to get your print, fast.

London based? Get same-day print on a range of options too! See all of our delivery options here.