#InspirationPrinted- Celebrating International Men's Day with Wojtek London
We've always been proud to put small businesses and creatives at our core, so at Printed.com, we'll take any excuse to shout about the amazing work they do.
Today is International Men's day, so we thought we'd catch up with one of our fabulous illustration customers- Wojtek! So just sit back, relax and get to know all about him right here.
Wojtek – hi! Tell us a bit about your creative business and how you got started?
It all started when I was searching for my own expression. I studied art but then ventured to graphic design where I discovered just how much I love paper: its smell, texture and the feel of it under your fingers. I was hooked.
I explored design exclusively for few years while working on some amazing projects, but there was something missing- my soul wanted to do more. So I decided to start painting again. I always painted on fabric as my philosophy was: from my heart to be worn on another's heart. I explored that path, growing and learning new techniques but always keeping my passion for paper as a print medium. I love both fabric and paper, and both could come together with the Scratching The Surface project. From expressing emotions with paints to printing, to photographing and designing merchandise, I finally found way to express myself in a complete way. When you visited the gallery, you saw original paintings as well as their continuation on prints. Each one tells a different story but they call come together to form a cohesive one.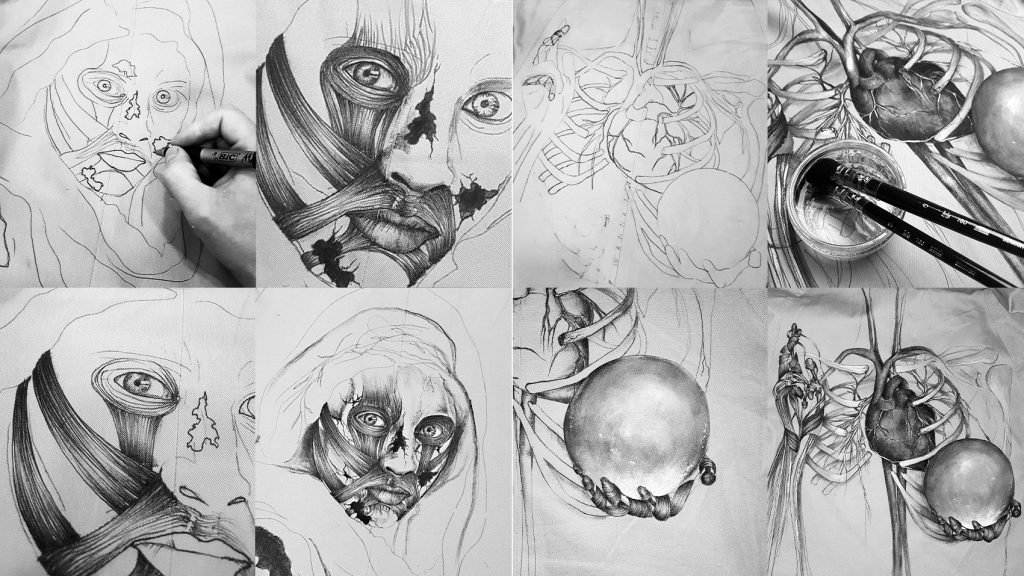 It's International Men's Day! What is the industry like for a male illustrator?
In this kind of environment, gender really doesn't mean a lot and, to me, doesn't really dictate anything. Community is what we form and nurture, it is never static. I've met some amazing artists both male and female and I think that art forms our language rather our gender or beliefs.
If there's anything I've noticed about being a man in the industry, it's the notion of trying to overcome what masculinity is perceived to be and how we should present ourselves based on our gender. I strongly support the movement to allow men to feel the whole spectrum of emotions rather than being restricted to "masculine strength." It is time to talk about how we feel without judgement and art is a good place to start the conversation about mental health! #itsokaytotalk
You recently exhibited some work in Brick Lane – can you tell us a bit more about that experience and what you exhibited?
This is the year I presented myself to the wider public. After years behind the screen, then in front of my desk painting, I ventured into world where I meet other human beings and got a chance to present my story via art. Luxembourg was my first exhibition and it fed me with so much energy to create more, it really started shaping my own voice as an artist. Then me and my friend opened a collective art gallery where, apart from my original artworks on textile, I present limited edition prints on beautiful gold paper with hand-finished elements. There are cards, posters and even candles! The whole process fills my heart with happiness as I can operate on so many levels: artist, designer and crafter. I can paint as well as design my own prints where my passion for paper can come alive.
The gallery at 91 Brick Lane is an ongoing project until March 2020 and it grows and evolves continuously.
What does a typical day in the studio/at home look like for you?
It really depends. I work for myself which gives me the freedom to explore projects at my own time and pace. I am lucky that I get to follow my emotions when starting new ideas and grow them organically. Ideally, I create a to-do list that helps me to stay on track, but sometimes art dictates the direction and I need go so anything can happen! From emails to designs to painting and days in the gallery- there's never a boring moment.
Where do you get the inspiration for your pieces?
Anything I work on is always filtered through my emotions and intuition. There are beautiful tactile things that happen to us every day: a kiss from a friend, a delicious cake, the smell on the street, an insect landing on our skin. That is the Surface. Yet all of those things go much deeper, they trigger emotions, past experiences, open feelings and penetrate our being. This is Scratching the Surface. Banal things can trigger deep processes and it is important to stay honest and try to experience them. Life inspires, we just need to listen.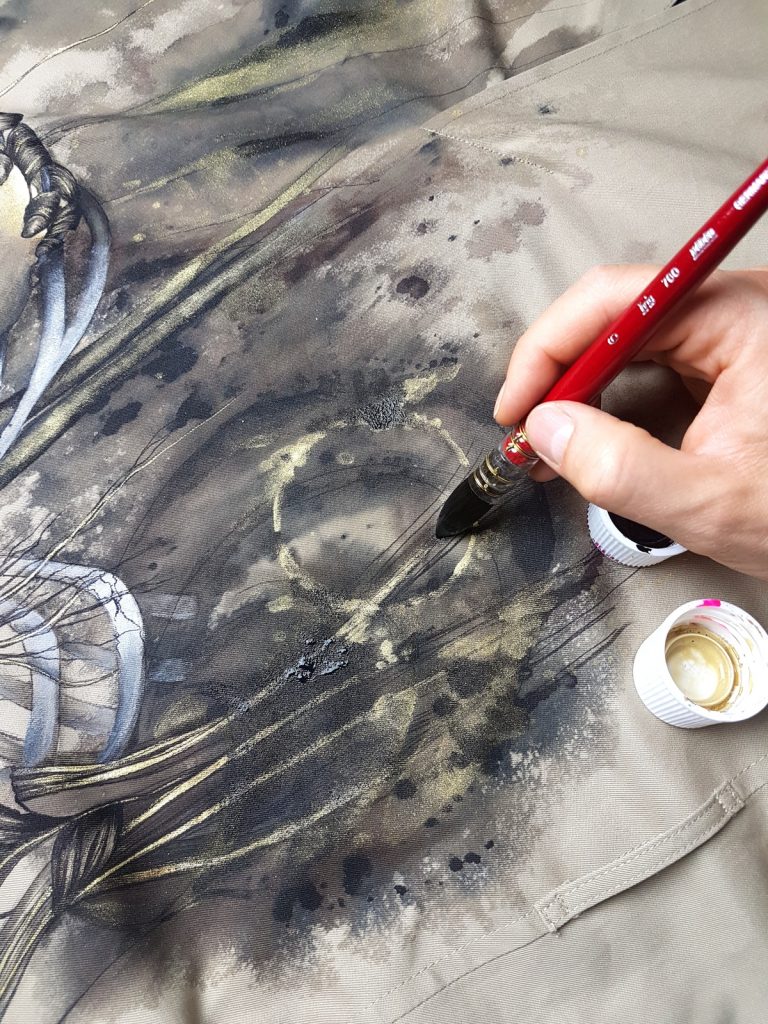 What's been your greatest success so far in your creative journey?
I'm proud of everything I've done, but if I were to choose a big success for my creative journey, it would be the commission from V&A museum in London to design an interactive wall to crown the Frida Kahlo exhibition. I had the freedom to produce whatever I wanted, so I cut out hundreds of paper elements and built ofrenda (altar) inspired by the Mexican culture and celebrations. The main piece was a Frida-Skull paper cut embellished with flowers all layered to form a 3D illustration. It was an amazing celebration and great success. Various printed versions of the design were picked this year for Eldorado festival in Lille to be official merchandise. The original framed piece and printed cards, as well as T-shirts, can still be purchased at the gallery in Brick Lane.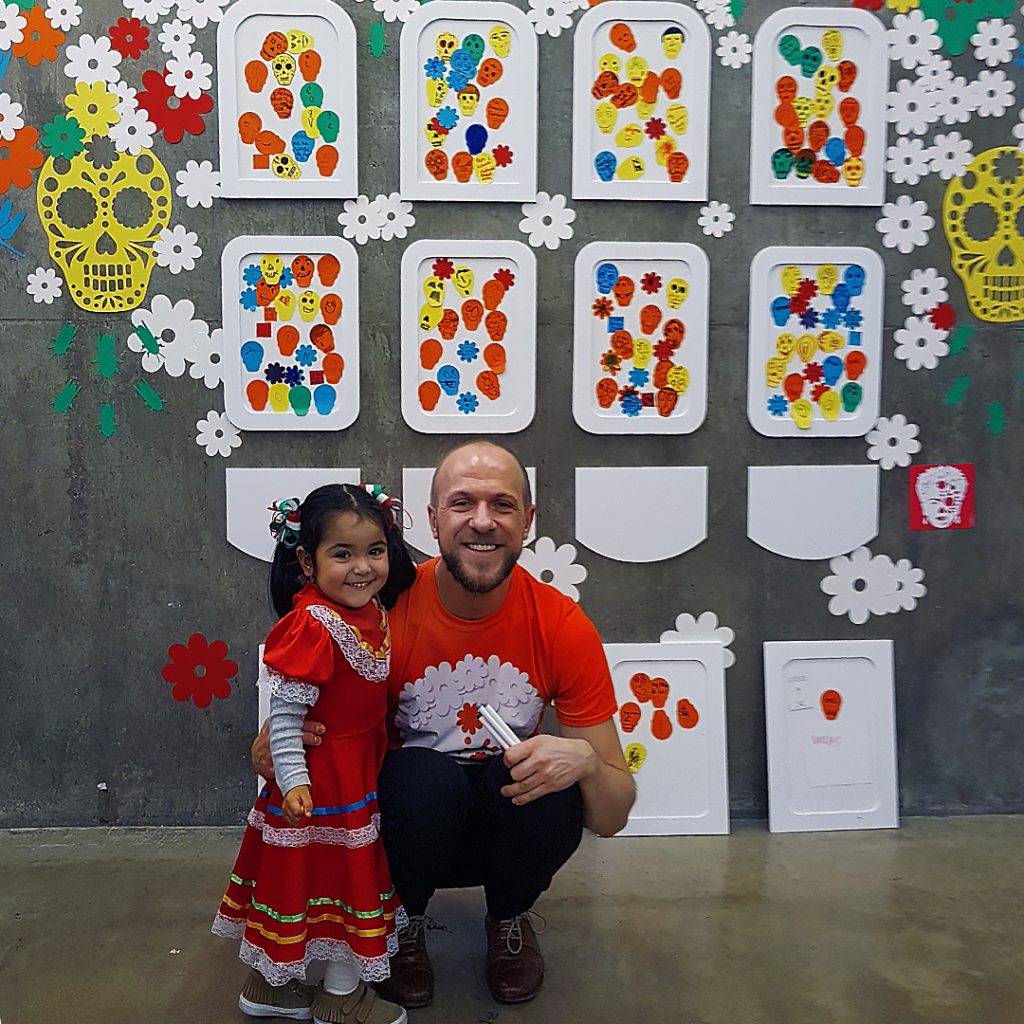 What kind of challenges do you face running a small creative business?
It is a battle sometimes. Between art, freedom, creativity and practical everyday tasks- its hard to find a balance. I have to manage everything from surreal imagination onto down to earth chores. Stock management, cash flow and marketing can be a truly distracting part of your day when your head wants to dream and create. Luckily meditation and self-motivation help me to combine art and business. It can be intense and sometimes a full-on struggle, so it's important to have a good community of friends and artists who can help out. Planning and 'to-do' lists help me to see what needs to be done as well as managing some of the stress.
How did you come across Printed.com? What do you print with us?
It happened years ago when I was running my graphic design business in Wales. My clients wanted design and print services and, after researching, I came across printed.com and have used them ever since. The fact they grow in an organic way together with artists and designers is amazing. The choice of papers (yup that obsession again haha) stimulates my creativity and the delivery is always on point. I print with a wide spectrum of materials: from large scale Posters to Greeting Cards, Stickers for my candles onto leaflets for the gallery.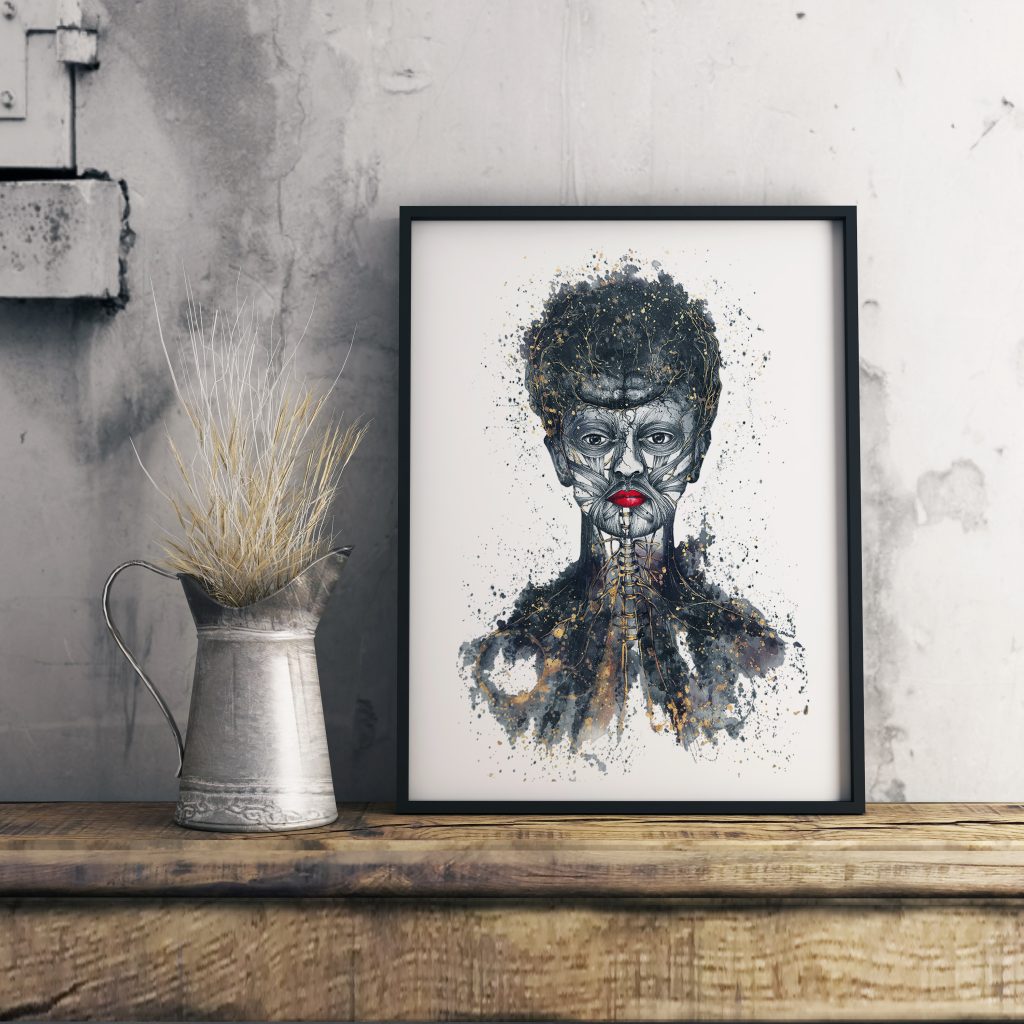 How do you ensure that the traditional materials you use in your work translate successfully into print?
That would come from experience as a graphic designer and artist. Years of experiments and mistakes. Questions asked to people who know and online reading helps me to understand the technical side of any project. When I was working on my gold edition prints, I knew what I wanted in my head then spent hours researching and talking to the printed.com team to ensure the outcome was what I wanted. And when the prints arrived it actually exceeded my expectations. My delicate line-work and watercolour splashes got a new life with beautifully pearlized gold paper.
Make sure to check out Wojtek on his Instagram and shop his T-shirt designs HERE. All his merchandise is available at his gallery on Brick Lane.