12 ingenious ways to recycle old business cards
Learn how to recycle your old Business Cards the creative way!
You've just changed your telephone number, office address or even moved jobs; what's the first thing you need to do? Get new Business Cards printed, of course! It can be exciting getting some freshly printed business cards through the door, but it leaves us with a problem. What do you do with the old business cards?
If you're anything like us then throwing your old cards the bin isn't even an option. Sure, you could recycle them, but there are so many interesting things you could do with them instead. We've come up with some practical ideas, some fun and artistic ideas, and even some redecorating ideas, for your old business cards.
Practical things to make
Some of the best ways to reuse old business cards is to turn them into something practical that can be used time and time again. You won't ever have to feel guilty when it comes to updating your details and having to print business cards if you know that something useful can be made from your outdated ones. Here are just some of the best practical ways to reuse what would normally end up in the recycling bin.
Bookmarks – Got several interesting books on the go? Want to highlight some of your favourite recipes in a cook book? How about turning your old business cards into bookmarks? Cut a triangular flap into the middle of each business card and you'll have something that sits perfectly on your saved pages. No more bent page corners necessary. Phew! (Remember if you want new bookmarks we also sell them too!)
New business cards – If you want to take recycling into your own hands, then why not make your own business cards from the old ones? All you need to do is cover them in paint and print your new information onto the blank canvases. Those who are artistic may like to hand draw or paint each new business card instead. Just make sure you're not planning on giving 200 out at your next event, unless you've got a few days free to make them all.
Business cards box – Your new business cards are on the way, but what are you going to hold them in? Why not make your own business cards box from the old ones? Grab yourself some PVA glue and layer the cards over each other until you've got the perfect box shape. The more business cards you have to work with, the sturdier your box will be.
Labels – Labelling is one of the best ways to keep the office organised, so let's turn your old business cards into something practical and productive. If your outdated cards have a blank back then this will take very little work at all. Simply write on the blank space and attach them to your filing cabinets, folders and wherever else you may need labels. Not blank on the back? No problem, just paint over each business card before writing on them.
Fun and artistic things to make 
If nothing on our list has got you hot under the collar yet, then these are the ideas you have been waiting for. From origami to making your own business card rockets, these fun and artistic things will keep you occupied for hours.
Photography by Chris Palmer
Business card origami – It's a fact that origami works best when you have a decent thickness of card or paper to work with. That's why business card origami is actually a thing; as most of the cards are exactly the right thickness. You can make everything from a snazzy looking orb to a rather cute looking pig. Who knew business printing could be so much fun?!
Gift tags – Those who fancy getting crafty during birthdays and Christmas will thoroughly enjoy making gift tags out of old business cards. Cover them in paint so that the business card can't be seen, then decorate to your heart's content. Use a hole punch in the corner and get some pretty string, so you can attach them to your presents. These sorts of crafts will make you want to print business cards more often! (We also sell mini cards which are great tags if you're after newer print)
Art and collages – There have been some rather awe-inspiring art pieces and collages made from all sorts of wonderful materials, so how about using your old business cards? You can make pretty much any scene you want, as big or as small as you want, and wherever you want. The only limit to this is your imagination.
Photography by Artotem
Something weird and wonderful – If you have a creative streak in you, then there's probably a million and one things you could make out of old business cards. From replicas of the Eiffel Tower to rockets, from playing cards to guitar picks.
Redecorate with business cards 
If business printing has eaten into your office decorating budget, then try not to panic as we've got some excellent ideas for you. Those who want to make a quirky statement (whilst saving some pennies) will love the following ways to use old business cards in decorating.
Wallpaper – Don't pull that face, it looks better than it sounds! All you need is a little bit of artistic vision, some pots of poster paint and a few hours spare. You can create a business card collage that recreates your favourite artwork or even the company logo, right there on your office walls. This is a statement piece that will certainly get employees and clients talking, for all the right reasons.
Coffee table – Grab yourself one wooden coffee table, a pane of glass the same size as the coffee table and a whole load of your old business cards. Glue the business cards to the coffee table and then put the glass on top. This is an awesome idea which people have used to showcase their favourite magazine covers, collectable cards and even wallpaper samples. Put your new business card coffee table in reception and impress everyone that walks through the door.
Chalk board tags – Fancy introducing some super cool, in-trend chalk boards to the workplace, but don't want to fork out for them? Luckily for you, it's easy to turn your old business cards into chalk board tags that can be used to redecorate, label or just for fun at home and work. You can buy chalk board paint from most DIY stores and it's so simple to use. Just make sure you let them dry before writing on them with chalk.
Baubles – Whoever said Christmas decorations were expensive has clearly never made their own business card baubles. Okay, we'll admit we had never heard of them before either, but isn't that what Pinterest is for? Here's how to turn your old business cards into some rather quirky Christmas baubles.
We would love to know what original ideas you can come up with to make your own business cards into something spectacular! Let us know what you would make (or already have made), in the comments box below.
Looking to create your own?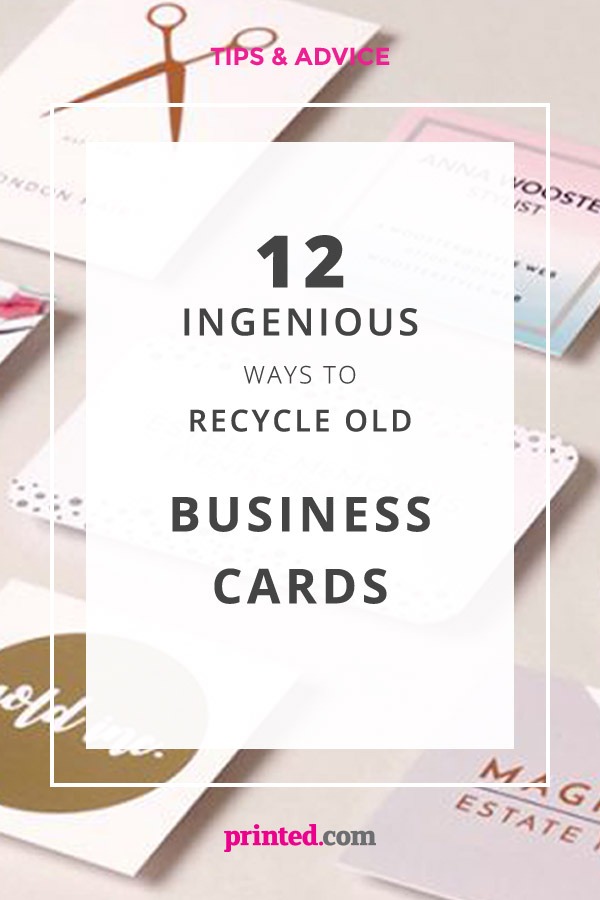 Want more? Get inspired with Foiled Business cards here!