Pushing the boundaries of Postcards
From artistic statements to feminist movements, compact marketing to 'wish you were here' – we're discussing how the versatile medium of the Postcard reaches far beyond the post box.
Did you know?
The humble Postcard has been around since the 1800's with the world's oldest postcard being sent in 1840 to the writer Theodore Hook from Fulham in London, England.
"Artists have subverted the common postcard for decades. While the artists' postcard began as a child of the Conceptual and Fluxus movements of the 1960s, it quickly broadened as an artistic medium to highlight political and social issues, such as feminism, anti-war protest and the fight against AIDS."
We love Postcards, and when we discovered that expert Jeremy Cooper was showing his extensive collection of Postcards at the British Museum, we couldn't resist swinging by.
Take a 5-second tour of the exhibition with us below!
With everything from feminist artists such as Lynda Benglis and Hannah Wilke, to Yoko Ono and John Lennon's anti-Vietnam War is Over postcard and the original invitation to Andy Warhol's Holy Cow! Silver Clouds!! Holy Cow! Exhibition, the collection showcases the diverse nature of the Postcard. (We highly recommend you take a trip yourself, but if the British Museum is a little far, here's the roundup of what we learned from our visit).
So, what did we learn?
Postcards are diverse. When you think of them, you probably think of glossy fronted, picturesque beach scenes or landmark photography, designed to be sent from far-flung locations to loved ones back home.
But, with the influx of social media and the instant communication world we live in, have postcards become obsolete?
No!
We discovered everything from one-off artist pieces to mailers, designed for marketing purposes at the exhibition, with everything from typographic messages to hand altered designs that demand attention.
Talking about his collection, Cooper says: "Yet, within the confines of the format, the finished works differ wildly: techniques include screen printing on to the cards, creating collages out of them, scratching out holes or simply scribbling on top with a felt-tip pen. Some were made in large quantities, others are editions of one; some are manipulations of found postcards, others are entirely original works of art. Most were actually sent in the post, including one from 1969 that Jasper Johns sent to an art dealer as an invitation to his show. "He just gave it away. I mean, it isn't given away now, I can assure you. But a Jasper Johns painting [would cost] $20m – this [would be] £350 and it's a lovely thing."
The format of the Postcard, says Cooper, has been appealing to a variety of artists owing to its low production costs, versatile size and shape and the ease with which it can be distributed. Postcards are often used for political messages for the same reasons and attract artists with an interest in disruption and subversion.
But what about today? How can you use them in 2019?
We see thousands of designs hit our presses – and one thing they're not short of? Diversity.
From Announcement Cards, to exhibition Invites, art fairs to informational handouts, the versatile size of the Postcard makes it perfect for well, just about anything.
Here are some of our favourite customer postcard designs to give you a little inspiration…
Whatever kind of busienss you are – saying thanks to your customers is essential. Why not shake up the traditional compliment slip and create something that'll stick around? These Foiled Thank You Postcards by Jones and Joy are an excellent example of how you can create something with extra oomph.
With Foiling available for our range of Postcards, whatever you're creating, it's easy to get a perfect finish. We designed these gorgeous travel Postcards, and we reckon they'd make great art! Why not create your own and put together your own Postcard gallery in your home? It's affordable, easy to do, and you can showcase a whole host of unique styles!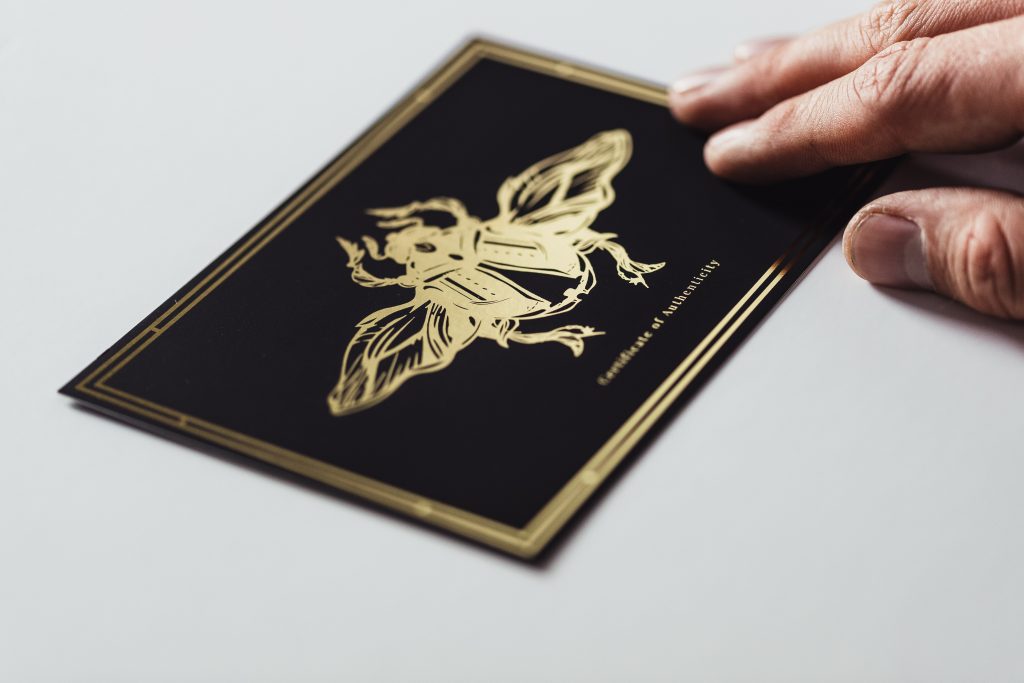 Postcards, thanks to their handy size, make ideal authenticity certificates, just like these from The Curious Department. If you create and sell unique products, why not give your own certificates a go using our Postcards range?
Due to their size, they're are ideal for marketing. Print your own double sided and shout about your latest offers, deals or upcoming events – affordably and easily.
Feeling inspired? What'll you create with yours? Let us know over on social!