Christmas gift guide – the corporate gifts edition
If you're starting to think about what to send your best customers and clients this year, we're here to help with your corporate gifts. We've compiled the ultimate print guide to affordable gift giving, the easy way and the great thing is, when you print your corporate gifts, they don't have to break the bank, but they'll still look as impressive as ever.
The essential print requirement for any business – the big question is, how do you want yours to look? Your annual Christmas Card should be a reflection of your brand identity, and with so many options at Printed.com, it's easy to get yours, your way. Why not add a touch of Foil for extra impact? Or if you're feeling creative, Laser Cut cards bring the ultimate fancy flourish. Don't forget to add your accompanying Envelope too!
Calendars double up as marketing tools as well as practical gifts. Keeping your branding and business front of mind all year long can be a challenge, but by gifting your customers with a calendar, these babies will stay on desks and walls 365 days a year – can you think of a better way to keep your business visible?
Plus, with our handy predesigned templates, we've made it even easier to create yours – all you need to do is drop your images or designs into our blank template and send 'em on to the press, it's that simple!
100 52 x 148mm bookmarks start from just £12.50, so these little gifts are ideal for when the budget's tight.
You can design them any way you like – why not add Foiling, or use them as promotional or discount vouchers? You could even pair them with your latest brochure or product catalogue for extra impact (and handy page savers too).
Branded Notebooks, like Calendars, are the kind of print that tends to stick around, making them ideal for getting your name out there. Plus, we've yet to come across anyone who doesn't love a notebook or two, making them the ideal gift.
Less of a gift, more a handy reminder of everything your customers love about you. They make the ideal inclusion to Christmas gift packs and you can design them any way you choose. For a more affordable option, why not choose a Saddle Stitched brochure? Or if your products don't change much throughout the year, a Wiro-Bound version is a perfect desktop companion.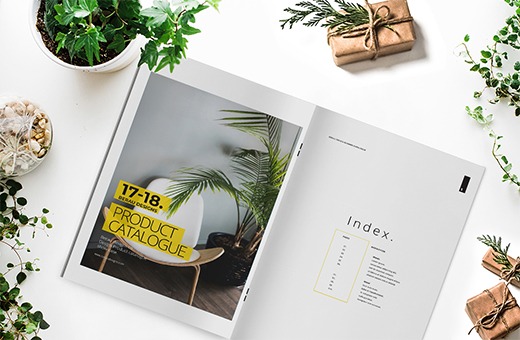 A great way to encourage sales is by including a discount or promotion code with your gifts this year. Not only will your customers feel special, it's a great way to add a little extra to your festive gifts. Why not try combining yours with your latest product offering, in the form of a perforated Leaflet?
Ready to shop corporate gifts? Discover the range at Printed.com now!