10 book covers that take your breath away
The beauty of some books almost detracts from the stunning stories they hold. On World Book Day we had to show off some of the most breathtakingly beautiful book covers out there. So enjoy, feel inspired, and remember you can create your own with our new Hardback Books!  
Winnie-the-Pooh by A. A. Milne
In the 1920's A. A. Milne published a series of stories featuring his son Christopher Robin and his toys playing in the 'Hundred Acre Wood', and Winnie-the-Pooh was born. Brought to life with illustrations by E. H. Shepard, this absolute classic delights both children and adults. The Folio Society's edition also feature an additional 64 black and white sketches, so it's a real immersive experience into the magic of this lovable bear.
Wonderbook: The Illustrated Guide to Creating Imaginative Fiction by Jeff VanderMeer Bursting with illustrations, maps and diagrams, this beautiful book covers is a definitive guide to writing imaginative fiction.  A world first for being a fully illustrated, colour guide to creative writing, it boasts more than 250 images across its pages. Being such a visual publication, it's sure to get the creative juices flowing.
Featuring 26 collectible hardcover editions of classic Penguin literature, this series is in collaboration with type designer Jessica Hische and Penguin Art Director Paul Buckley. Beginning with 'A' for Jane Austen's Pride & Prejudice, and 'B' for Charlotte Bronte's Jane Eyre, these classics have been given a new lease of life with such bright and bold covers.
Super Graphic: A Visual Guide to the Comic Book Universe by Tim Leong
This super-showy book is infographic heaven. Created by Wired magazine Art Director Tim Leong, who founded and edited Eisner award-nominated magazine Comic Foundry the book offers diagrams, charts, timelines and more. For all the comic fans out there, this could be the visual bible for them.
It's the dustjacket that offers a little bit of mystery here. It can be removed to reveal the pop art cover underneath. It's quite clever when you look at the contents of the book – a story about a protagonist quitting their job and then realising they have no clue how to get to their dream vocation. It's all about life unravelling and the disguise of everything being okay finally slipping to reveal the real situation.
What is not yours is not yours by Helen Oyeyemi
The typography, rose illustration and gold foiling is breath-taking enough, but then there's the exposed spine, which is just so special. Imaginative and darkly beautiful, the revealing of the spine is almost sensuous, which is a definitive reflection of the stories on its pages.
Not just one specific book this time, but an array of polymer clay covers for books and journals by London-based artist Aniko Kolesnikova. Some of the 3D designs she's made include an elephant, a fox and a horse. She also designs jewellery and tablet cases.
Another appearance by Jane Eyre, but this is a bit of vintage delight. Published by Random House in 1943, it was discovered in Fort Langley in Canada. The cover is illustrated by Fritz Eichenberg, a German-American artist who primarily worked in wood engraving and as a public critic of the Nazis, emigrated to the States in the 1930's.
Moby Dick; or, The Whale by Herman Melville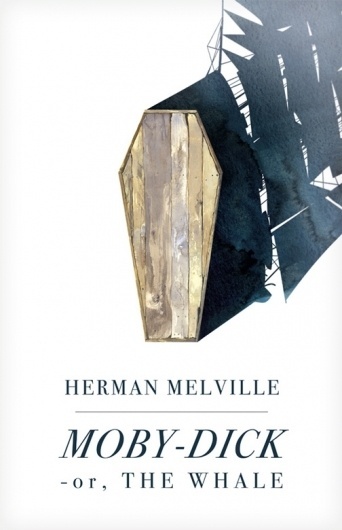 This classic novel was published in 1851 during the American Renaissance. This stunning book cover tells of the impending doom the crew of the Pequod with its clever angling and imagery of a coffin meets shadow meets water…we could continue. Simplicity at its darkest.
If you're looking to go that extra mile to showcase your work, project or memories, hardback books are the high impact, prestigious print option. Built to stand the test of time, discover our new range hardback book options here, complete with all the info you need on sizes, paper stocks, binding and artwork requirements.