A step-by-step guide to going Bespoke
Forget off-the-shelf solutions. Our Bespoke Service is here to help you get your print, your way, no matter what the project.
You may have heard us talk about getting "your print, your way" here at Printed.com – and it's not just a phrase we throw about willy nilly. We believe in unbridled creativity, and we don't think anything should stand in your way of creating something extraordinary.
That's why we developed our Bespoke Service. From special finishes to completely custom print, we'll help you bring your ideas to life. There's no project too small, no idea too big, and there's definitely no limits when it comes to your creativity, so why not let us help you push the boundaries of possible? We process around 7,000 Bespoke jobs a year too, so you're in good company!
What exactly is our Bespoke Service?
Behind the screens, behind the big ol' website that is Printed.com, are a team of dedicated people, who do everything from checking your artwork, to answering your phone calls, to pushing your print through the presses and even hand finishing your print jobs.
Within all these friendly faces (there's a lot of us!) we created a team dedicated to all the jobs that don't quite fit the mould.
They're there for the risk takers, the big thinkers, the creatives and the ones who stand defiant in the face of off-the-shelf-solutions. They're kind of like a bunch of superheroes – for the superheroes of print… Here they are, preparing to wage a war against standard print… we like to call them the Bespokables – and yes, they're always dressed like that, we promise.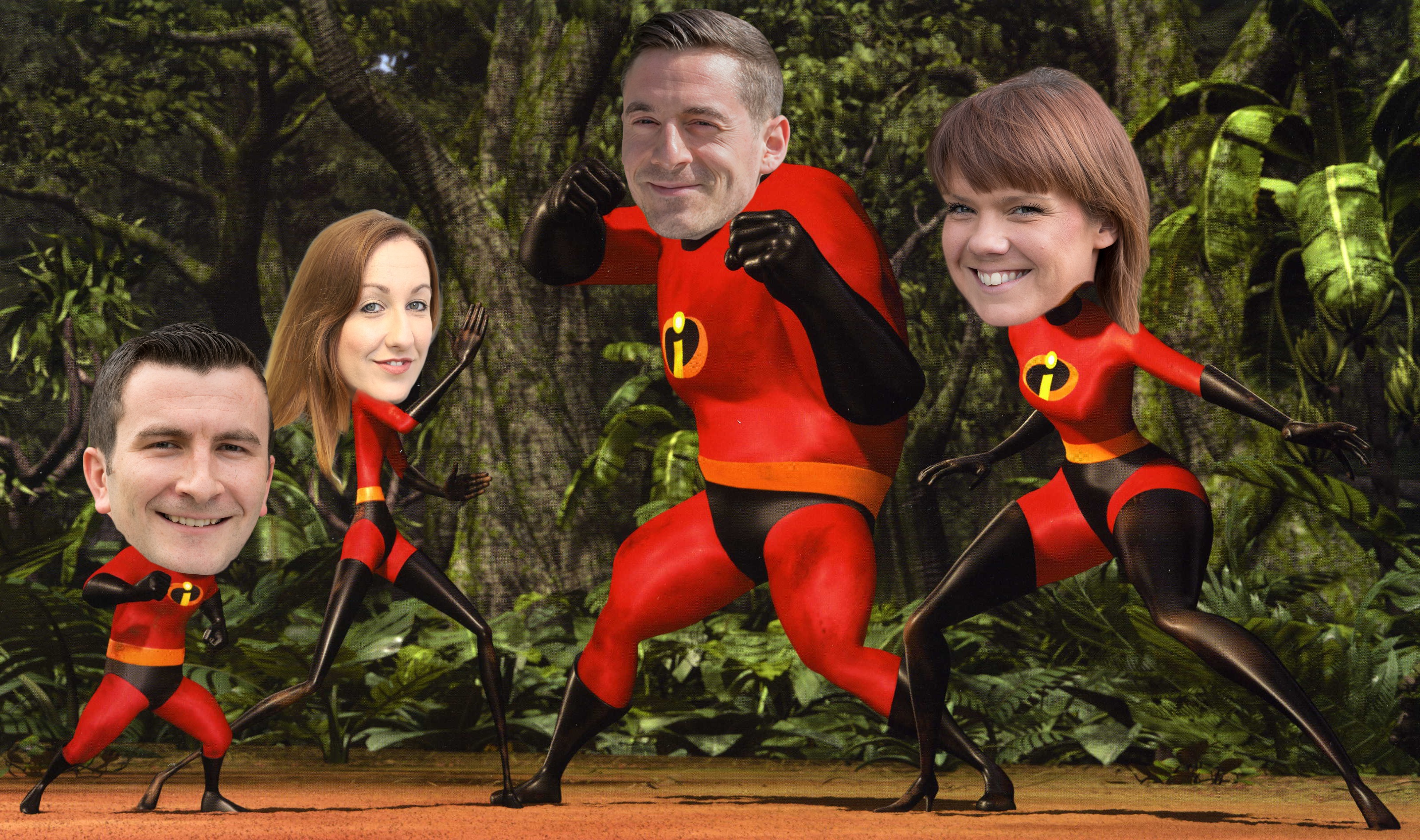 Put a name to a face and meet the Bespokables: Dan Clark, Laura Henry, James Lewthwaite and Rebecca Wingham.
"On Bespoke we dare to be different, anything from custom size to printed balloons can be accommodated. We encourage our customers to challenge us and add a creative edge to their work, we will find a way to tailor make it to your exact specifications effectively bringing our customers imagination to life." Wise words from Dan Clark of the Bespoke Team.
How does Bespoke work?
Ok so, you've got a great idea. Picture this: it could be that you want to create Coasters for your client's swanky business event – but not just any coaster! No, you want these to be special. You want to add Foiling, and textured paper, and have them in a specific size, to fit the specific branded cups that intend to be placed on them…
You pitch the idea. They love it! It's a big fat yes to the Coasters! But now what?
You search online. You can find a few options, but they're not quite right. You could change your idea? Perhaps standard size coasters and regular CMYK printing would do the job?
No! Don't hold yourself back, you creative superhero! You're a big thinker remember – you stand defiant in the face of regular. Don't let these off-the-shelf options wear you down! It might seem 'easier' but follow the steps below and you'll see why going Bespoke is worth it…
Head to www.printed.com/bespoke-print-orders
You'll bring up a form, and it's here where your journey really starts. It's here where all those creative ideas can come to life.
Step 1:
Tell us what you need – in as much detail as possible.
Don't hold back! Let us know everything about your project, if you're not 100% sure on sizes or materials or formats, don't worry, we can help.
Step 2:
Submit your form. It'll whizz its way all the way to the inboxes of our team, where the magic can really start.
Once our team have it, the race is on! We promise to deliver a quote within 24 hours, so these superheroes will get cracking right away. Like real life superheroes, they'll assemble your ideas and discuss your plans. They might need to make some calls. They might need to affix their special Bespoke capes and talk to the print floor workers to find out the best way to create your print. They might even make a cuppa and have a think – drawing on their wealth of knowledge.
Then, when they have a solution – they'll get back to you. You'll get an email, outlining your project and what's required, and how we can help.
Sometimes, they might need some more information (even superheroes need a little help sometimes) – so they might get in touch to discuss your requirements further.
They might have a brilliant idea that you hadn't thought of yet, that'll make your job more affordable, quicker or even better quality.
They might simply be so impressed with your brilliance they need to discuss it with you before they can let the world see it.
No matter what the outcome, they'll be in touch within 24 hours.
What happens next?
If your option is quite straightforward, you might be able to add the job to your basket (they'll tell you how to do this), checkout, and receive your print – easy peasy.
You might need a test print first – they'll let you know if they advise this.
You might need to see some samples – the team will get these sent over if you do.
We might need to source some extra quotes or find you the perfect paper – the team are experts in this, so they'll work closely with you if this is the case.
Then… when you're happy with your options and your quote, your print can come to life!
It'll be with you in no time!
And that's it. Your completely custom print project is alive! It's ready for the imminent 'oohs' the 'how did you DO that?' and the 'wow's.
You, my friend, are now a creative mastermind.
So what are you waiting for? Head to Printed.com to get your quote!
Remember, our Customer Service team are on hand to help at all times via live chat email or phone, so if you need any help before you submit the form, or if you need a hand while you're filling it out, just get in touch!
Need a little more inspiration? Check out the completely custom creations our customers have already created using our Bespoke Service, in our #ProudlyPrinted – The Bespoke Edition blog.