'Tis the season to shine! Introducing our shimmering paper stocks…
It's time to shine with our shimmer paper stocks!
Summer is officially over, and while you might be mourning the drop in temperature, with winter comes a whole host of opportunities when it comes to stationery trends. Not only is all-out glitter 100% acceptable, particularly in the run up to Christmas, with the colder weather and dark evenings comes an abundance of richer colour palettes, perfect for experimenting!
Our shimmering paper stocks are perfect for A/W 2018, so we thought we'd introduce you formally to our range, and give you a little inspiration to get creative!
Before we delve into our stocks, we thought we'd take a minute to talk about what makes shimmer papers so special. Often, designers and creatives may worry that a shimmer paper could overwhelm a design, or be a little 'too much', but we're here to explain why this really isn't the case, and how they can in fact really elevate a design from simple to 'wow'.
Get to know all of our papers here
What makes them unique?
All of our shimmer papers (Pearl Oyster, Pearl Polar, Ice Gold and Conqueror Gold) are thick, luxury papers, with shimmering undertones throughout. Each one a little different from the last, whether you create Wedding Stationery, Invites, Gift Tags (create these via Bespoke) or even Business Cards, they're designed to add subtle tones and highlights to your designs, without being overpowering. Why not try using incorporating our shimmer papers into your Wedding Suites or Greeting Card collections by choosing a shimmering Envelope to accompany your printed designs, or housing yours with a shimmering Belly Band?
Meet the papers…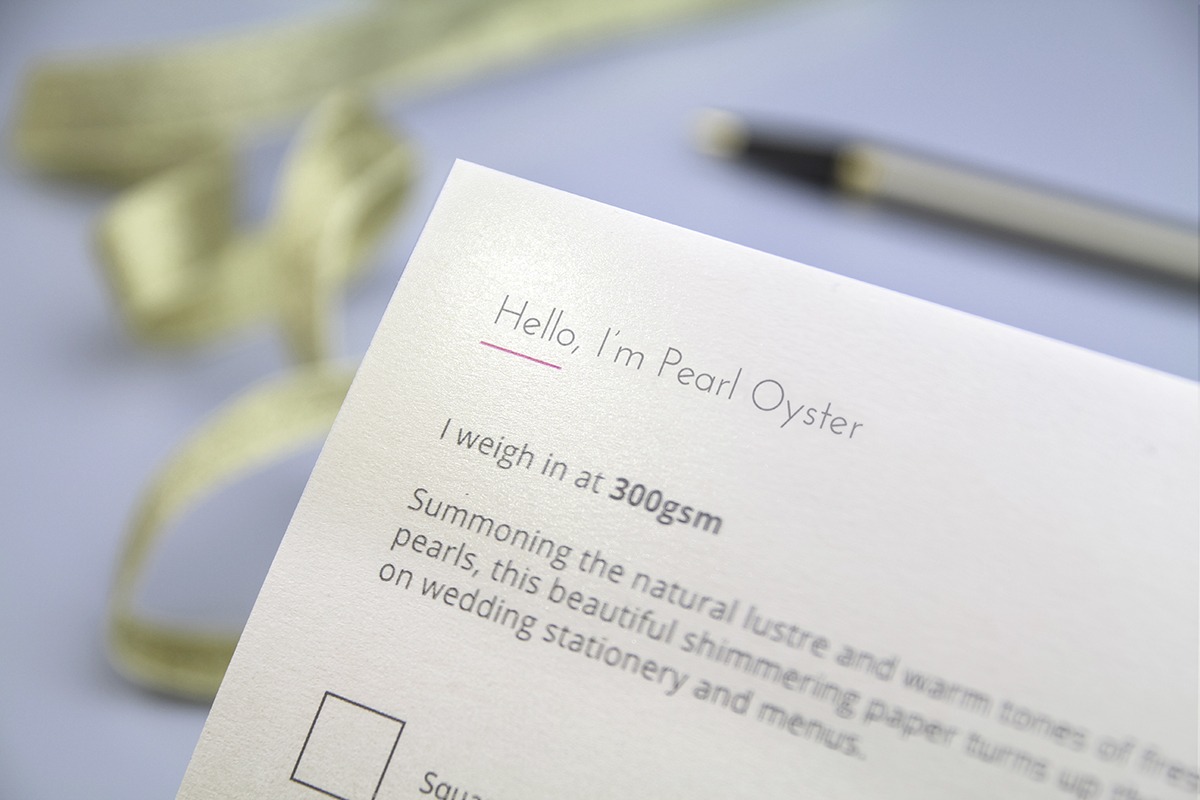 Pearl Oyster
Summoning the natural lustre and warm tones of freshwater pearls, this beautiful shimmering paper turns up the wow factor on Wedding Stationery and Menus.
Colour: Pearl hues, cool tones, iridescent silver elements
Ideal for:
Wedding Stationery that needs a cool, understated edge
Envelopes that add a little intrigue (why not try Printed Envelopes with a Pearl Oyster base?)
Available on:
Sirio Pearl Polar
A soft, white pearlescent paper, that adds a cool glisten. Its subtle glow enlivens deluxe cards without fighting for attention with printed artwork.
Colour: Cool tones, iridescent silvery elements
Ideal for:
Wedding Stationery that needs a cool, understated edge
Christmas party Invites
Sophisticated announcements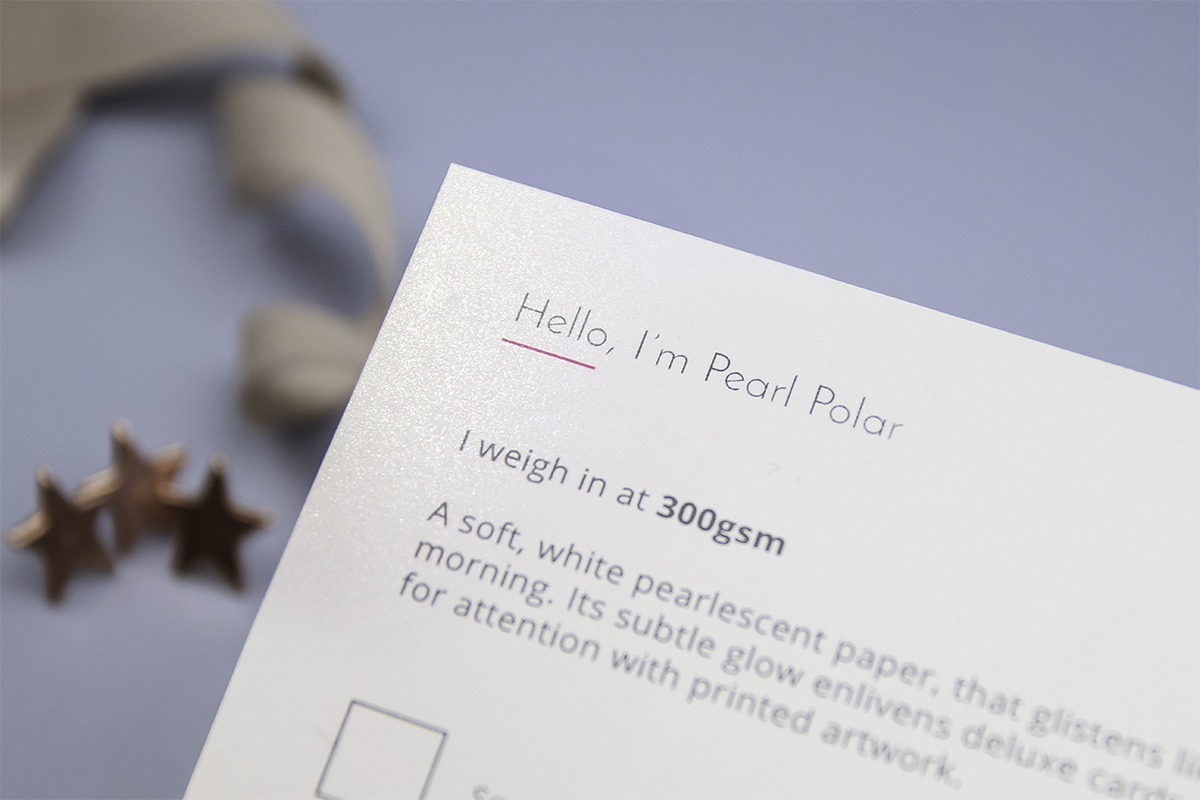 Available on:
Ice Gold
This bright ice white paper is infused with subtle tones of pale gold. It is a coated paper, so printed inks stand out and colours take on a shimmery hue. A beautiful, warm, yet frosty feel awaits anyone printing with Ice Gold.
Colour: Warmer tones, gold hues, cool white base
Ideal for:
Business Cards that need a little luxury
Special promo or event invitations
Sophisticated announcements
Available on: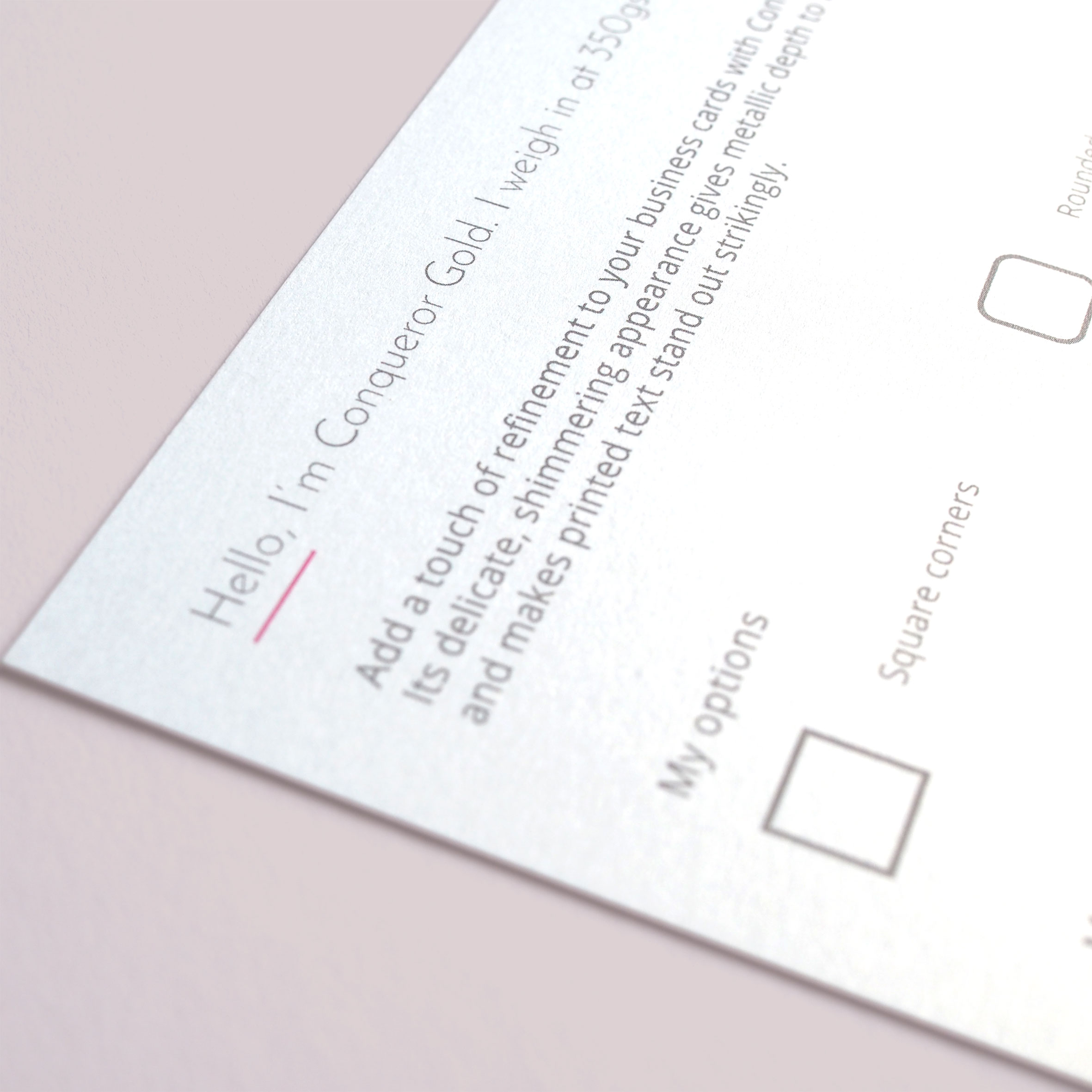 Conqueror Gold
With a pale, creamy gold hue, Conqueror Gold is subtle but still luxurious enough to make an impression. It will imbue block colours with a warm metallic glimmer and, because of its light surface coating, text will stand out strikingly.
Colour: Deep gold tones on a warm base
Ideal for:
Gift tags
Certificates
Luxury print for weddings or events
(Go Bespoke to request Conqueror Gold on a whole host of print options!)
Available on:
Feeling inspired? Shop the range at Printed.com now and get ready to shine! 
Remember, if you fancy a slice of the action, just tag us in your printed creations over on Facebook, Instagram and Twitter and use the hashtag:
While you're here, why not get to know some of our other paper stocks? Start with Kraft, Pastels, Laid or Tintoretto Gesso!