Photo Valentine's Card templates with Wrap.me
Love is in the air! And while Valentine's Day looks a little different this year, it doesn't mean that your gifting game has to suffer. What could say 'I love you' more than personalised Photo Valentine's Cards with matching wrap?
Brought to you by the Printed.com team, Wrap.me is your absolute go-to for Personalised Wrapping Paper and Cards. With FSC recyclable paper, free 1st class UK delivery and a hassle-free photo uploader – it's the easy way to add something unique to your gifts, no matter the occasion.
The best part? They have a variety of seasonal templates: including everything from gooey hearts to simplistic photo layouts. There is something for every type of romantic! Check them out below and get yourself prepped for the 14th.
A picture-perfect romance
This perfectly-pink heart template is guaranteed to show that special someone just how much you mean to them (because… well you've uploaded their face into a giant heart?!). With matching wrapping paper to compliment your chosen gift, Wrap.me gives you a great excuse to dig out all those couple selfies and celebrate lurrrve in all it's glory.
Get started with this template
Personalised for them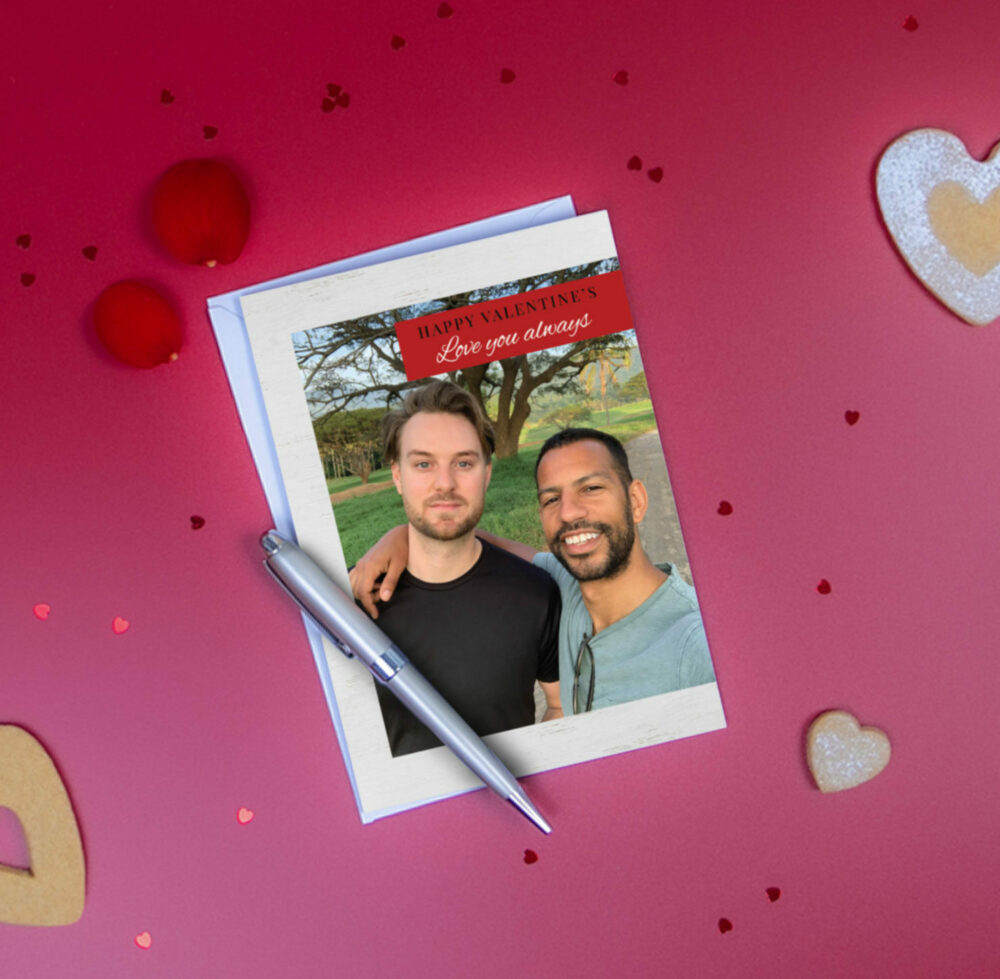 With a variety of Wrap.me card templates on offer it's easy to create a bespoke message or caption for your Valentine's card. If however you're feeling uninspired, Wrap.me have included some suggested text on all of their templates (so there really is NO excuse not to be romantic).
Make your Valentine's Card unique
Boo? Darling? Cupcake? Whatever nickname you give your other half, Wrap.me's personalised text and font options can ensure it's front and centre to make them feel truly embarrassed. We love this Valentine's card and matching wrapping paper combo by Keeley Cox. You don't need to be a seasoned photographer with studio-quality images to create something memorable this year!
Create yours from this template
Celebrate love in lockdown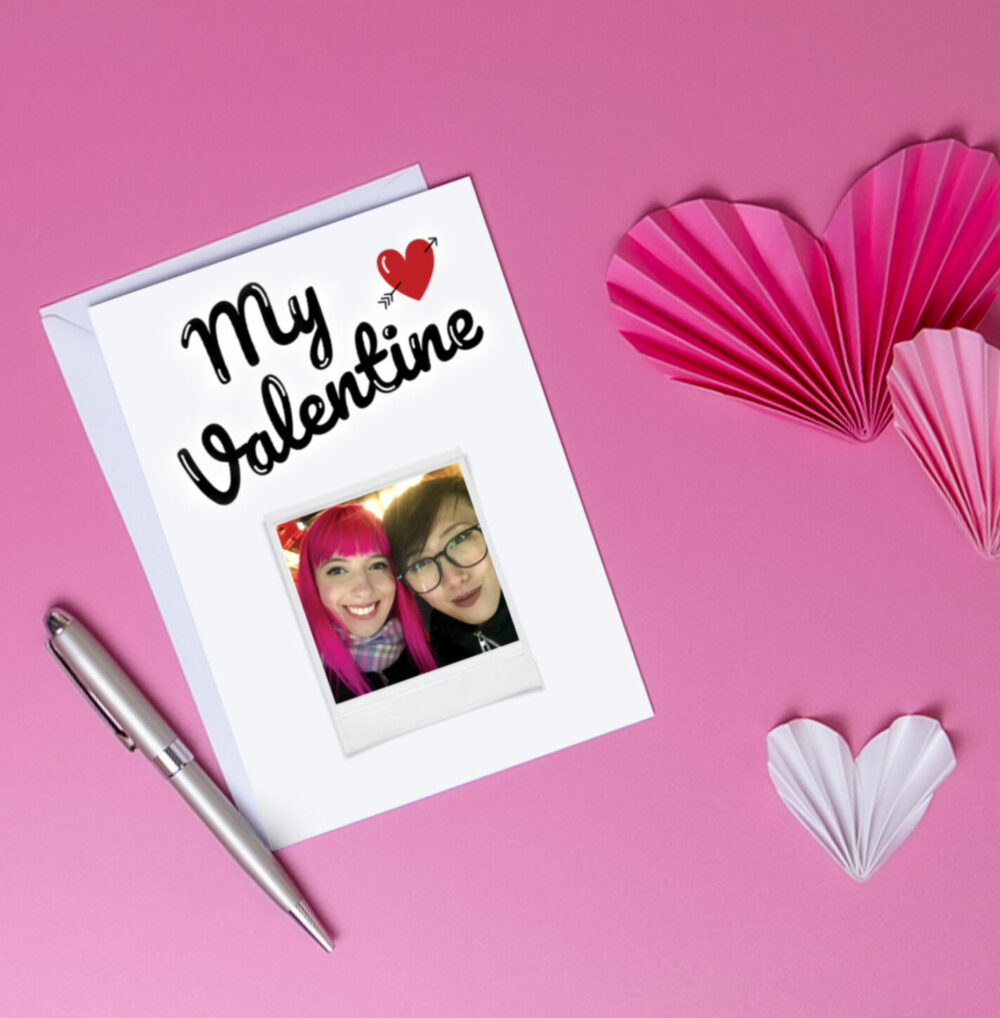 Go big even if you can't go out with this larger than life Valentine's polaroid template. If you can't be together on the day, why not add your own heartfelt message inside to show them just how much you miss them? Or you can leave it blank for a handwritten finish – the choice is totally yours.
Go for the matching set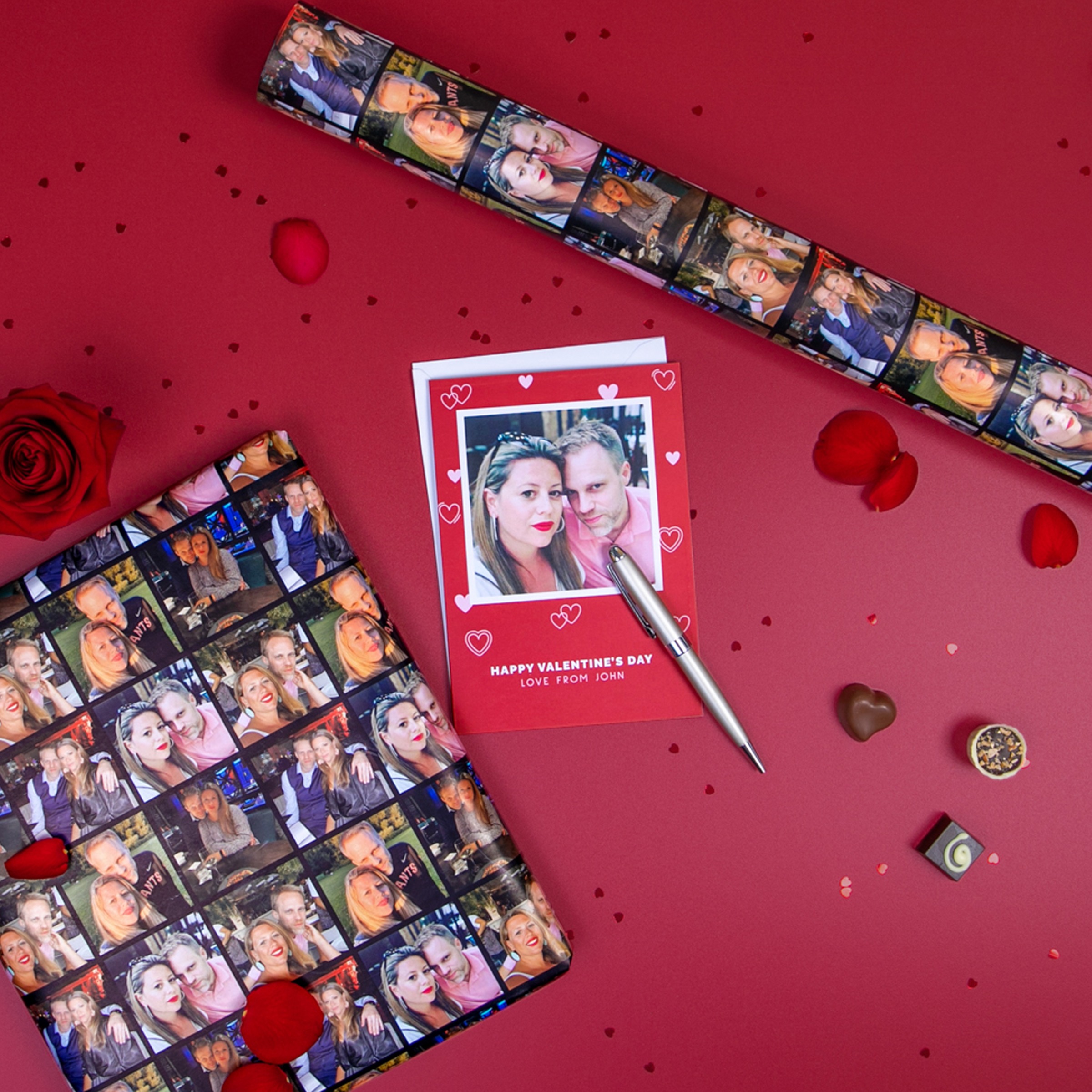 For extra kudos this year, why not go all out with personalised photo cards and wrapping paper to match! (Would that be organised or what?). Wrap.me's wrapping paper templates allow for up to 30 photos to create an unforgettable memory masterpiece. Plus you get FREE 1st class delivery as standard.
Time to get creative
With only a few week's left until Valentine's Day, it's time to get busy. Wrap.me allows you to upload images from both desktop and mobile, so you can even order yours on the go.
The easy to use uploader means that your personalised print is but a few clicks away (and you don't need to be a seasoned designer to create something spectacular). We've pulled together a handy 'how to guide' here to help you get started on your Valentine's card and wrapping paper creations.
Don't forget to use the hashtag #MyWrapMe on social to that we can see your design! And a very Happy Valentine's Day from all of us. #Smooch