Personalised Greeting Cards and Wrapping Paper with Wrap.me
It's no surprise that personalised gifting has seen a huge uptake lately. But if you're really looking to up your gifting game this year, look no further than Personalised Wrapping Paper and Greeting Card gurus, Wrap.me!
What is Wrap.me?
Brought to you by the Printed.com team, Wrap.me is your absolute go-to for Personalised Wrapping Paper and Greeting Cards. With FSC recyclable paper, free 1st class UK delivery and a hassle-free photo uploader – it's the easy way to add something unique to your gifts.
Want to know the best bit? Wrap.me allows you to upload images from both desktop and mobile! The easy to use uploader means that your personalised print is but a few clicks away (and you don't need to be a seasoned designer to create something spectacular).
So how does it work? Read on for a quick 'how to' guide to get you started.
Personalised Wrapping Paper ordering process
Step one: Choose your photos
Head to the Wrap.me homepage and click on the Wrapping Paper tab in the top toolbar. Click 'upload from your computer' to choose your images. You can remove, crop and even upload more images as you go! This is also where you can choose both your border and roll/sheet printing options.
Step two: Create your Personalised Wrapping Paper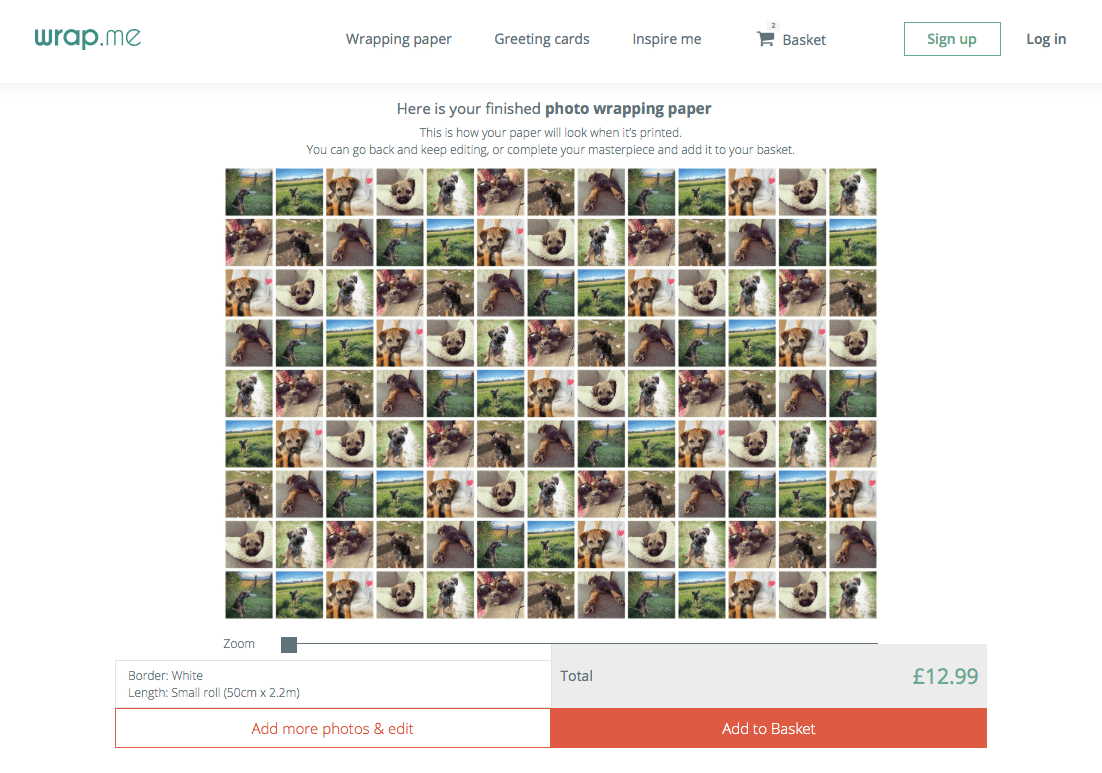 Hit 'preview and continue' and you'll get a fabulous mock-up of your Personalised Wrapping Paper masterpiece on screen. If you're happy with your design preview – click 'add to basket'.
Step three: Check out with FREE 1st class delivery!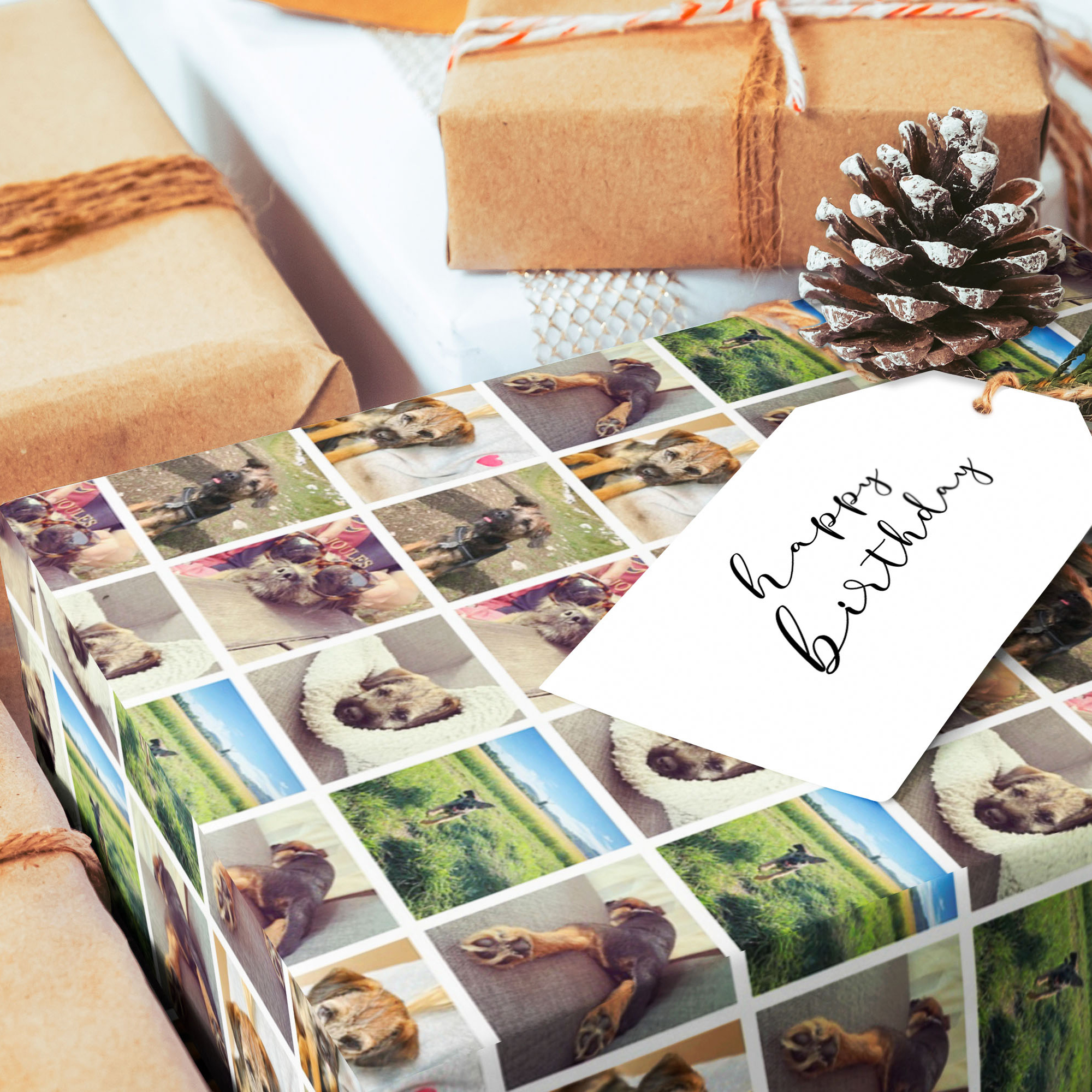 And that's it – you're done! All that's left to do now is check out and wait eagerly by the door for your custom wrap to get delivered.
Personalised Greeting Card ordering process
Step one: Select your theme and personalisation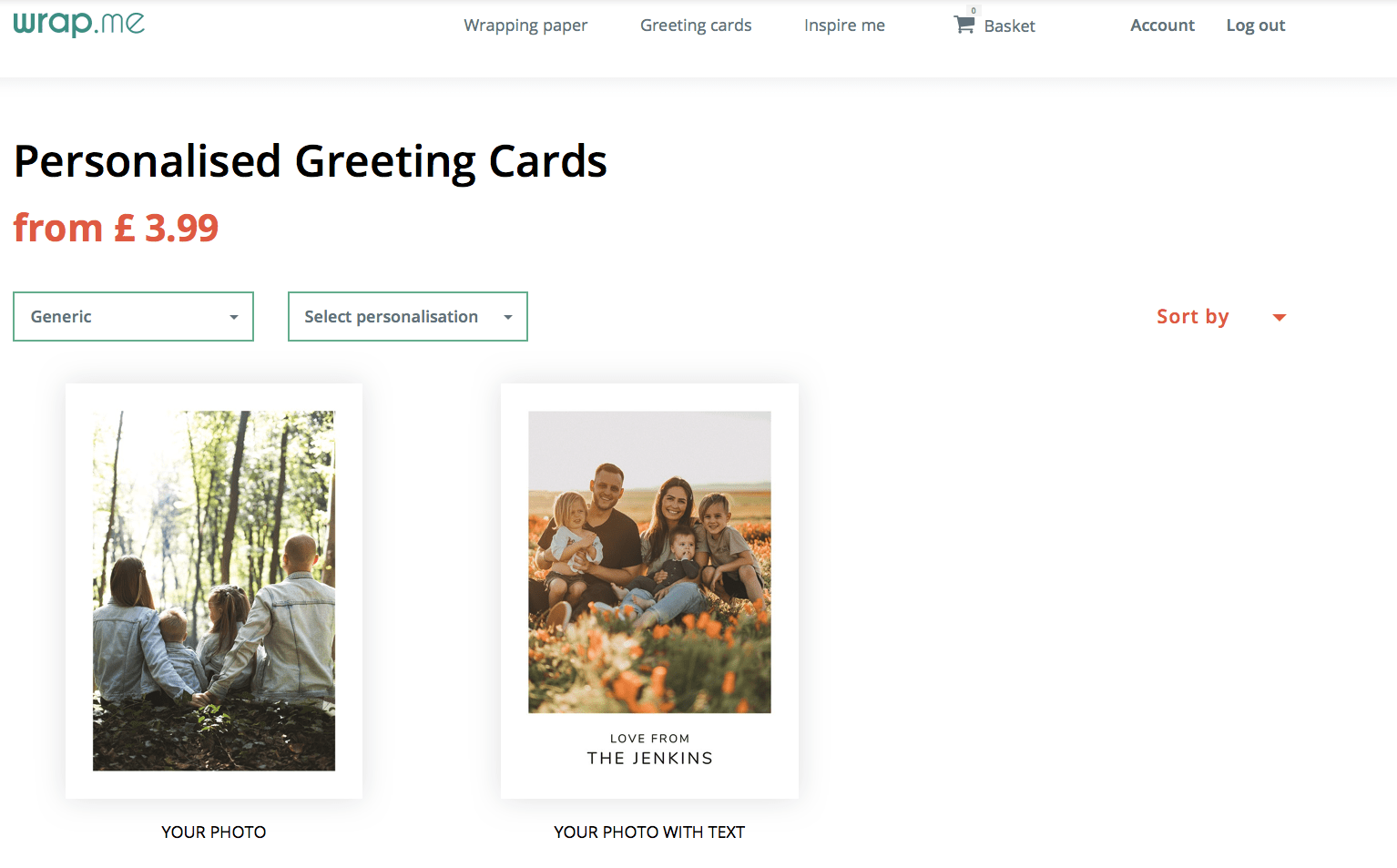 Head to the Wrap.me homepage and click the 'Greeting Cards' link in the top tab. Here you can select from a number of different themes and personalisation options to suit your design. Templates include text only options, photo only options and both text and photo options to suit.
Depending on your choices, a selection of designs will be displayed below. Simply click your favourite layout to move to the next step.
Step two: Choose your quantity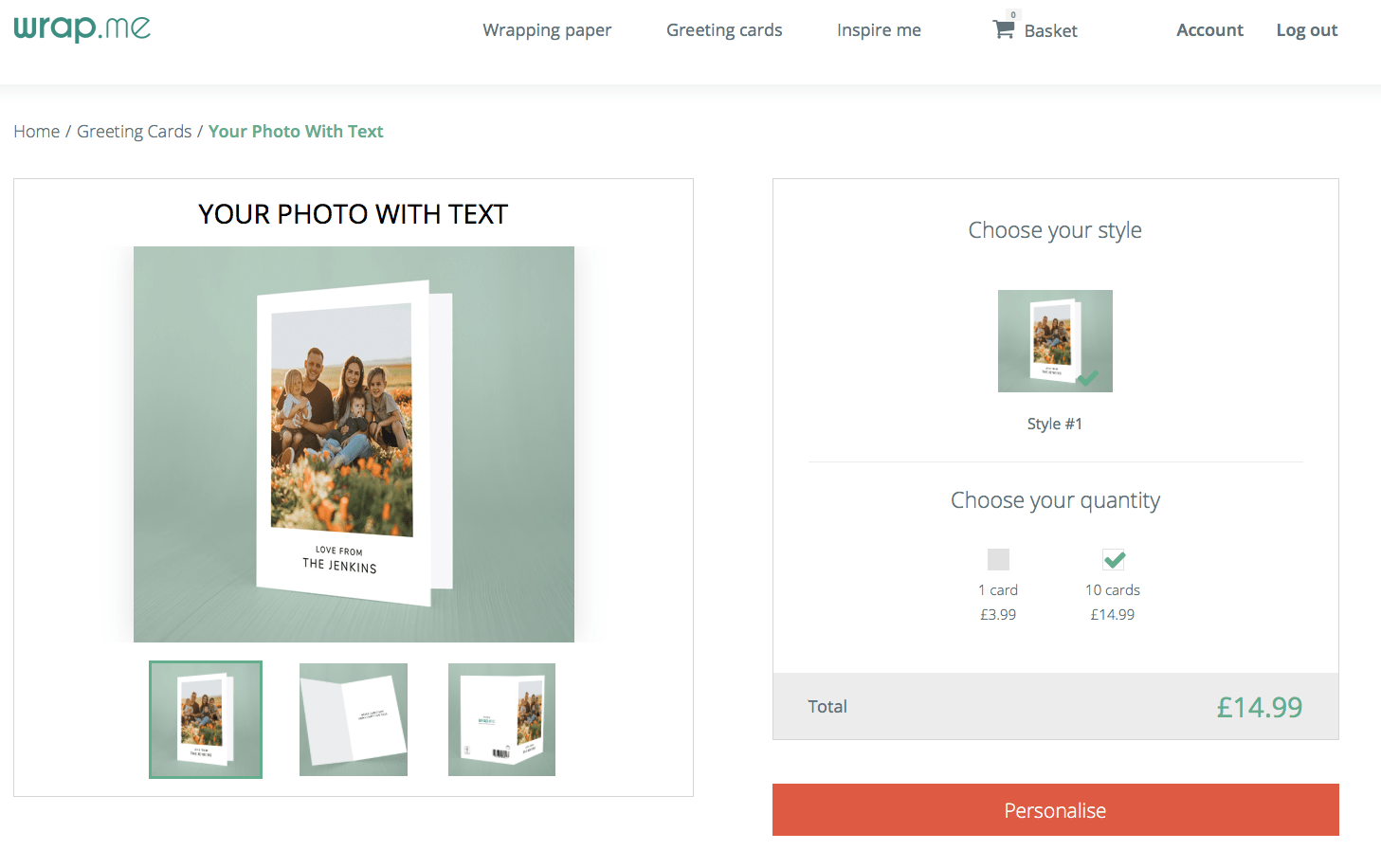 Your cards will be available as both singular cards and packs of ten, so make sure to select the number you require at this stage. When you're ready to get creative, hit 'Personalise'!
Step three: Upload your photo(s) and text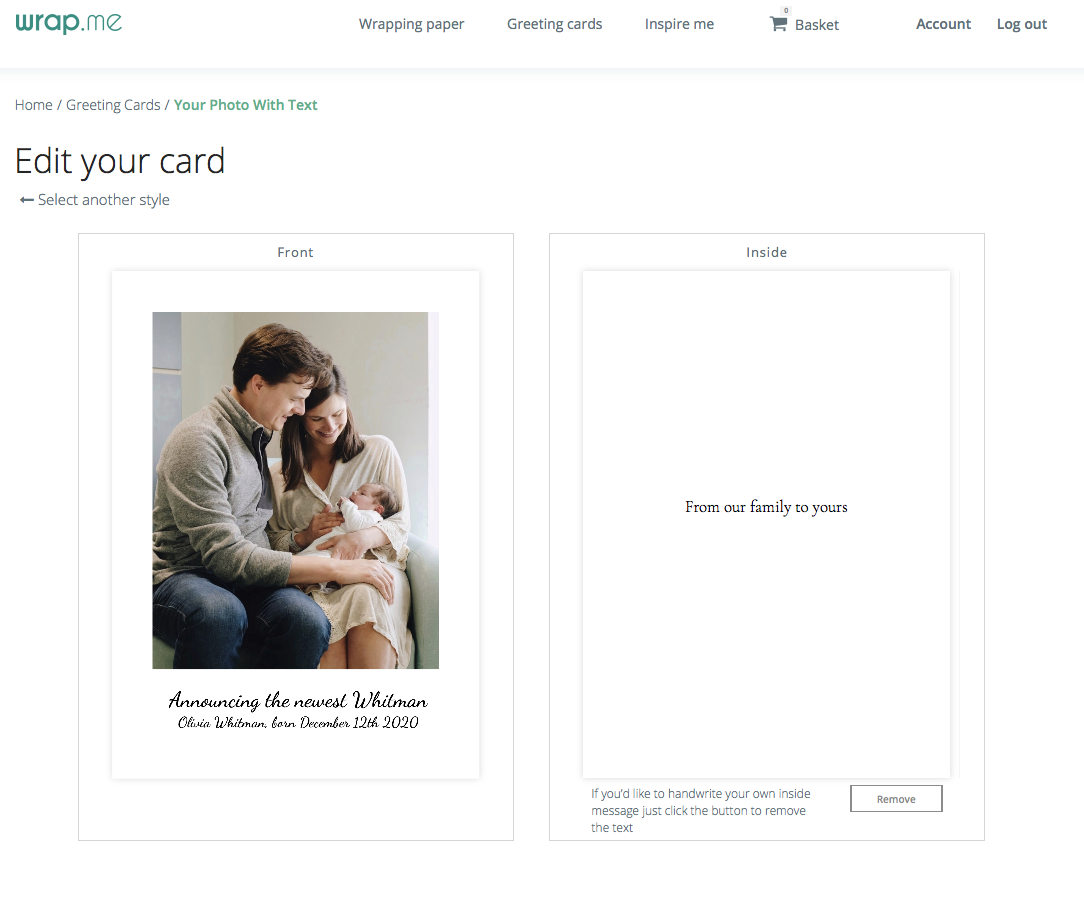 If you've chosen one of our photo templates then this is where you can click to upload straight from your phone or desktop. If you want to reposition a photo, use the drag tool to move the image until you are happy with the placement.
To add text, simply click into the text box and start typing. You can select from a variety of fonts and colours in the toolbar below, as well as choose your preferred text alignment and size.
Top tip: The template builder will give you a warning if you've chosen text that is too long or if the typeface for your text is too big. Make sure to adjust this accordingly before moving on to the next step. 
Want to include a message inside you card? Click the text box on the right hand page to add your own message, or click 'Remove' at the bottom to leave this blank and handwrite your own message once delivered.
Step four: Check out with FREE 1st class delivery!
Now before you checkout, a super handy feature of the Wrap.Me ordering process if that you can choose to either have your cards delivered to you or sent directly to your loved one. Select either 'Send to me' or 'Send to them' and the team will take care of the rest.
And that's it – you're done! All that's left to do now is check out and wait for your order to arrive. (But with free 1st class delivery that's luckily not too long.)
From personalised birthday cards and photo cards for anniversaries, weddings and more. The only limit is your imagination… 
Looking for inspiration?
Whether you choose to print a few shameless selfies, a collection of family snaps, or a even a prized pet – there's a tonne of inspiration on the Wrap.me Instagram feed to get your started. And don't be shy – make sure to share your Personalised Wrapping Paper and Greeting Card creations on social media by using the hashtag #MyWrapMe. Enjoy!