Memes: the ultimate mix of gossip and humour. Last year saw some particularly savoury ones make their way into the mainstream and we've selflessly sniggered our way around the net to round up some of 2015's finest for your enjoyment.
Left shark
Don't you hate it when your incompetent back-up dancer manages to upstage you with their sheer ineptitude? One of Katy Perry's Super Bowl XLIX back-up dancers made into memedom last year with his lack of musicality. Here he is in action…
And here are his memes…
The dress
Was it gold and white or was it blue and black? Does anyone even know anymore? The dress gained memefamy when it confounded people world-wide, spurring friends, colleagues and loved ones to ask each other, "What colour do you think it is? Because that's not what I'm seeing."
Here is the dress (which is blue and black, just FYI)…
And here's the internet's response to the dress…
Netflix and chill
Now we won't go into this one in too much depth, due to the NSFW-ness of it. Let's just say that the term doesn't entirely mean watching movies on Netflix and chilling out. Not entirely. The phrase quickly went into verbal dictionaries and passed into meme form shortly after it was coined.
Here are some of the ways that the internet was inviting you over to Netflix and chill last year…
Miley, what's good?
After Miley Cyrus stirred controversy by discussing fellow musician Niki Minaj in the press, she was repaid in kind on live TV while presenting an awards show. Here's a snippet for your enjoyment...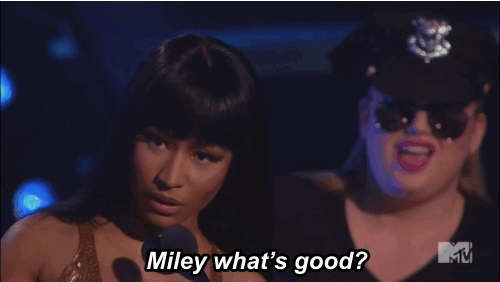 This caused the whole world to collectively ask that same question. The phrase spread like wildfire, leading to some rather smirk-inducing memes…
Hello?
You'd have to be living under a rock to have missed singer Adele's 2015 comeback single Hello. Although catchy and downright heart-breaking, certain internet dwellers couldn't help but draw comparisons between Adele's new song and the Classic 1984 Lionel Ritchie tune of the same name. This is what the internet had to say…

Did you favourite meme make it onto the list? Maybe there was one you though we missed? Pop a comment in the box below and laugh it up with us.