Your definitive guide to Greeting Card trends for 2019
When it comes to trends for Greeting Cards and Stationery, the playing field is always changing. Taking inspiration from every corner, the trends in paper change as quickly as the clothes in our wardrobe.
It can be a minefield – and if you're a stationery designer, how do you know where to begin?
We make it our mission to bring you the latest ideas, trends, info and inspiration – so we've done the legwork for you. We visit industry events like Top Drawer and the London Stationery Show to check out whats coming, and bring you all the latest. So if you're getting set for 2019, take a look at the Greeting Card trends that we think are destined to be huge next year.
Personalisation
As big as ever, personalisation shows no sign of stopping as we roll into 2019. From smart monogramming to customisable cards, consumers are looking for more and more ways to get the personal touch. Ted and Kip offer personalisation and customisation on all of their designs, proving that offering personalisation doesn't have to mean creating an entirely customisable collection – you can work with what you have!
Botanical prints
It might be a little difficult to get yourself in that tropical mood while we're battling the elements, but next year the sun will be back (we promise) – and with it comes an influx of tropical-inspired prints that are set to be huge news.
Until then though, pared down botanical prints also work well for the winter months, so embrace foliage, deep dark green and blue hues, accentuated with luxurious gold and bold elements for a wintery take on the trend. We love Design By Emily's wedding invitation suite featuring the botanical trend – we can easily see how this could transcend into Greeting Cards!
Green
Which brings us nicely onto green as a trend. You may remember that not so long ago we covered the shade of the year 'Night's Watch'. Dark and dramatic this shade has been spotted on catwalks and in the interior design landscape for some time now, so it makes sense that it's transcending into our cards and stationery too. Use it sparingly or daringly, the choice is yours. Psst – it looks great with Foiling too!
Cards that care
Environmental impact and social responsibility are swiftly transforming from 'nice to have' into 'must haves' for companies looking to build brand loyalty. Companies and products that share the same sustainable values as their customers are more likely to build an army of brand advocates – and we all know how important those second, third (and beyond!) orders are.
To add a sustainable layer to your cards, why not consider printing on Recycled paper for starters? You could also team up with a local charity and donate your profits? Or why not lend your services to a local community, club or school? You can shout about your involvement on social media and your website to help build some engagement and show your customers how you'regiving back.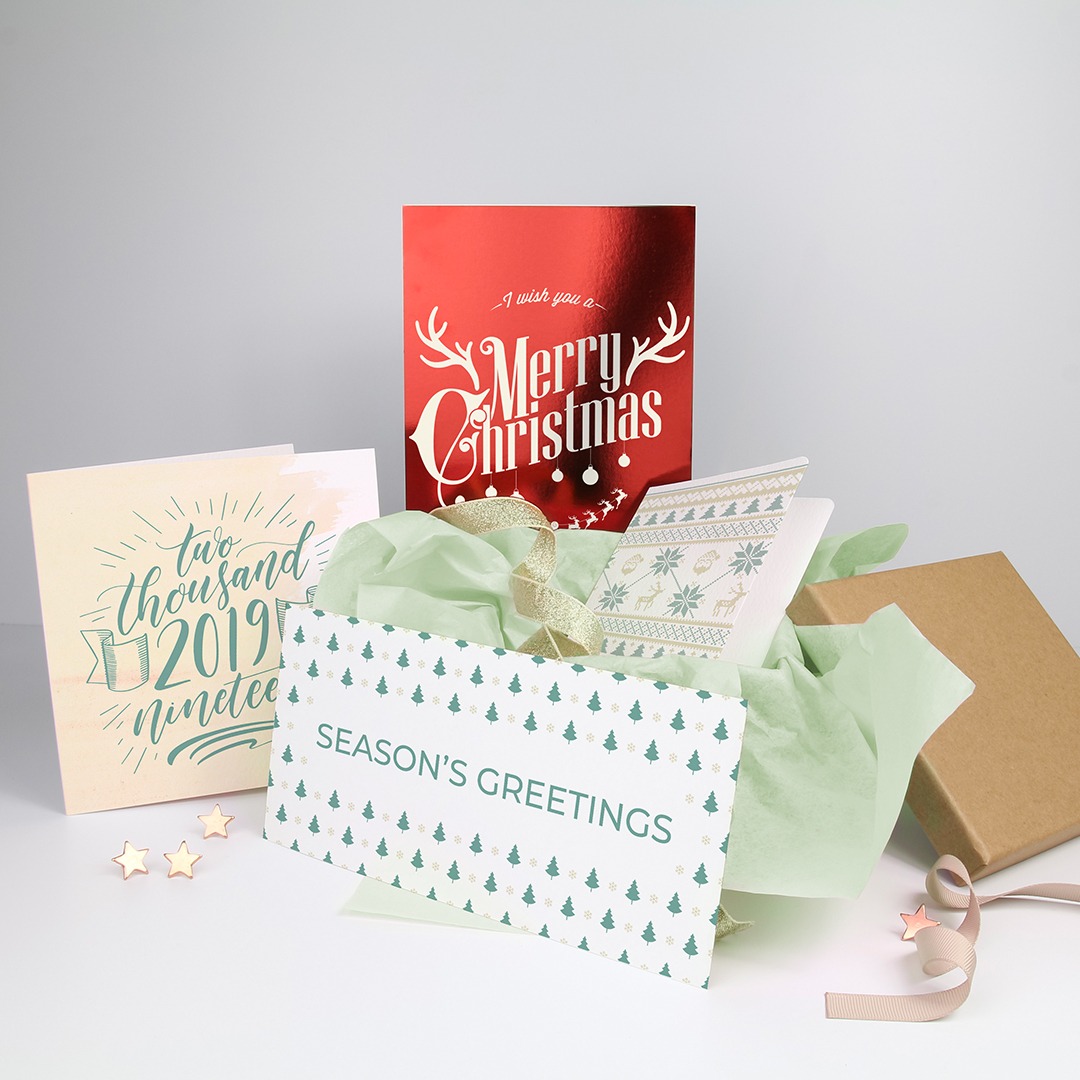 Foiling
If there's one trend that isn't going anywhere – it's metallic foil. Lending itself to almost every design, style, occasion and event, there's nothing that Foiling can't elevate. Plus, you can combine it with every trend in this article too – killing two birds with one stone!
Bold prints
Big. Bold. Bright. Beautiful. This year we looked at geometrics and Aztec styles, but next year it's all about fusing everything together. Mark our words, maximalism is a must-have for 2019! Don't be shy, combine your colours, prints, designs and mix and match to create a stand out collection like no other.
The great thing about this trend is that it caters for everyone due to its influx of styles, colours patterns and shades, so there's something for everyone!
Handmade
The handmade trend has been slowly gaining traction over the last few years – in an increasingly digital world, handmade crafts hold more value than ever before. The perception of handmade might immediately strike you as time consuming, but it doesn't have to be! It can be as simple as adding a hand decorated element (like a bow, or some glitter) to your printed cards. Just be sure to call this out – adding a sticker to your cellophane bags to let your customers know that their card is hand-finished is an ideal touch.