10 easy, affordable DIY wedding favour ideas
Looking for wedding favour inspo? Whether you want to save a bit of cash or add something really personal to your wedding, try out these simple DIY ideas.
Wedding favours serve as reminders of the day, and are a thoughtful touch that help each and every guest feel remembered and cherished. But don't make the mistake of overpaying for yours – take a look at some of our ideas for printing your own DIY favours and keeping your costs low.
Shop our Wedding Stationery collection
1. Sweet tooth
Wedding favour sweet bags are a popular choice any time of year. Whether it's the traditional sugared almonds or something a little more niche, you can fill yours with whatever takes your fancy. But the perfect finishing touch is always a Gift Tag.
Buying your sweet fillings and bags in bulk will keep your costs low, and you can add the final flourish with foiled, square or traditionally cut wedding favour tags. You can even round out the corners for a softer finish.
2. Get stuck in!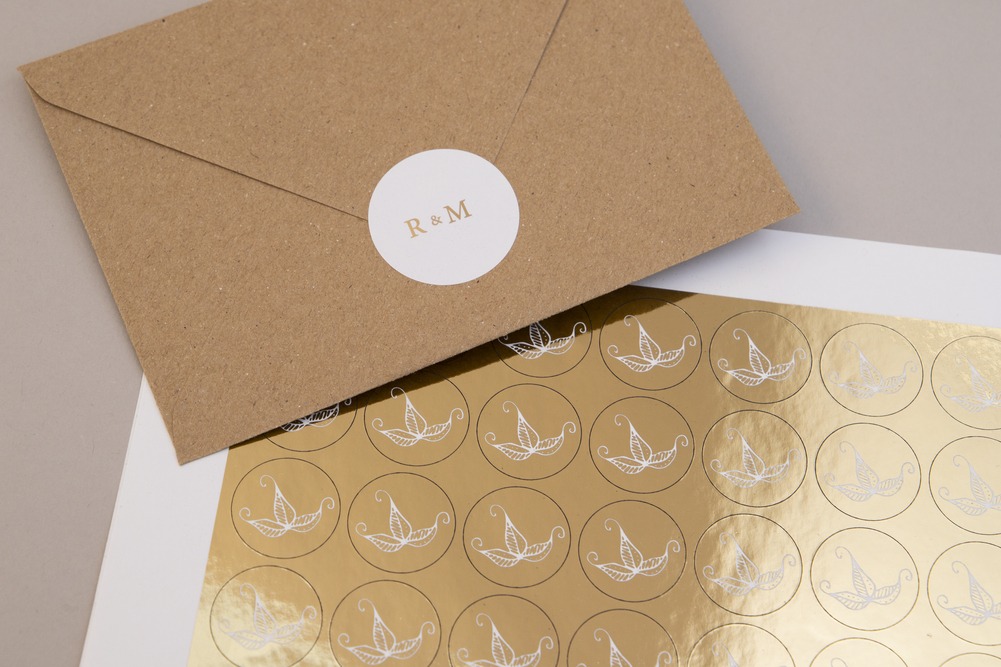 You'd be surprised the wonder that a simple Sticker can bring to your homemade wedding favours. From adding a fun embelishment to Envelopes, to sheets of foiled designs left on the tables for guests to stick with abandon, there's a plethora of ways to get creative! We offer Stickers in a variety of sizes, including round, rectangle and heart-shaped so you can really spread the love on your wedding day.
3. Light it up
Sparklers are a great, affordable idea for your evening guests (and the photos can look pretty awesome too!). Make yours even more personalised by printing your own Gift Tags or labels. Go for a flat card (such as a lightweight Business Card), or even use a Sticker or Label to decorate them with your wedding info.
4. Hot under the collar
Love spice? Why not create your own special blend of spicy sauce as wedding favours and package them up with a Label or Sticker? It's a little kooky, a bit different, but most definitely unforgettable.
5. Science of love
Test tubes and weddings might not be an immediately obvious pairing, but if you're the kind of couple that does things a little differently, they could make the ideal wedding favour. Just like with sweet bags, all you need to do is source your tubes and fillings and print some Stickers – simple.
6. What are the chances?
With millions of people in the world, it's pretty lucky that you found one and other, right?
Why not spread some of that luck with lottery tickets as your wedding favours? You could house them in Gatefold Invitations and seal then with a Sticker to max that anticipation. Don't these look great?
7. Light of your life
Candles make super cute, affordable favours. Buy them in bulk (hello, IKEA) and then print Labels or Stickers to fit – easy! If yours don't come with screw on lids, just stick your label to the side of the jar or holder. You could even box them up, or buy tea light holders and tea lights instead of jarred candles if you prefer.
8. Baked to perfection
From cupcakes to biscuits, baked wedding favours are fun and can be budget friendly if you do a little legwork. To keep costs low, we recommend buying or making your baked favours yourself and then adding an embellishment like a paper flag or Gift Tag to personalise.
9. Photo fun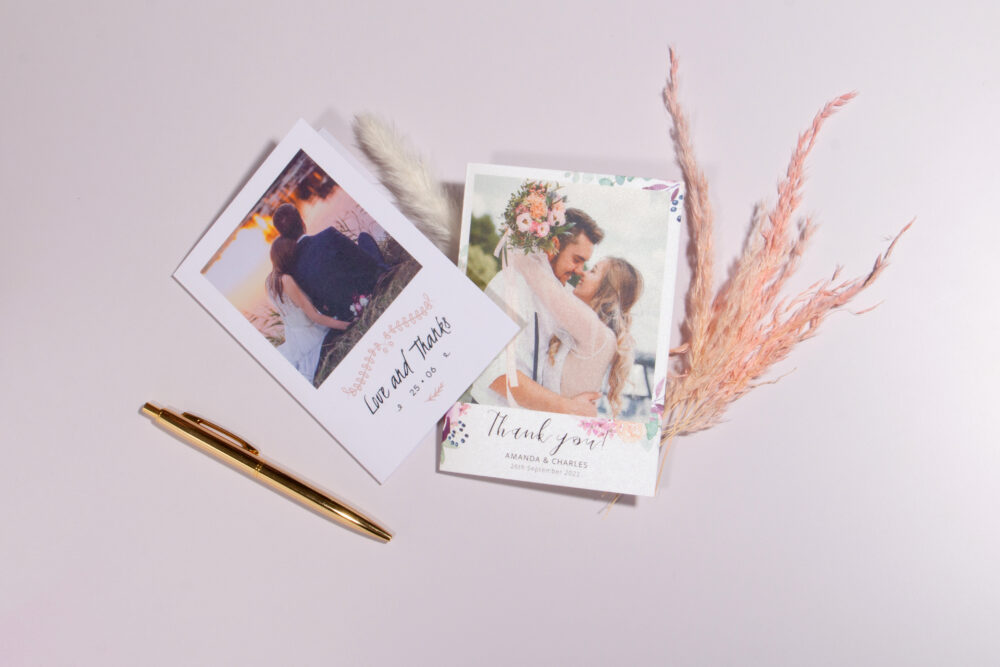 For up close and personal touch, why not try some photography favours? We're not in any doubt that you've albums worth of pictures to share of you and your lucky significant other and there are plenty of ways to get creative with them. From adding your faces to Thank You Cards and labels to creating collages of you and your closest friends and family to give as extra-special gifts- it's time to scour your Instagram for the perfect shots.
10. Festive feels
If your wedding day falls in November or December, why not give your wedding favours a festive makeover! Bag yourself some baubles and add some personalised tags of your own design – it couldn't be easier.
Inspired to make your own wedding favours? Head to Printed.com and #LetMakeItReal