How to make your covid secure wedding memorable
Think health and safety signage is going to ruin your special day? Think again! While wedding celebrations may be limited to 15 people at the moment, that doesn't mean you can't have high-quality, memorable wedding print on the day. A covid secure wedding can still be a great one, and through the power of print we're going to show you how…
Follow Covid-19 wedding guidance
First things first, make sure that you're adhering to government guidance as closely as possible to avoid any issues on the day itself. While these rules are fairly simple, we've highlighted the latest updates for you below:
If you are in an area with an active outbreak of Covid-19, make sure to check your local guidance
Keep your party as small as possible with a maximum of 15 people. This does not include staff working at your chosen venue or third-party caterers
Choose a covid secure wedding venue and make a note of any health and safety rules they have
Appropriate social distancing measures must be in place during both the service and reception
Make sure all guests check themselves for any symptoms in the run up to the wedding and take appropriate action
To help your wedding day run as smoothly as possible, you may choose to send out health and safety guidance with your Wedding Invitations or Save the Date Cards. It's a good way to make sure your guests are fully prepared.
The above rules are always subject to change, so make sure to keep an eye on the government guidance for covid weddings right here.
Social distance in style
With weddings normally very busy occasions, finding ways to encourage social distancing might seem tricky at first. Health and safety signage isn't renowned for it's 'romance appeal', but with a little creativity you can find ways to keep your messaging clear and engaging (without ruining the aesthetic of your big day).
Signage is now even more important for your big day, so it's important to make a list of what you need. You may have decided to print Welcome Signs, Seatings Plans and Table Numbers to name but a few. Your health and safety signage can be treated in much the same way, and by keeping these in tune with the rest of your wedding theme, they can blend seamlessly into your aesthetic.
Alongside any welcome signage, use an additional Display Board at main entrance points to remind guests of social distancing guidance. When it comes to the reception, set down Vinyl Floor Stickers to mark out socially distant gaps, and even point people in the direction of Hand Sanitising Stations. Why not get creative and use ribbon or bunting to create barriers while also adding something unique to your space?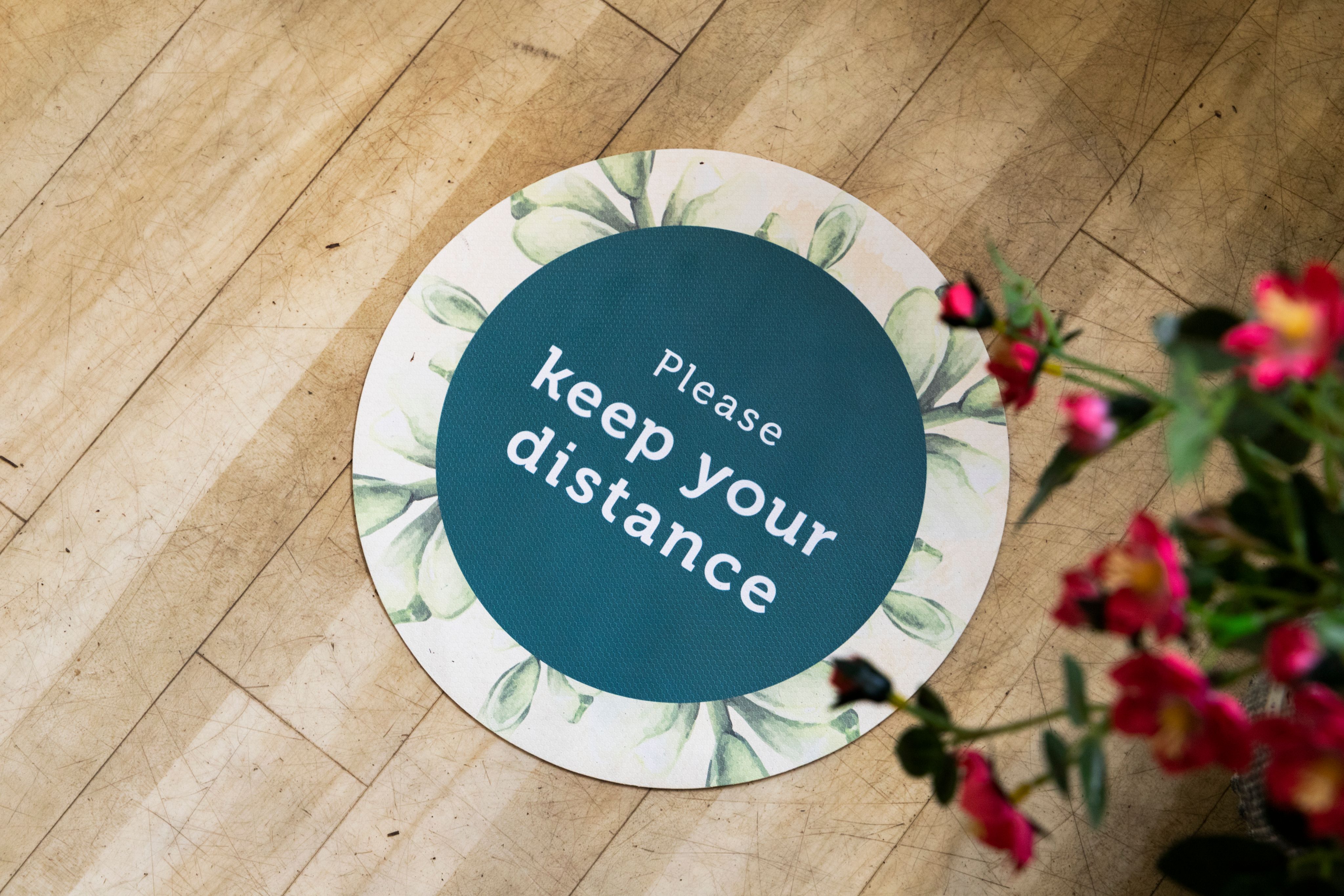 Add a touch of humour to your health and safety messaging
Weddings are a cause for celebration, even in the current circumstances. With that in mind, you can have a little more fun with your health and safety messaging to keep people smiling as well as safe. We've already seen a ton of brides, grooms and designers having fun with their covid secure wedding creations, so why not add a little humour into yours?
Some of our favourite quotes include…
"Distance makes the heart grow fonder."
"Spread love, not germs."
"Social distancing is temporary. Love is forever."
"Please let us love you… from a distance."
"Smize and sanitise".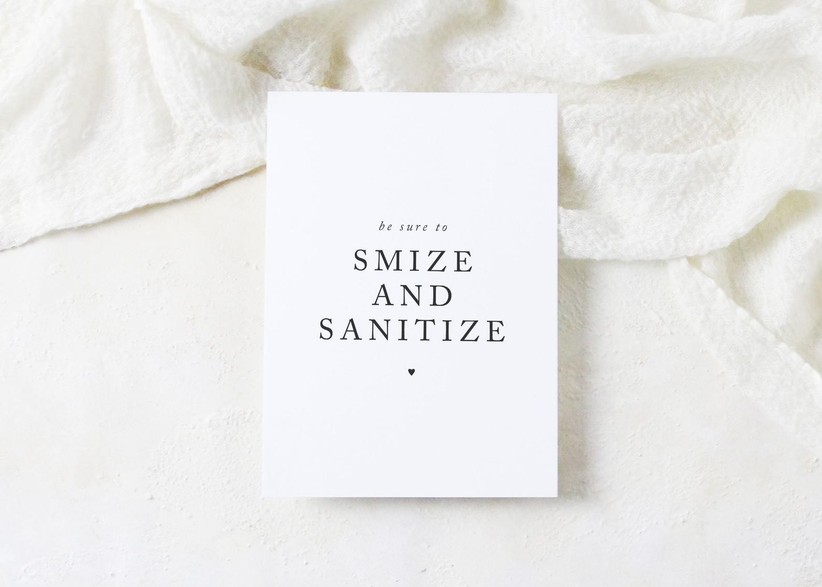 As long as your guidance is still clear i.e adding "please stay two metres apart", it's an opportunity to really show your guests how you've made the most of the Covid-19 situation.
Keep it clean
Make handwashing stylish with Wall Mounted Hand Sanitisers. You can customise the backing designs to match the rest of your wedding print and then place them in useful locations throughout your wedding venue. This could be near the bar, or by a guest book signing area.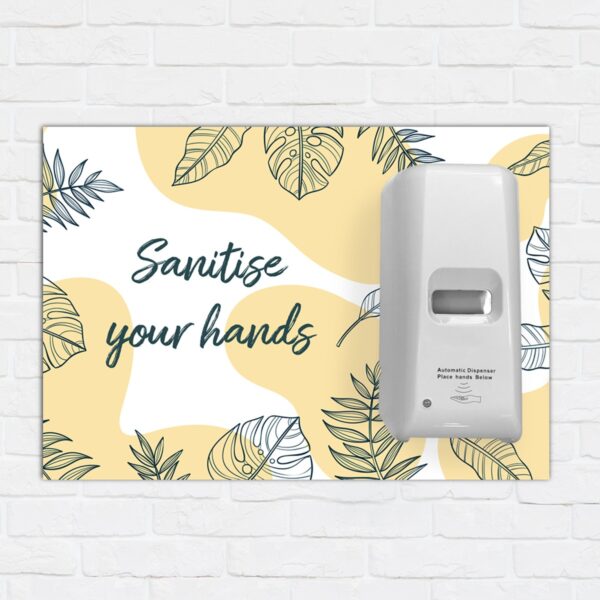 For an additional safety measure for your guests, you could even customise small bottles of hand sanitiser with personalised Labels to use as wedding favours! (Much more useful than shot glasses these days).
Wedding Face Masks
If you've visited our blog over the past few months, then you know how we feel about Personalised Face Masks. Custom masks provide another creative opportunity to make your covid secure wedding day memorable. Instead of classic gifts such as jewellery and hip flasks for your bridesmaids and groomsmen, why not create unique masks? Not only will this be a great keepsake for friends and family, but it will also make it much easier when you're trying to organise everyone!
Depending on the venue you choose, masks may or may not be a requirement but they are always good to have (just in case). To avoid any potential contamination, you could include these at the entrance to your ceremony, or as additional favours on your tables.
It's super simple to upload your own designs for our Personalised Face Masks and we even have a range of free artwork ready to go. Head here for a quick how to guide to help you get started.
For guests that can't make it
Having only 15 guests at a wedding can be tough (especially if you originally wanted to invite the world to celebrate). While it remains unknown when covid secure wedding rules will change, there are ways you can share the festivities with those who can't be there.
Ever since small weddings were given the go-ahead, more and more couples have been live-streaming their ceremonies (thank you Zoom!). What's more, wedding hashtags are more popular than ever and a great way to keep friends and family in the loop digitally so that they feel part of the day.
When it comes to physical keepsakes, Photography Prints are a great option. Whether it's a Thank You Card or Framed Photo– these are a great way to share the love with those closest to you.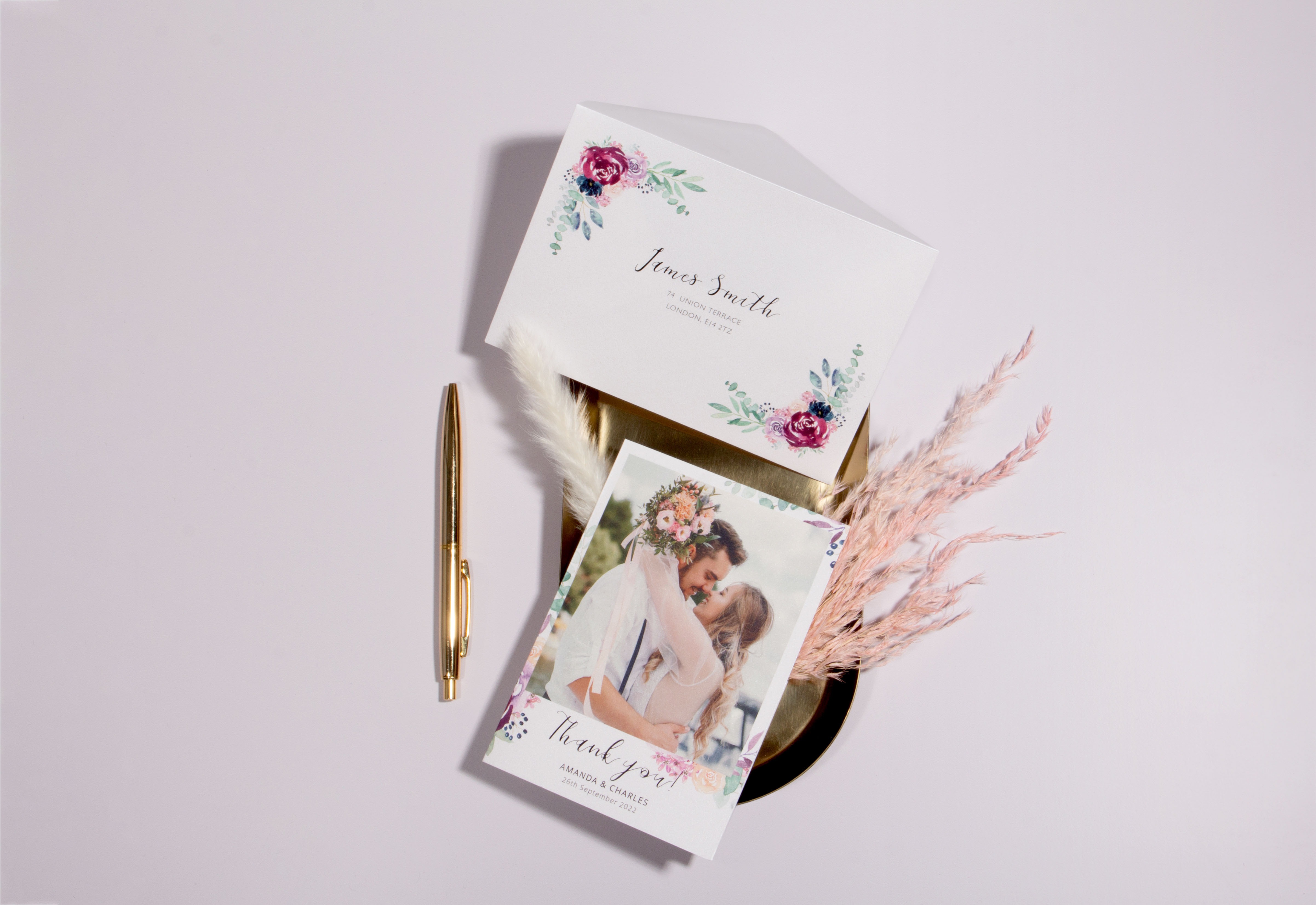 And, of course, there's nothing stopping you having a HUGE celebration once this is all over!
When it comes to smaller weddings, there are so many ways to get creative with all your wedding stationery. If you're looking for an expert opinion, make sure to check out our most recent guide where a few of our favourite Wedding Stationers give their top tips on how to make the most of your wedding print this season.
No matter the size of your day, discover our full range of wedding products so you can be print ready, whatever the day throws at you.