Christmas card competition! Create for charity and #SpreadTheJoy in 2020
Our Christmas card competition is BACK and better than ever!
To celebrate the festive season we're offering Printed.com customers the opportunity to design our official 2020 seasonal Card, Envelope and Sticker.
Not only will the winning design get into the hands of Printed.com customers and printing partners, but as this is the season of giving, you could win £250 worth of Printed Points to gift to a charity of your choice.
But that's not all! You'll also receive 5,000 Printed Points for yourself, as well as 50 copies of your Christmas card design to use as you wish. What's not to love?
Last year we received so many wonderful designs that it was almost impossible to choose our favourite. For that reason there will also be four runner up prize winners, each receiving £50 worth of Printed.com points for their chosen charity!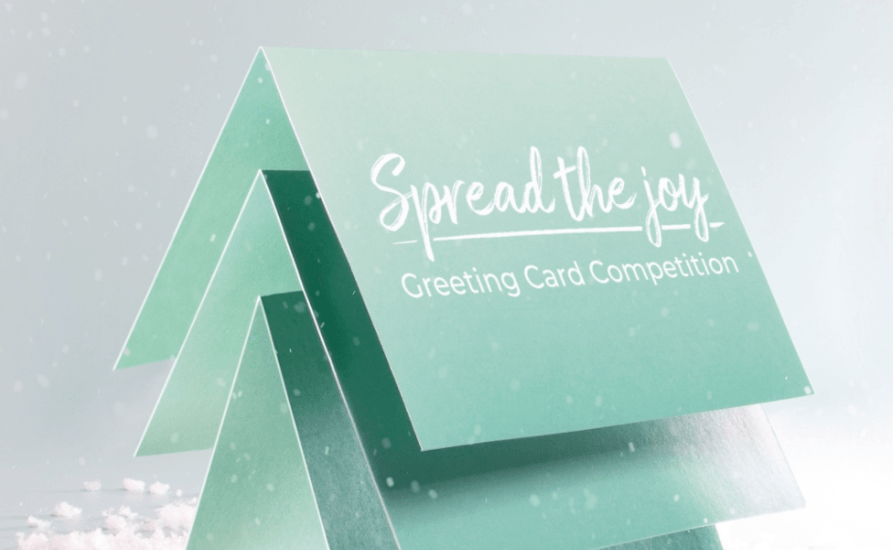 Competition opening date: Tuesday 6th October
Competition design deadline: Midnight Tuesday 20th October
Winner(s) announced: Thursday 22nd October
How do I enter my Christmas card design?
Ready to get creative? Start by downloading our readymade template below.
When you're happy with your final design, upload your template image to Instagram, making sure to tag @printedcom and using our campaign hashtag #SpreadTheJoy. We'll select our favourite design(s) when the competition ends and the winner will be announced on the Printed.com Instagram channel on Thursday 22nd October.
Rules and regulations
The first and only rule is that there are no rules when it comes to your creativity. This Christmas card will be sent as a seasonal thank you to a number of our Printed.com customers, but you're not limited to a colour palette or theme.
Print and paper stock specifications
We'll be printing the finished Christmas card designs on A6 Recycled Paper, C6 Recycled Printed Envelopes and 25mm Round Stickers, finished in White Gloss.
As both the Envelope and Card paper stocks feature uncoated paper, remember that your printed inks will be absorbed slightly into the surface, for a flatter finish.
Christmas card design specifications
You'll need access to Photoshop or an equivalent programme to open the .PSD template
Once opened – each product is split into a folder, if you put your design in the "ARTWORK HERE" layer, it will create the mock up of that product for you
Please do not alter the layout of the flatlay
Please note: To get your designs to show up on the main art-board, please press save on the product tabs that have a new design in place. Unfortunately we wont have time to answer all of your questions about using Photoshop for this competition, but you can check out a number of our handy tutorials right here
Your original image files must be at least 300dpi and please consider the item size that the images will be placed onto. (e.g, a Greeting Card is A6 in size, so it's best to have the original design set as A6).
Ready to go? Then post away!
Please submit your finished christmas card design via your business Instagram account, by tagging us with @printedcom. Don't forget to use the hashtag #SpreadtheJoy and mention the charity that you'd like to donate to.
Check out last year's winner
If you're raring to go but can't quite get the creative juices flowing, check out last year's winner below! We received a smörgåsboard of different designs in 2019, but Fawn and Thistle's choir of claws was victorious.
Entry specifications
The designer whose entry is selected as the winner will choose a charity of their choice to receive £250 worth of Printed.com points. The designer will also receive 5,000 Printed Points and a limited print run of 50 Cards of their creation.
The 4 designers chosen as runners up will choose a charity of their choice to receive £50 worth of Printed.com points.
All designs submitted must be created with the intention to be printed on an A6 Card on Recycled paper, a C6 Envelope in Recycled paper and White Gloss Round Sticker in size 25mm.
Please use our template to guide your design, available to download here.
Export your design as a JPEG/PNG image file, using our flatlay art board as defined in the free downloadable template. For the purposes of this contest, please only use the template provided for judging.
However, please bear in mind that we will need press-ready artwork for printing if you are chosen as the winner, with the bleed area included.
Submit your entry via Instagram @printedcom, alongside the hashtag #SpreadTheJoy.
Any entries uploaded after midnight on Tuesday 20th October 2020 will not be considered.
Terms and conditions
There will be one winner and 4 runners up selected after the deadline of midnight, Tuesday 20th October. We will also compile a shortlist of entries to promote on the Printed.com website and on social media.
Arrangement of the winning prize and runner up prizes will be confirmed via direct message/email from Printed.com on Thursday 22nd October
If the charity chosen by the winner/runners up does not register as a Printed.com customer to receive their Printed Points, this prize is non-transferable.
The charity nominated when entering this contest must be a registered charity. For more information, visit www.gov.uk/find-charity-information
In addition to nominating a charity, the winner will also receive a limited run (50) of Christmas cards, featuring their winning design.
After midnight Tuesday 20th October no further entries will be accepted for judging.
A full name is mandatory with all competition entries.
Open to UK and Ireland based entries only.
All entries agree to the use of their name and artwork and associated business contact information in any publicity material. Any personal data relating to the winner or any other entrants will not be disclosed to any third parties.
If you submit a design, you give us permission to share your design on social media and throughout the Printed.com website.
No cash alternative to the prize will be offered. The prize is non-transferable. We reserve the right to substitute any prize with another equivalent value without notice.
Your design must be original and does not infringe intellectual property rights, i.e. don't design your suite with an existing charity logo.
Any entrant submitting a design into this competition promises to us that:
a) They own or have rights to the submitted design and that it does not infringe the intellectual property rights of a third party;
b) The submitted design is not false, inaccurate, misleading, fraudulent, unlawful or defamatory.
c) The image provided becomes the property of Printed.com for the use of this seasonal direct mail and will not be used by Printed.com any further.
We (Printed.com) reserve the right to amend or adapt the supplied artwork to make it suitable for us, including adding Printed.com branding.
The winner will be appropriately credited on the card and any website URL provided to us will be included.
This promotion is not endorsed or administered by or associated with Facebook, Twitter and Instagram. You are providing your information to Printed.com and not to any other party. The promoter is Printed.com, whose registered office is Threeways House, 40-44 Clipstone Street, London, W1W 5DW.
Good luck everyone!
P.S. Remember you can donate your own Printed.com points too! Visit www.printed.com/charity/donate for more info!